Coulrophobics, you might want to stay indoors for a while. You know those utterly disturbing clown sightings that have been happening in the US lately?
Well, they've made it Down Under.
Victoria Police have been forced to issue warnings, following numerous reports of people in clown costumes terrifying members of the public.
"The clown purge appears to be a copycat of incidents being seen in the USA recently," read a statement posted to social media.
"Any intimidating and threatening as well as anti-social behaviours will not be tolerated and will be investigated by Police."
A costumed man spotted in Mandurah, WA. Image: Facebook - Mandurah Clown Sightings.
Dozens of dedicated social media accounts have sprung up to catalogue sightings of the menacing Bozos.
A quick scroll through a Facebook page called Clown Sightings Australia (which already has close to 5000 followers), reveals images of costumed people allegedly snapped on the streets of Sydney, Melbourne, south east Queensland and Western Australia.
One clown was pictured loitering outside a fast food restaurant in the Campbelltown area of Sydney, while a group of them have reportedly been terrorising shoppers outside supermarkets in Mandura, WA.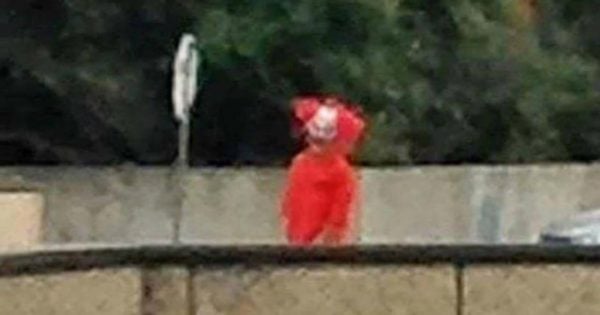 A red-headed clown reportedly seen near Frankston High School. Image: Facebook - Clown Sightings Australia.