Today was a day of celebration for the Abbott family – well most of them, that is.
Christine Forster, sister to former Prime Minister Tony Abbott, told Mamamia the majority of her family voted 'yes' to same-sex marriage, joining 61.6 per cent of Australians.
"In my family we had a net yes vote, I'm pretty sure," she laughed.
Abbott staunchly opposed changes to Australia's marriage laws to allow for same-sex marriage as the leader of this country and in the years since, despite having a sister who was openly gay.
We spoke to Christine and her partner Virginia Edwards at a rally in Sydney's Prince Alfred Park to eagerly await – and celebrate – the positive result.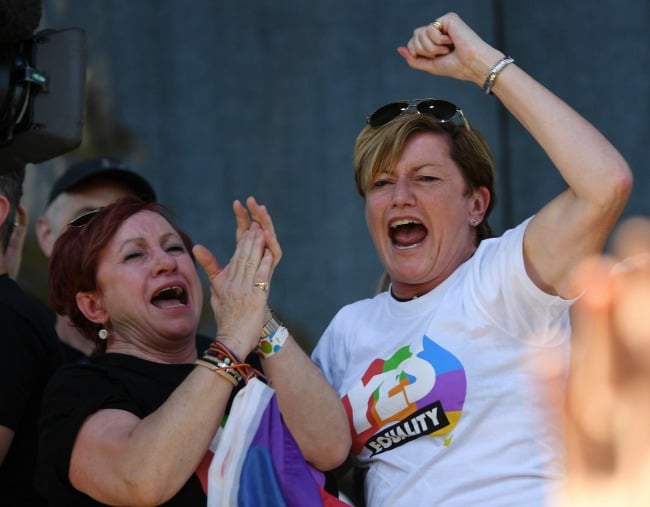 Virginia told Mamamia the news was welcome to the couple, who have been engaged for four years and were already planning their wedding day.
"On a personal level it means now I can marry this woman I've treasured for ten years, on Australian soil, hopefully, under Australian law, if the pollies pull their fingers out, in front of my friends and family," she said.
"Time to pull your fingers out, boys," Christine added.
Christine said the couple had plans for a summer wedding.
"It means we can continue to plan to get married on the 2nd of February, which we were already doing."
Listen: Australia voted yes, so what next? (Post continues after audio.)

Of course, being legally allowed to do so won't mean the end of the couple's wedding worries.
"Have you ever been to a wedding that isn't difficult?" Virginia said. "Even the table plan is difficult. Leave politics out of it."
Speaking more broadly, Christine said this moment and this decision would be one Australia looks back on as a turning point in this country's legacy.
"I think people don't quite realise, just yet, just how important this point will be, and how we're going to grow and move forward from here onwards."
"An absolutely seminal moment for our country."