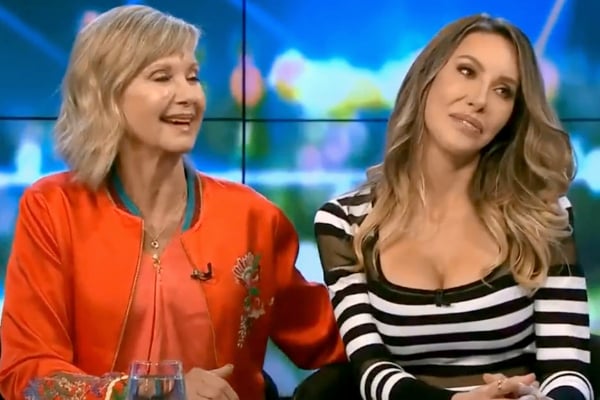 Six months on from her mum's announcement that she had been diagnosed with metastatic breast cancer, Olivia Newton-John's daughter, Chloe Lattanzi, is dancing on national TV.
In fact, she's competing on this year's season of Dancing with the Stars. The mother-daughter-duo appeared on The Project on Thursday night, after Sunday's DWTS season premiere where Newton-John, 71, held back tears after she watched her daughter perform the foxtrot with her dance partner, Gustavo Viglio.
Speaking to the panel, Lattanzi, 34, said performing on the show was her "ultimate fear" and shared the steps she took to prepare herself.
"I have been in the business since I was young and I got a record deal at 18 and when it was all done and ready to go and, OK, let's push you out, I was like, 'oh my God, I don't think I like this. Or I'm not ready – I'm 19, what?'" she told panellists Lisa Wilkinson, Peter Helliar, Waleed Aly and Em Rusciano.
"I had to pull myself out of it and find myself and be ready to actually take something like this on. You have to know who you really are and be comfortable in who you are to do this.
"And then finally, I'm at that place in my life where I'm like, I'm ready to get on TV and dance and not care what anyone thinks, and put my album out again and just do everything and anything creative. And my mum is well and healthy and that has made me feel so much stronger."
When Lattanzi later spoke about her reasons for going on the show, she once again mentioned her mother's health.
"I did it for loads of reasons but a big bit of it was to show my mum that I'm ready, that I'm healthy and she doesn't have to worry about me."
Newton-John also had some personal news to share. Tonight, she confirmed her health is better, after battling stage four breast cancer.
"I believe your belief system is part of the healing, and all I can know is that my last MRI, which is an exam where they look inside, things are shrinking and going away, or staying the same, and I'm living well with it and feeling great."
In August 2019, Lattanzi opened up about the painful reality of her mother's breast cancer diagnosis on 60 minutes.
"It was a weird feeling," the former Grease actress said of the rumours about her health. "I mean, to read that you're dead, or that you're dying, is a very strange experience… and then you think, maybe they know something I don't."
 

View this post on Instagram