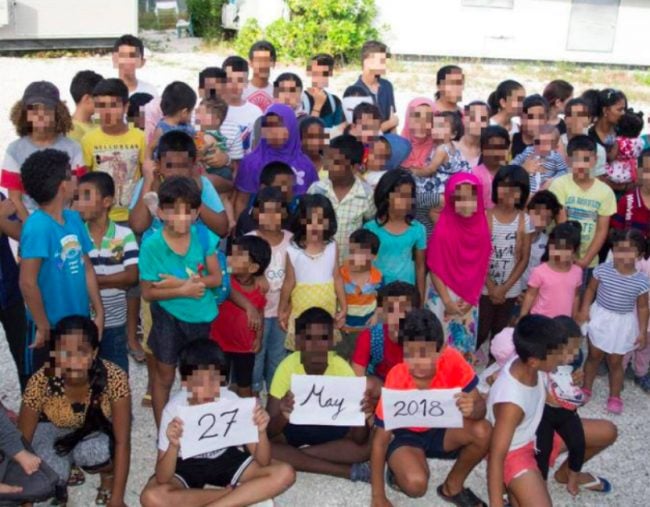 We talk about children in disadvantaged circumstances – victims of war, famine and poverty – like it's only a problem of other, morally deficient countries. We don't see Australia as part of the problem. And yet we are.
More than 120 children who arrived on our shores – by sea – seeking refuge with their parents are now, in effect, being held captive on a remote pacific island in our name. They might not be behind locked gates and barbed wire fences, but these children are effectively trapped against their will.
Almost five years on, neither the condemnation of the UN or the outcry of many good Australians has rescued the lost children of Nauru. Some try to justify these unconscionable circumstances, with the crass: "They should be grateful they're safe from whatever they fled!"
There is actually nothing that can justify the imprisonment of innocent children. Anywhere. Anytime.
On ABC's Q&A this week, Gabby Sutherland, a former teacher at the Nauru detention centre, held up a fresh photo of these kids, reminding us all that despite our Government's protestation to the contrary, these children are effectively still being detained against their will. Snapped the day before the program broadcast and sent to Gabby, the photo, as they always do, spoke a thousand words. We couldn't see the detail of their pixelated faces. But you could tell they were toddlers, babes in arms and older kids being asked to stand still for 'just a mo'.
Many of these little ones have now spent almost five years on Nauru, a tiny dot of rock in the Pacific Ocean five times smaller than Victoria's Phillip Island and half the area of Magnetic Island off the coast of Townsville. You could walk around the entire shoreline of this little nation in one afternoon. But, make no mistake, Nauru is no island paradise.
Australia is purporting to give these kids a home on what is effectively a former phosphate mine. Just 21sq km, the island is mostly stripped of its tropical plant and wildlife and now peppered with limestone pinnacles, a permanent reminder of the phosphate mining from the 1900s. They are more than 1000km north-east of the nearest landmass, the Solomon Islands. They more than most have come to understand the intensity of isolation.
What makes my heart break is that we are denying them the most fundamental of rights; their liberty.
These children are also being forced to grow up without the very basics that Australian parents consider necessities for their own sons and daughters like a decent education.