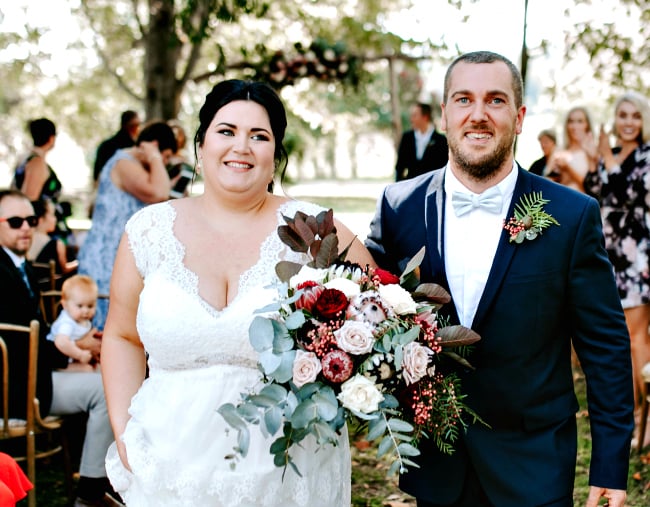 In honour of Mamamia's new wedding planning podcast Hitched, we wanted to celebrate (and perve on) YOUR weddings.
Each week, we'll deep dive into one Aussie couple's wedding day to bring you all the details about the important stuff. From the practical things like the dress and vendors to the words of wisdom they wish they'd heard before their big day, below you'll find everything you want to know. 
Oh, there's lots of beautiful photos too.
This week's Wedding of the Week is Kylie-Ann and Jake's dream 'non wedding' that only cost them $20K. Enjoy! Don't forget to Subscribe to Hitched here.
The basics.
Who: Kylie-Ann, 27, and Jake, 30, from NSW
Wedding date: 7th of April, 2017
Number of guests: 90
Wedding budget: $20,000
Photography: Bel Combridge Photography
"Bel made our day! Her presence, work ethic, skill, talent and hilarious banter made our day so easy! I barely remember seeing her yet her images speak for themselves, she is a star! Could not recommend Bel highly enough!"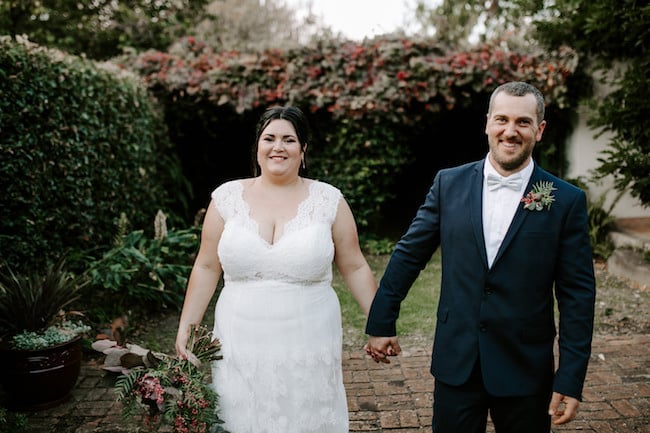 Kylie-Ann and Jake's love story.
"Jake and I met as teenagers at 15 and 17 through friends. We talked on the phone for three months before meeting properly, and the rest is history."
"We are truly best friends and have grown up together for the past 12 years. We had eight years between our engagement and wedding, but we spent the last 12 months actually planning the day.
"As we've been together for so long and grew up together, we never really had marriage in our sights even though we were engaged for a long time. We wanted to achieve many others things first like travel, careers, building our first home etc. before we took this next step.
"We both felt like we were ready for the next phase of life. Marriage really just solidifies our commitment to each other and bonds our relationship."
The wedding dress.
Wedding dress: 'Lucinda' by Mia Solano from Luv Bridal in Sydney
"As I have a big bust, I didn't want to look like Pamela Anderson on the day. True to my super organised nature, I went to one shop with my sister and two friends, there was one dress I knew I wanted but they didn't have my size to try on so I made my little sister try it on!"
"The ladies in the dress shop were super worried about me buying a dress I hadn't even tried on so I obliged and tried on two others, which of course I hated because I knew I wanted the Lucinda dress.
"So I bought it anyway and waited four months for it to arrive only a few weeks before the wedding, luckily it needed minimal alterations. I absolutely loved my dress, it was super comfy and not too 'bridal'."
Kylie-Ann's bridal hair, makeup and final touches.
Wedding makeup: Kylie-Ann's sister-in-law Ally Maree
Wedding hair: Kylie-Ann's high school friend Bhud Clark
Wedding shoes: City Chic - "The only shop I could find comfy rose gold heels!"
Jewellery: Rose gold Samantha Wills earrings
"I felt really comfortable and happy on my wedding day, which is evident in all of the photos, I'm laughing in most of them."
"I didn't want a super 'bridal' look for my wedding, I didn't have a veil or anything over the top. I knew I wanted a boho style dress, native flowers and a minimalist vibe, we just went from there and everything fell into place. I'd say [my bridal look was] a mix of boho, vintage, modern and minimalist... is that even a thing?
"My beautiful sister-in-law Ally Maree is a talented makeup artist, I was so lucky to have her do [my bridesmaid's and my] makeup. It was perfect and exactly what I wanted. Our hair was done by a very close friend of mine Bhud Clark, there is no one else that compares. Bhud knew exactly what I wanted and I absolutely loved my hair!"
The bridal party.
Bridesmaid dress and details: Dress bought second hand, bridesmaid's own shoes
Groom's outfit: Navy suit, shirt, bow tie and shoes all from ASOS.
Groomsmen outfits: Suit, shirt, tie and shoes all from ASOS.
"Jake and I didn't want a big bridal party, we've been involved in a few weddings and I used to be a hairdresser - big bridal parties are just so stressful and full on."
"We just wanted a cruisey, fun day! It was a non-brainer that Chaz and Katie would be our go-to! My best friend Katie was my maid of honour and only bridesmaid, she wore a second hand dress we found and her own shoes. She was a big help the day before, helping me set everything up. Katie's daughter Khloe, who is nine, was our ring-girl. Khloe is really special to me and she was stoked to have a job to do.
"Jake's older brother Chaz was his best man. They were both dresses head-to-toe in ASOS, they looked so good together. I loved how Jake looked on the day, navy blue is his colour."
The ceremony and reception.
Wedding ceremony venue: Oaklands Homestead in Pambula, NSW
Reception venue: Oaklands Events Centre in Pambula, NSW
Invitations and stationary: Fabled Papery
Celebrant: Suzette Hazlette
Flowers: The Little Bouquet
Decor: DIY from Ebay, Target and local op-shops
Catering: Oaklands Events Centre
Wedding cake: Chloe Kryskow Catering
Entertainment: Band, KBZ
"We had our ceremony at the Oaklands Homestead in Pambula, NSW - it's a beautiful heritage listed house with stunning gardens and is also only a 100m walk from the reception venue. We could not speak highly enough of these guys, nothing was an issue and the whole process was easy peasy. We chose to have a non-traditional ceremony, full of puns and laughs! Our celebrant Suzette is hilarious and was a pleasure to deal with, she made the legal side of things so easy."
"We went for minimal decorations to suit the non-bridal theme. Other than the flowers, we used a lot of candles and jars sourced from Ebay, Target and the local op-shop filled with tealight candles. Jasmine from The Little Bouquet is a master of her craft and a lovely lady to match. I loved my flowers so much, we went with natives in greens and burgundy colours.
"We had our invites designed and printed by Jessa from Fabled Papery, she also designed our welcome sign and seating chart which I had printed at Vistaprint. Jessa was amazing and seamless to deal with.
"The catering for our wedding reception was all done by the Oaklands Events Centre which took the stress out of that part of the day. Aside from that, my big sister put together an amazing grazing table for us. We chose a naked style tiered cake with three flavours - lemon, passion fruit and raspberry white chocolate - made by a lovely, talented mum-of-three who makes the most incredible cakes!
"For entertainment, we had a local band called KBZ, we know the boys personally and they did a killer job playing a mix of music from 70s rock right through to modern tunes."
The moments that made Kylie-Ann and Jake's wedding day special.
"I felt a mixture of nervous and excited on the day! I was super nervous for the ceremony, not for the marriage part but because it was 'all eyes on me'. It was daunting, but once I got to the end of the aisle, all of the nerves disappeared."
"There were so many special moments - my dad walked me down the aisle, there was no question about that, he's pretty old school and has three daughters, he takes this role very seriously. I'm really close with my dad so this was so special.
"Our first dance was to 'My Girl' by The Temptations, this song has a long history in my family and was a car trip favourite when we were kids. Jake also always sings it to me, so we thought it would be a great first dance song.
"Jake's speech on the day was also super heartfelt and cute, the whole room was crying! I was really surprised and so proud of him, he's usually shy and goofy, so to hear him speak was priceless."
Would Kylie-Ann and Jake change anything about their wedding day?
"Honestly, we wouldn't change anything. Everything went to plan and was exactly what we wanted. The whole process was, surprisingly, fairly easy. The power of the internet these days
made things simple, and I love to plan and organise so it was super fun for me."
"If we had out time again, I'd spend the same amount of money. I think on the scale of weddings these days, $20,000 isn't much. We didn't overspend, yet still had the wedding we wanted.
"The advice I'd pass onto other brides is the actual advice I was given, but didn't really believe until after the day was done! It goes so quickly, you don't get to talk to everyone, you don't eat and
you end up super exhausted, all so true. So take it in."
Trying to plan your wedding without selling a kidney on the black market? This week's episode of Hitched is all about Aleisha McCormack's best tips for saving money on your wedding. Listen below!
Love weddings or getting married and need to ask all the questions about venues, flowers, photographers, wedding dresses, EVERYTHING? Come join the Hitched Facebook group.
All images supplied by the couple and Bel Combridge Photography.