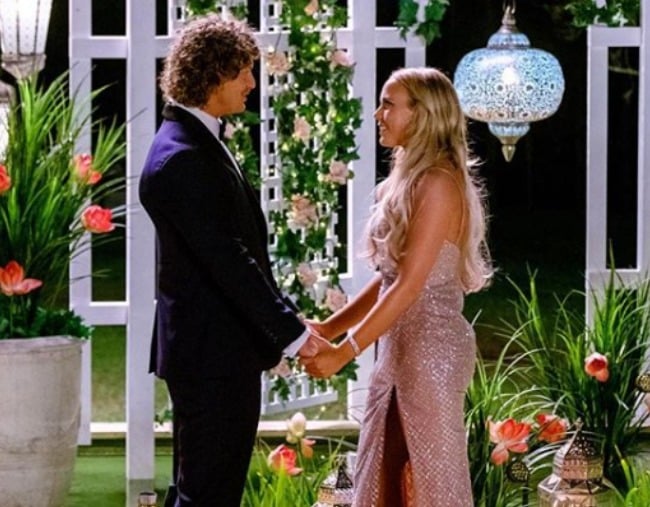 To keep up to date with The Honey Badger, AKA Nick Cummins, and all the best Bachelor 2018 news, cast and roses, check out our Bachelor hub. It's a blast.
Hello.
Yes.
I have a theory pls.
You see, on Wednesday night Nick "Honey Badger" Cummins met 25 hopeful bachelorettes on the steps of the bachelor mansion.
Some of them recognised him, some of them had no idea who he was, and one of them, well, she had already dated him.
Cassandra "Cassie" Wood is a Miss World NSW finalist and a Home and Away extra.
The most hilarious bachie entrances…
When her limo pulled up to the bachelor mansion, she looked a lil' bit… shook.
"Oh, my God. I actually know him," she said to the two other women in the limo with her.
"Hello, hello. Fancy seeing you here," Honey Badger said as she approached him on the steps.
"We had, um, a couple of dates and things," he told the camera. 
The pair then had a gloriously awkward, bumbling exchange and then Cass headed into the mansion to meet the other girls.
For the rest of the episode, the 23-year-old Sydneysider was set up to be this year's Jarrod.
The producers basically had her running around the mansion yelling, "THE TIMING IS RIGHT, THE TIMING IS RIGHT".
With a few cleverly edited scenes, most of Australia decided Cass would definitely not be the one standing next to the Badgelor at the end of the series.
BUT. 
We may have been a lil' bit hasty in writing off this "stage five clinger".