I was in my early thirties, living in a trendy suburb of Sydney, working in marketing and studying part time when I started experiencing knee pain and having trouble walking but I tried to shrug it off.
Then I started to develop back pain – it became so intense that I could no longer ignore it and that's when I knew something wasn't quite right. I went for some scans and they found a tumour in my femur – it was a scary time but at that stage I didn't know exactly what it was or what was causing it.
The diagnosis process was really long for me and went on for months. It was a time of limbo which was difficult to deal with. After three biopsies (I have some hardcore scars on my knee that make me feel very tough) and several tests I was finally diagnosed with non-Hodgkin lymphoma.
The cancer was growing very fast so I started chemotherapy the very next day after my diagnosis. I spent one week out of every three in hospital hooked up to continuous chemo.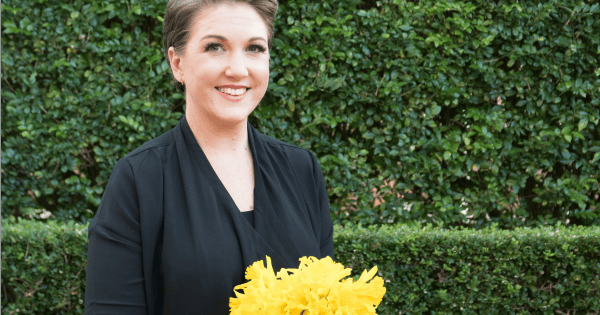 I had lost my father to cancer five years beforehand – he had four different types of cancer during his lifetime so in some ways I had a lot of experience with the disease before I was even diagnosed. I think is why I was very task orientated in terms of dealing with my treatment and appointments. I tried not to get bogged down by the emotions of what I was going through but it was still tough.
However my boyfriend, friends and family were amazing and lifted me up with special surprises and presents – it was overwhelming at times to know how much they cared about me. The staff at the hospital were also amazing. I was close with both the doctors and nurses and they always managed to keep my spirits up even when I was really nauseous or had a mouth full of ulcers.
A lot of the emotions of having cancer are negative ones - including things you don't really think of like anxiety and boredom. But I have also been lucky enough to find a best friend in the process.
When I was about half way through treatment a nurse asked me to speak to some other patients. The type of chemotherapy I was given was very new and I was asked to speak to other young women who were going through the same thing so that I could help explain what the process had been like for me. That was how I met Jess, she was just 20 but incredibly brave and gregarious. We laughed together at the craziness of going through treatment and we have been inseparable ever since.