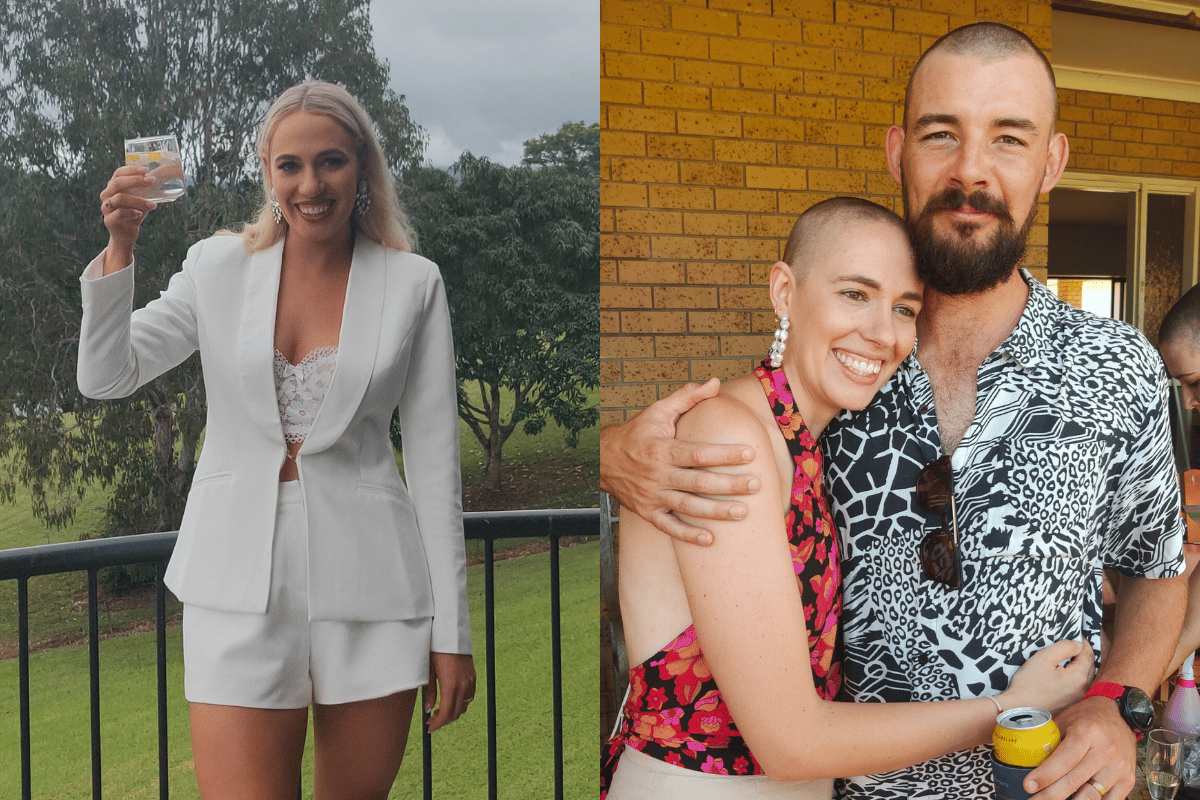 It's a day typically reserved for celebration and letting loose before tying the knot. 
But for Phoebe Sceresini, the day of her hen's party was the day she received life changing news. 
That morning, the 27-year-old was at a tanning salon with her sister and bridesmaid when her phone began to ring.
"I just remember being so excited that morning. We were getting our tans done, and I got a call from a random number and I answered it," Phoebe, an emergency nurse from Queensland, told Mamamia. 
A general practitioner, who Phoebe had seen once about a lump on her breast, was on the other end. 
"She said, 'I'm your GP from the other day... I cannot believe I'm telling you this...'"
"'Is it cancer?' I said. She said, 'Yes'... she was just speechless."
At 27 years old, being told she had breast cancer was something Phoebe never expected to hear. 
"I was in complete shock. I live a healthy lifestyle. I just thought, 'How has this happened? What in my body has done this?'"
Phoebe had only just had a biopsy the day before, after discovering a lump "about the size of a blueberry" on her breast while lying in bed one night. 
"As soon as I felt it, I experienced a burning pressure sensation, and I thought I'm not going to sit on this."
After receiving the news in the salon, Phoebe went straight into 'nursing mode'.
"I was like 'Okay, don't stress out'... I just thought step by step. Next week, I'll see the doctor and then I'll probably see a surgeon, and find out whether I need chemo or radiation."
But before any of that, there were people that needed to know. 
Her sister and her fiancé, Pete, were some of the first people she broke the news to. 
"[Pete] was just absolutely shocked. He was like 'How? You're 27,'" she recalled. 
"We were meant to be getting married and starting a family together... [But] holy moly, your world can literally change in an instant."
Not wanting to cancel her hen's weekend away, Phoebe stuck with the plans, telling only her family and her seven bridesmaids at the party. 
"I felt almost like I needed to hold it together because I had the hen's party and I thought nothing's ruining this weekend, everyone's gone to so much trouble to make this weekend amazing. I really wanted to look back after this experience was over and be glad I enjoyed that moment and really appreciated all the people around me."