If you're always getting in early, leaving late, and working through the weekend, you could be in danger of a burnout.
A burnout happens when someone puts so much time and energy into maintaining unrealistic expectations of their own work ability and production levels, that they end up feeling constantly drained and unfulfilled.
And millennial women are the most at risk of reaching burnout. We're burning out faster than any other group.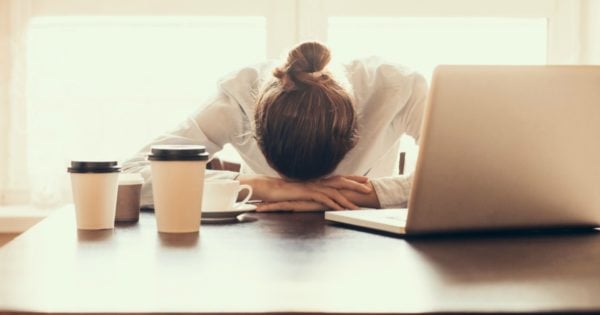 Larissa Faw, a Forbes writer, claims that burnout among under-30 women is pandemic.  Pointing to McKinsey research, she writes that while 53% of entry-level corporate jobs go to women, they make up only 37% of mid-management and just 26% go on to become vice-presidents and senior managers. Meanwhile, men are twice as likely to advance at every stage.
Faw says that women may "have simply reached their breaking point after spending their childhoods developing well-rounded résumés." Additionally, many women may have had unrealistic expectations about the working world, including the long hours demanded of them and the "day-to-day drudgery," which may come as a shock after university.
Listen: "I medicate myself with food" on The Well. 
So what are the signs of a burnout?
1. You feel physically and emotionally exhausted.
A clear sign of burnout is when you feel tired all the time. Exhaustion can be emotional, mental or physical. It's the feeling of being completely drained of energy. This can lead to problems with anxiety and depression, an increase in illness, chronic fatigue, loss of appetite, and insomnia.