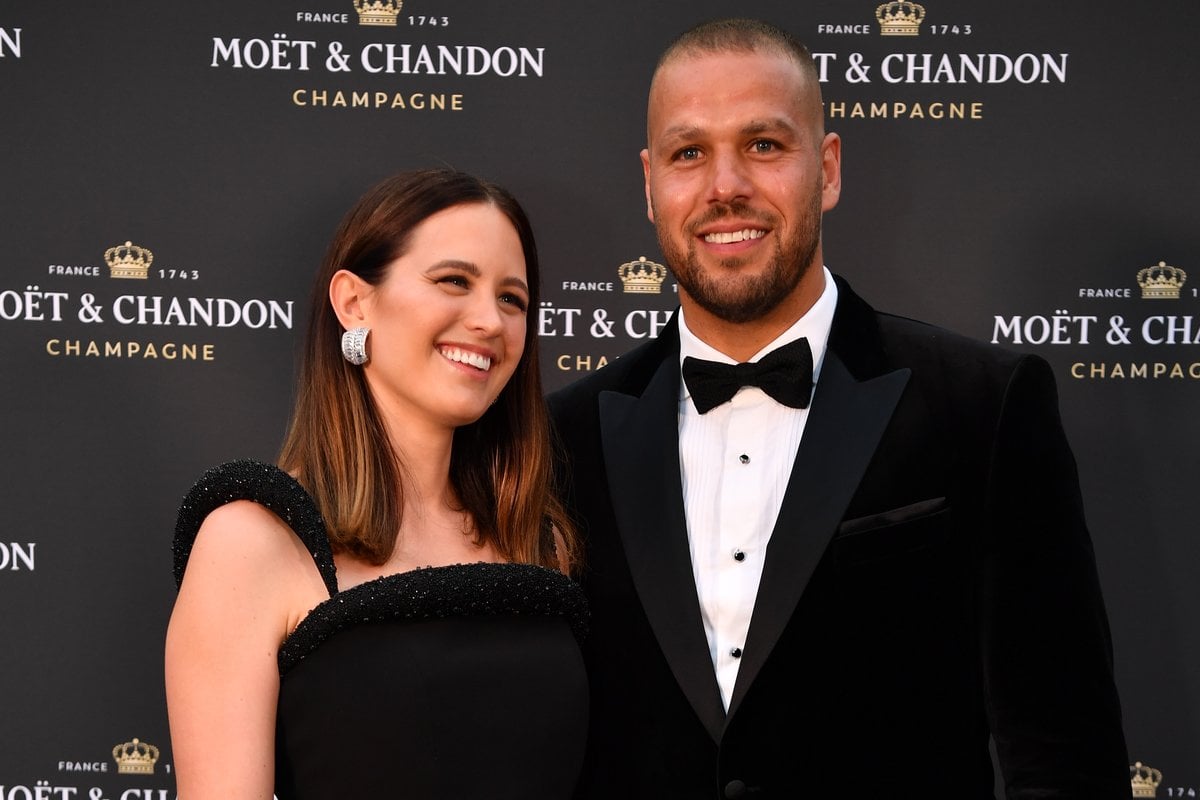 This post deals with infertility and miscarriage and might be triggering for some readers.
Jesinta Franklin (née Campbell) and her husband Lane 'Buddy' Franklin have been an iconic couple in Australia for quite some time now.
Jesinta, a former Miss Universe Australia winner and Buddy, an AFL player for the Sydney Swans, have also welcomed two children in the last few years.
But amid their very public profiles, their private life has remained exactly that - private. 
So after Buddy's 1000th career goal kick over the weekend, here's what we know about the couple, including how they met, the challenges they've faced, and how they decided on their parenting style.
Watch: Jesinta Franklin speaks about her husband Lance 'Buddy' Franklin. Post continues below.
Jesinta and Buddy first met in 2013 when they were both in their early 20s. 
At first, Jesinta actually rejected Buddy's advances.
"He got my number off someone, and then he just started messaging me. And I was like, 'Um, I'm not dating at the moment. I'm dating my career'," she told Beauticate in 2017.
"Cringe! Oh my God, I can't believe I said that. Back then, as soon as I came back from competing at Miss Universe, I hit the ground and the years following were insanely busy. Weekends were non-existent, and I never took any holidays. I was so busy I couldn't imagine fitting in any dating."
Fast forward a few years, and they went on their first date.
The couple later became engaged in December 2014, before getting married in an intimate ceremony with their immediate family and close friends in a private garden in New South Wales' Blue Mountains in November 2016.
Speaking about the highlight of their wedding to Vogue Australia, Jesinta said her first dance was a particularly special moment.