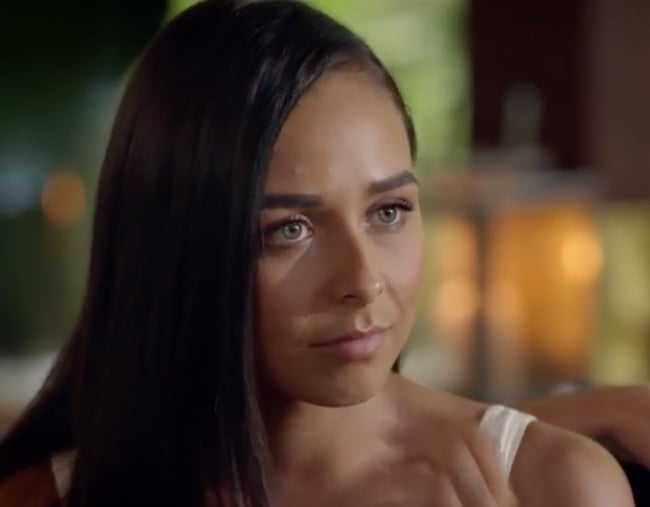 To keep up to date with The Honey Badger, AKA Nick Cummins, and all the best Bachelor 2018 news, cast and roses, check out our Bachelor hub. It's a blast.
Bachelor fans be warned. Wednesday night's episode is set to deliver a bombshell of epic proportions.
According to episode teasers, 23-year-old front-runner Brooke Blurton will make a shock revelation to Nick 'Honey Badger' Cummins.
"It's something big and it's something you should know," she says in the episode preview.
Nick reacts accordingly… "I did not see this coming," he says.
Consider yourself, sufficiently teased.
Here's what we know so far…
In their exit interview, The Bachelor's tripod villain group – Cat, Romy, and Alisha – gave Cosmopolitan Australia a few hints.
"It's juicy," Cat said.
"But you know what? It's going to make Australia love her even more. As they should. She deserves every bit of support she's getting because beautiful inside and out."
While we're going to have to wait a few more days to have our suspicions confirmed, we have some theories and we'd like to share.
#TheBachelorAU
What is exactly Brooke's secret?
Cant wait to find out. 6 days to long to wait, so I will speculate.
It must be devastating!
She believes "The Bachelor" franchise is not an honest way to meet potential partners ? pic.twitter.com/nJY3dMesob

— Roger (@Roger_xxxxxxxxx) September 6, 2018
So what do we think? Does Brooke have a child or has she been married before. Those are my guesses about this bomb drop next episode #TheBachelorAU #BachelorAu

— Hayley power (@HayleyPower2209) September 7, 2018
So, Brooke has a secret. A boyfriend? A child? A massive mortgage? #TheBachelorAU #secrets#tellus

— Ruby (@MissRubyRed1977) September 6, 2018
Theory #1 – Brooke comes out as bisexual.
While 'bombshell' is a stretch of the imagination, this is the theory the internet seems most set on.
In a previous interview with NW Magazine, Brooke said she identifies as bisexual and "will be expecting Nick to be very accepting of that if he falls for her".
And if this is the case, so do we.
Theory #2 – Brooke doesn't actually approve of his hair.
The biggest moment from last Thursday night's episode of The Bachelor wasn't Nick's admission that Brooke would "be a great wife" – it was Brooke's on-camera testament that Nick didn't need a hair cut.
Say what! #TheBachelorAU pic.twitter.com/bCgxXgorXB

— The Bachelor Aus ???? (@TheBachelorAU) September 6, 2018
We believe she has recognised the grave error of her ways and needs to rectify her mistake and can see how this conversation will go.
"I said last week you didn't need to cut your hair…. I lied."
And it's a theory that's gaining traction.
i can't believe brooke just told nick he shouldn't cut his hair she really does love him #TheBachelorAU

— Laura ???? (@LauraDarling4) September 6, 2018
I can't believe Brooke just discouraged Honey Badger from getting a trim I want to CRY #TheBachelorAU

— peter k's woah woah woah (@JennaGuillaume) September 6, 2018
Theory #3 – She doesn't like his moustache either.
It's weird and scratchy and uncomfortable making out with a moustache/hair lip slug and Brooke deserves the right to have her opinion heard.
But, is she about to Vanessa Sunshine Nick's poor 80s-facial-hair-loving heart and is their relationship strong enough to overcome this bombshell reveal?
As the saying goes, the truth hurts.
Theory #4 – Brooke admits she lied about not recognising him on their first date.
It's fine Brooke. We knew. We all knew.
As they say… the truth will set you free.
Theory #5 - Could she have a child?
Because what could be more of a bombshell revelation than a secret child?
While it would certainly be a big shock for Nick to stomach, fellow contestant Dasha also has a son, and it hasn't stopped her relationship with Nick from growing.
If anything it also explains Brooke's evident maturity.
Theory #6 - Is there another element of her admirable albeit tragic backstory?
Thanks to Cat we know this reveal will only have us loving Brooke more, so could the youth caseworker be sharing more of her background?
We already know of her family's mental health struggles, and the loss of her mum and grandmother at a young age, and Brooke's story of her overcoming her adversity-filled past has only made us admire her more, but has she been hiding something from us?
They're our theories, what do you think Brooke's reveal might be? Tell us in a comment.
Let's chat Honey Badger, we try and deconstruct just exact what Nick Cummins actually means.