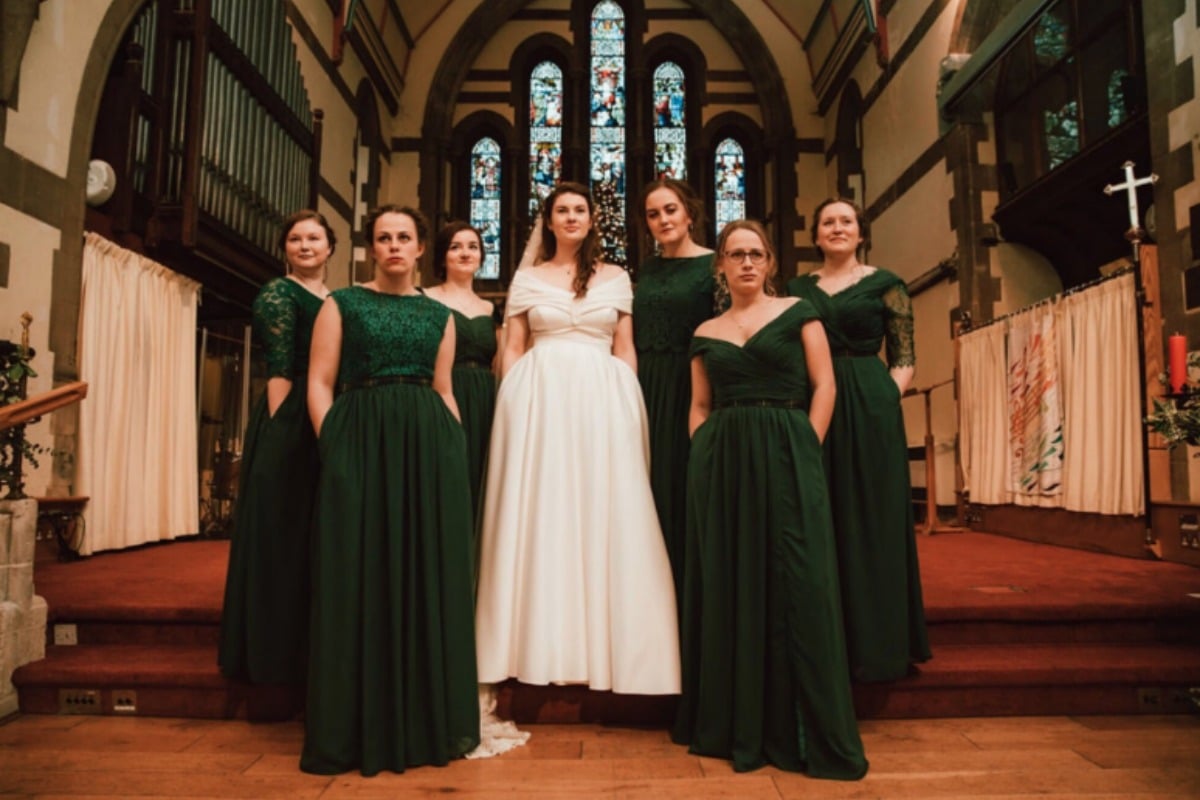 Bridesmaid dresses, to quote Marie Kondo if I may, are known very well for… not sparking much joy.
In fact – it's long been speculated that some bridezillas actually go out of their way to choose an unflattering gown in order to ensure their bridal party do not upstage them on their big day.
And while we're sure many a bridesmaid out there has feigned an excited smile on catching a glimpse of themselves in their bridesmaids dress for the first time, a wedding party in the UK has gone viral for a very unique reason.
The dress. had. POCKETS.
Pockets for SNACKS, tissues, lipstick, nunchucks, you name it.
All the tiny things you may need at a wedding, that your run-of-the-mill dress just isn't equipped to carry.
"My friend got married last month and her dress and the bridesmaids' dresses HAD POCKETS," tweeted bridesmaid Nell Goddard, alongside a photo of the bridal party with, you guessed it, their hands comfortably slid in said pockets.
Mamamia staff reveal the most outrageous requests they received as bridesmaids. Post continues after video.
My friend got married last month and her dress and the bridesmaids' dresses ALL HAD POCKETS.
And yes, we did use them for storing snacks, thank you for asking. pic.twitter.com/3fRWtmJS2F
— Nell Goddard (@alianoree) January 23, 2019
Bride Eve Paterson had insisted on the design, explaining the practical choice stemmed from the double standard she identified in women's fashion:
"You'd never expect to hire suits for guys and then 'add pockets' as an extra, so the idea that women have to do it is insane," she told the Daily Mail.