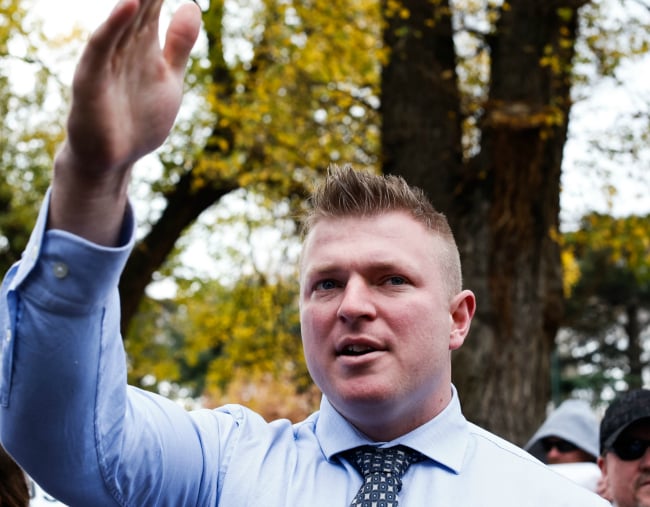 You may have heard the name Blair Cottrell before. He's appeared on television several times over the past few years as a self-styled social commentator, his face framed with the label: "right-wing activist".
But frankly the term seems more than a little generous.
After all, this is a man who has expressed his admiration for Adolf Hitler; who has been vocal about his derision of women, as well as Islamic and Jewish people; who has argued multiculturalism will lead to to "rape, terrorism, racially-motivated murders, rampant crime, maybe even a full-blown genocide"; and (because of all that and more) whose very presence on Sky News on Sunday sparked such widespread outrage that the network was forced to apologise and scrub any footage of it from their online platforms.
Cottrell appeared on Sky for an interview conducted by network host and former Northern Territory chief minister, Adam Giles, in which Cottrell railed against "foreign ideologies" in Australian society, bemoaned the "lack of national pride" and proposed immigration be limited to white South African farmers.
Criticism of the segment was swift and widespread, and notably even came from within Sky's own ranks. Reporter Laura Jayes and the channel's political editor David Speers both expressed their opposition via Twitter:
I have just arrived back in the country tonight to be met with the understandable outrage over this. 100% agree with @ljayes. As News Director Greg Byrnes says it was wrong to have this guy on Sky News. https://t.co/QQF4ESRmbJ

— David Speers (@David_Speers) August 5, 2018
Their boss, SkyNews news director Greg Byrnes, ultimately agreed.
"It was wrong to have Blair Cottrell on Sky News Australia," he tweeted late Sunday night. "His views do not reflect ours. The interview has been removed from repeat timeslots and online platforms."
Lol so Sky News caved already to Lefist abuse. I suppose my ideas are so irrefutable, that the only recourse is to silence me. How pathetic. https://t.co/vI0k4nNxlq

— Blair Cottrell ???????? (@blaircottrell89) August 5, 2018