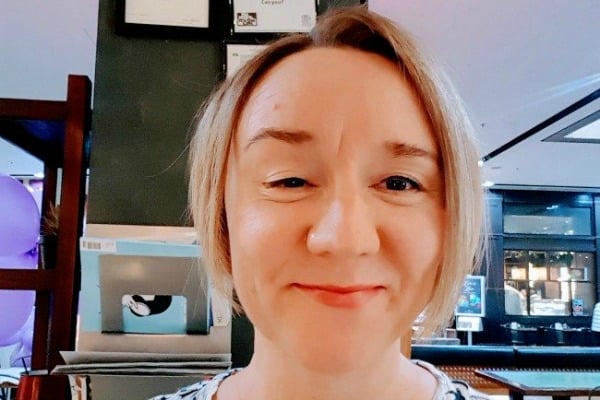 I have spent the last five weeks in a psychiatric hospital for management of a Bipolar 1 Disorder episode.
I am no longer sick. But still fragile. Like an egg without its shell. I always reach a point on the return to wellness where I can get no better in the controlled bubble world of the hospital. A point where staying longer is of no benefit and can even become detrimental.
I ventured back out into the world at the end of last week. A world that hasn't grown any softer in my absence. It is the same hustling harsh, bruising, breaking place it always has been, but perhaps more so. No one was fighting over toilet paper five weeks ago.
WATCH: Our very own Claire Murphy breaks down your most answered questions about COVID-19. Post continues below.
That said, after any admission for a Bipolar episode, jumping back into my life can feel like steel wool on newborn skin in the early days.
No one can tell by looking at me when I leave the hospital that I need rehab and resilience-building before I am okay again. For me, on average that takes the same amount of time I was hospitalised for. So, in this case – another five weeks.
People tend to be congratulatory about me being well enough to come home. I don't want to be a downer. I am grateful to be home. But just because I'm out of hospital it doesn't necessarily mean it's over. It can look like it is slinking away not to be seen again for a couple of years. But appearances can be deceiving.
Once, this illness spent a whole year of my life bouncing me in and out of hospital so often, I got dizzy. By the end of that year, in which most months had held a hospital admission for me, it had nearly killed me. So, that's why I don't think about exhaling as soon as I am home.
Today is my fourth day at home. I am still acclimatising. But I also recognise something unexpectedly positive borne of the last five weeks.
Being in hospital with Bipolar symptoms has prepared me for the COVID-19 headlines very nicely.
I get a sense from these headlines and the empty toilet paper and pasta aisles in the supermarket that many people are panicking, or at least are very worried by the uncertainty they are being force-fed right now.
I am still in the mindset it took to get through my last five weeks. I lived that time (and do every time I go into hospital) in two-day increments. Why? because it is pointless to look or plan any further ahead. Neither I nor my psychiatrist could fortune tell what would happen. Five weeks of observing, tweaking medication or not, and then waiting another two days before assessing again.