In a recent interview with Harper's Bazaar Australia, model and actress Emily Ratajkowski said the size of her breasts have been a hindrance in landing jobs.
"There's this thing that happens to me: 'Oh, she's too sexy,'" she told the publication. "It's like an anti-woman thing, that people don't want to work with me because my boobs are too big."
While many might scoff at her complaint – I feel her pain.
I still remember the day I became aware that having breasts was a problem to be managed.
My auntie had just had her third child and we went to the hospital to visit them. I was 12, and I was wearing a purple cheesecloth dress appropriate to the hot December weather in Brisbane.
As I bounded down the corridor towards the maternity ward I heard my mum and my aunt's friend talking about me. "Gosh she's really grown, hasn't she?" my aunt's friend commented. "Look at her chest."
"Yes," my Mum replied. "We are going to have to deal with that soon."
Deal with it we did, and I've been dealing with it every day since.
Cry me a river, you might say – like so many of my less-endowed friends have in the past. But large breasts are actually terrible 95 per cent of the time.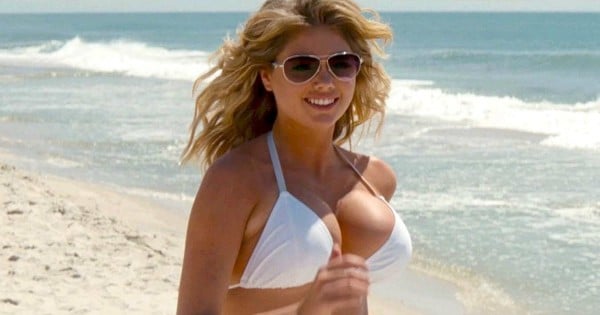 They are terrible when you are at work. They are terrible when you try and wear a button up shirt in your size. They are terrible when you want to wear a singlet because it's hot. They are terrible when you need to sprint for the bus but you're not wearing a sports bra. They are terrible when people feel like it's ok to say things to you like "your breasts look spectacular, can I touch them". They are never not viewed by 99 per cent of the people around you as sexual objects to be discussed and touched and treated like an extension of your personality.
Here's the thing though, they are just breasts. And people who have large breasts have little to no control over how large they are (beyond minor weight fluctuations and drastic surgery).