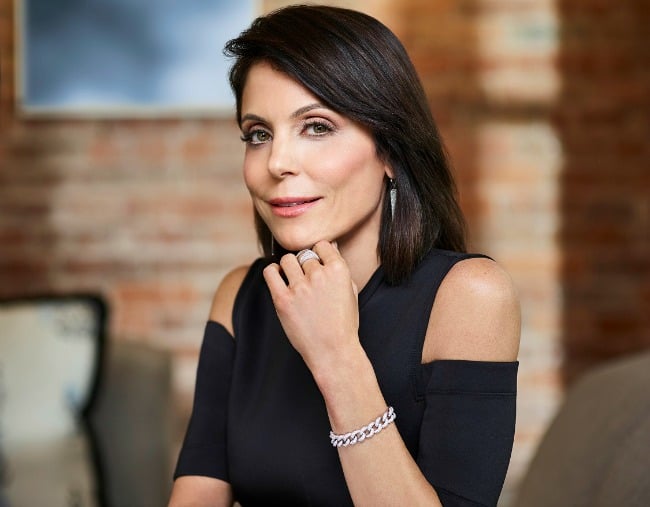 The Real Housewives of New York City star, Bethenny Frankel, promises that the show's tenth season will be its most explosive yet.
However, it's probably best that you don't insinuate that any of the show's drama is in anyway manufactured because she is so not here for that kind of talk.
"Many of the producers have been saying that it's unbelievable that this show is 10 seasons in because it's the most chock-full season we've ever done," Bethenny told Mamamia while in Australia. "It's all fat and no meat and it's not manufactured drama at all. The producers don't even have to show up because there are so many real things going on in our lives at the same time as we've reached this 10 year mark."
When asked how the making of the show compares to the popular dramedy UnReal, a show based on real-life events that chronicles the dark acts that go on behind-the-scenes of reality TV shows, Bethenny was quick to shut down any idea that the shows are remotely similar.
"Housewives is not like that," she answered firmly. "They used to say The Hills was like that but the function of the producers on a reality show like ours is just to organise events and clear restaurants. So if a group of us have been together and two of us have some sort of an incident, it's their job just to be across it. But it doesn't happen the way people think it does. That sort of interference would never happen on this show and certainly would never happen on my watch.
"When we started out it was such a small show. They did all of the interviews in our homes, and we didn't put any extra make-up on. Then when I left for three seasons and came back, all the girls were heavily into stylists, hair and make-up and I did't love that at first. But as the franchise has become more of a known thing, and as they bring in people who have been watching the show already, there are now more theatrics. I can't imagine what it's like to come into this sort of club as a new person."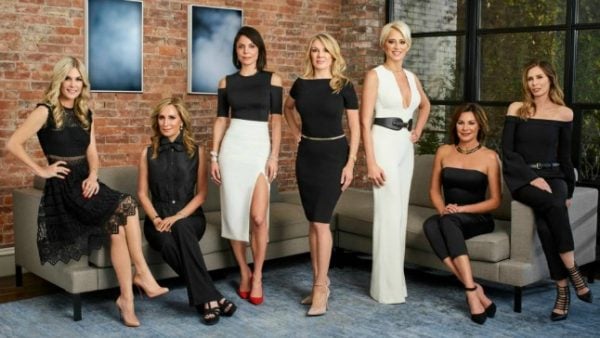 Frankel is a woman with a whole slew of credits to her name, including placing as the runner-up on The Apprentice: Martha Stewart which led her to Bravo's The Real Housewives of New York City followed by the spin-off series, Bethenny Getting Married? and Bethenny Ever After…  It was through these reality TV shows that fans were able to diligently follow her personal life as she became a mother and her professional journey as she created her Skinnygirl empire.
She is a five-time New York Times bestselling author and the founder of B Strong: Find Your Yes,  a crisis intervention initiative that provides real time emergency assistance to women who face crises on their road to success.
It's a whole lot of irons to have in the fire all at once and during filming of the show's tenth season, it finally all came to a head.
"This is the first season, in ten years, where viewers will really see me crack," Bethenny told Mamamia. "I did five renovations, three television shows and a massive private relief effort which they say is one of the biggest in US history from a private citizen. I did all that at the same time. And I had a situation with my divorce and it all just piled on at one moment.
"From that moment where I cracked while filming, I changed my life. You're the first person who has been astute enough to ask this or get to this place so you'll be getting good breaking news, but I really changed my life.
"I've had chronic constipation my entire life from stress and my type of childhood and I don't really deal with it. Everybody thinks that because I'm a natural food chef and because I have a brand called Skinnygirl that I'm always so healthy, but I wasn't. From then on, I just really changed the way I was living my life.
"I went back to doing yoga and just really taking care of myself. I now have the means of not having to do every little thing for myself. It can be something as little as, well I've bought all this stuff while I've been in Australia and instead of schlepping it home myself and dealing with it at the airport I just paid a couple of hundred dollars extra and sent it all home. It was a problem and I eliminated it.
"And I've started really saying 'no'. I've been saying 'no' to so much. It all happened from an experience from filming this season of housewives that you'll see. I just hit the wall. This was my 'come to Jesus' moment."
UnReal star Constance Zimmer on what really goes on behind-the-scenes of the dark reality TV drama. Post continues... 
You will see a lot of Frankel's life unfold on screen during season 10 of RHONY but she is adamant that there are some aspects of her life that will never ever play out in front of a camera.
"My relationship with my daughter (Bryn, 7) is entirely private and the details of my divorce are very private," she said. "The ins and outs of my current relationships and dating life are very private too because it's hard to keep track of that and I'm not that successful in that department.
"All that stuffs not on the show because it's so quick moving. Every date I go on certainly cannot be captured and every failure that I have certainly cannot be captured.
"My daughter is so young that how she perceives my career doesn't enter my mind right now. I'm a pretty open book and I'm flawed and she knows exactly who I am. I'm really proud that I get to be a role model for her. And by the time she is old enough to understand any of this, I might not be doing it anymore."
When it comes to dishing out advice to other women on how to create a business empire or make your way into the fame game, Frankel has some pretty strong words of wisdom.
"When it comes to starting your own business, I don't think there's any kind of brick wall in front of you because you are a woman. I think women who think that are spending too much time thinking about that. Just be the best. Just be better than the men.
"Being an entrepreneur and having a brand is very in right now and very trendy but it's not just an ornament that you hang up. First of all, you really have to be able to recognise that you are an entrepreneur because not everyone is. Not everyone has that drive and determination to get things done by any means necessary. 
"I always say that when the tables are hot you should place your bets and right now, for me, the tables are hot.
"There is an expiration date on everything. On milk and on fame. It's more than having a good idea, you have to get to the finish line."
You can catch all new episodes of The Real Housewives of New York City on both Foxtel and hayu.
For more film and TV reviews, you can follow Mamamia Entertainment Editor Laura Brodnik on Facebook.