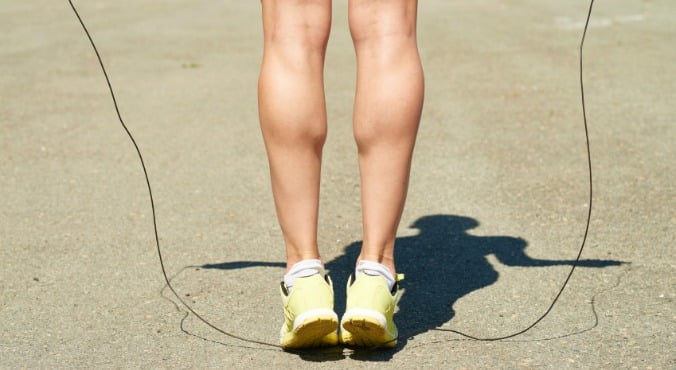 Image: iStock.
Back in primary school, skipping reigned supreme at recess time (along with handball and elastics, of course).
Whether you were going it alone or showing off your sweet double Dutch skills, it was just about the coolest way to pass time in the playground. It seems our Year 3 selves were onto something, because skipping also happens to be a damn good way to stay fit and strong — even as an adult.
"Skipping's great for your cardio, and if you know how to skip properly it tends to be a lower-impact exercise than intense running," explains Blake Worrall-Thompson, personal trainer and creator of the Six Weeks 2 Sexy program.
"To a degree it will help tone your calves up as well. If you look at boxers who do a lot of skipping, they tend to have quite defined, strong calves, which can help with all types of lower body exercises and cardio exercises."
Those benefits are nothing to be sneezed at, but arguably the best thing about skipping is how ridiculously cheap it is. You can pick up a jump rope for less than a tenner (hello, Target) and boom — you're the proud owner of an effective and simple fitness tool.
Watch: This workout from Paper Tiger will also tone up your legs. (Post continues after video.)
"I tend to use a lot of skipping in my program because it takes up very little space, you can do it in the comfort and safety of your own home," Worrall-Thompson says.
They're also compact and easy to carry around with you. You wouldn't be alone in doing so — last year, Kate Hudson's trainer told Look magazine the actress carries a skipping rope "in her bag everywhere she goes" and whips it out for quick impromptu workouts.
Now, I know what you're thinking here: 'But I haven't skipped in years, what if I absolutely suck at it?' I assure you, this will probably be the case — at least initially. I recently acquired a skipping rope, and the first time I took it out for a spin I spent most of the time untangling my (giant) feet.