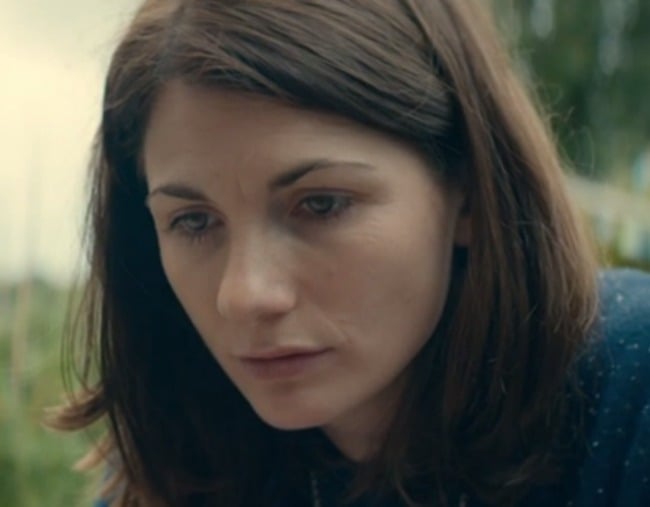 We begin with a shot of a young boy, not yet a teenager, looking over the edge of a cliff. It's dark, and he appears to be alone. The boy glances down – it's a long way – and we're acutely aware of the strong winds and the waves crashing on the beach below. It's ominous, it's mysterious, and it's the basis for the best crime drama I've seen in recent years.
When Beth Latimer (Jodie Whittaker) wakes up on a Friday morning, she isn't concerned that her 11-year-old son Danny (Oskar McNamara) isn't in his bed. He usually has an early paper run, and he typically leaves the house before anyone else is up. But when she arrives at his school's athletics carnival later in the morning, she learns that he never made it to school, or to his paper run. In fact, no one has seen him since about 9pm the night before.
Just as the panic sets in, Beth finds herself in her car at a standstill on one of the roads of her usually quiet town. Asking another woman about the reason for the traffic, she's told the police have found a body at the beach.
Those next few minutes – as a panic-stricken and terrified mother runs towards the beach, desperately hoping it's not her son she's about to find – set the tone for the gripping, raw and utterly believable story that follows. One where a family experiences the worst day of their lives, and must deal with the unrelenting trauma that follows, and where two detectives are faced with a harrowing crime that poses cruel challenges for them both.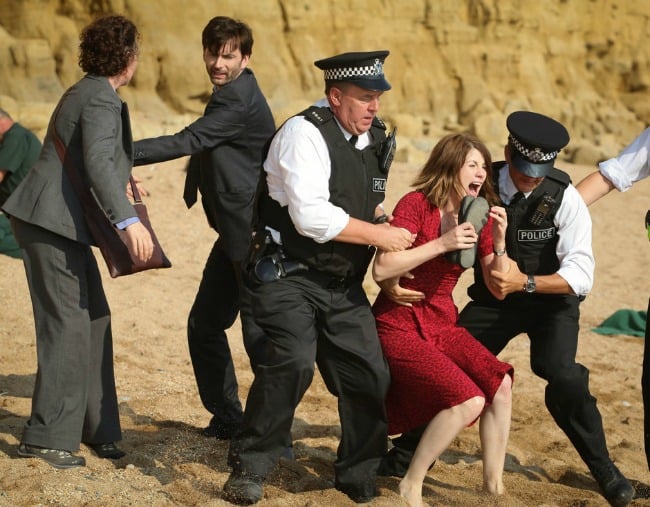 The first season of Broadchurch premiered in 2013, and received almost universal praise. It's been nominated for a BAFTA, was the highest rating drama of the year, and became a "national obsession" in the UK. In eight episodes, creator and writer Chris Chibnall draws viewers into the stories of multiple characters in a tight-knit community, as an unimaginable tragedy breeds suspicion and media attention no one is familiar with.
Detectives Alec Hardy (David Tennant) and Ellie Miller (Olivia Colman) give outstanding performances as two flawed and fundamentally different people trying to catch Danny Latimer's killer. While Ellie wants to believe the best about the people she lives alongside, Alec is a hardened detective, determined to solve this case because of how his last investigation ended. Throughout the series, the two are forced to uncover the community's many secrets - whether they're related to Danny's murder or not.
A particularly topical theme involves the role of the media in covering crime, and the ethics of publishing details about the victim, the family, and potential suspects.
Broadchurch is also a reminder of the unique strengths of British television - the effortless dry humour, the understated performances, and the unassuming nature of the fictional town and the people who live within it.
Now, five years and three seasons later, the hype around Broadchurch has largely died down. But if you didn't discover it in its early days, it's the perfect show to binge-watch this winter. While season one solves the crime of Danny Latimer's murder, season two follows the criminal trial and delves into another case involving the murder of a child. Season three, set three years later, focuses on the rape of a young woman, and has been applauded for the powerful way it deals with its devastating subject matter.
Broadchurch is a clever, bewitching series unlike any other crime drama you'll find on Netflix. And if you missed it originally, then this is your call to start.
For more from Clare Stephens, you can follow her on Facebook, Instagram or Twitter.
Thank you - just by clicking on this and other content on Mamamia, you are helping to fund education for some of the world's most disadvantaged girls.
Together with our commercial clients and charity partner Room to Read, Mamamia's goal is to be funding 1,000 girls in school each and every day, by June 2020.
Learn more here about our ongoing mission to make the world a better place for women and girls.