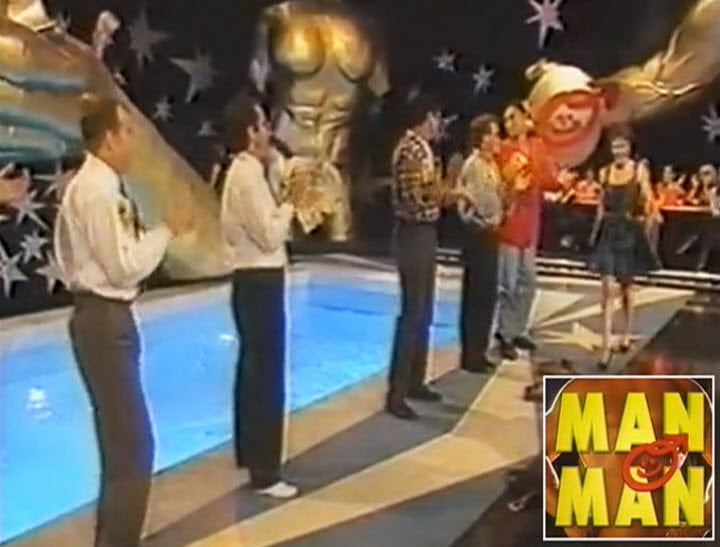 You know what Australian television needs? More reality shows.
Just kidding.
With Masterchef, The Block, Reno Rumble, I'm A Celebrity, and the ten million other reality shows on air this year, the last thing we need is new concepts for unscripted programming.
Especially when the best concepts have already been and gone.
Eight reality TV shows we would welcome back to air.
Man O Man
Obviously, 1994 was a more innocent time. If this show existed now and eight WOMEN were lined up alongside a pool, judged on their bikini bodies and asked dumb over-sexualised questions, and then eliminated by being pushed into the pool, there'd be outrage.
But Lord O Lord, this show was fun to watch 20 years ago. Rob Guest as host, eight men put in ridiculous flirty situations and having to please a crowd of women, and ending up getting tossed in a pool… we'd tune in again.
Australian Princess
This 2005 show was a pre-cursor to Ladette to Lady, and was a reaction to the hype around our Mary Donaldson becoming Princess Mary of Denmark. Twelve Aussie girls were lead by Paul Burrell, butler to the actual royal family, through a princess-style bootcamp. Jackie O was involved somehow. It was a surprisingly good show… although none of the girls seem to have become actual princesses since.
Joe Millionaire
An average Joe (well, an average Evan. Evan Marriott, to be precise – a construction worker from Virginia) was made to look like a multi-millionaire with his own castle in France. A bunch of American ladies were courted at the French château, believing that Evan had inherited $50 million and was looking for a bride. It was basically The Bachelor, with diamond necklaces instead of roses, and a huge lie revealed at the end. FUN.
The winner (or loser, depending on your opinion) was the incredibly sweet Zora Anrich, who decided to stay with Evan even when he admitted he was pretty much broke. Fortunately, the couple got to split a million dollar cash prize. Unfortunately, the couple also split their relationship. They are now both living happy non-television lives in the real world. And doing infomercials.
Also: For anyone who remembers, there was a moment between runner-up Sarah Kozer (now an actress, of course) and Evan, in which they disappeared into the forest. The viewers lead to believe through audible sighs and subtitles that some below-the-belt action was happening, which was the most exciting moment in reality TV to date. Turns out, the audio was fake, as confirmed by the producers. Lame.
Ladette to Lady
Two Australian series of this show premiered in 2009, and we haven't seen it since. Loud-mouthed Aussie bogan women were disciplined by two scary posh English ladies at a Finishing school in England. It was emotional. It was depressing. It was hilarious.
Who Dares Wins
Mike Whitney and Tania Zaetta at their finest. Some poor, unsuspecting person would be dobbed in for a dare by their friend/partner/relative, and Mike Whitney would dangle a cash or holiday prize in their face. A ridiculous stunt would ensue, usually involving the daree's worst fear. If they couldn't complete the task, poor ol' Tania Zaetta (before her Bollywood fame) had to step in and finish the dare.
Queer Eye for the Straight Guy
The FAB FIVE. So fab. Carson Kressley was the Fashion Savant, Kyan Douglas was the Grooming Guru, Thom Filicia was the Design Doctor, Jai Rodriguez operated as the Culture Vulture and Ted Allen was the Food and Wine Connoisseur. The boys would 'zhoosh' a straight man in need of help, prepping him to become more stylish and refined just in time for his big event or proposal or Fantasy Football tournament.
Watch the opening song, and feel the strong pangs of homo-fomo. Come back to us, fab five.
The Mole
Its glory days were 2000-2005, and then it was revamped in 2013 (not many people cared though). A group of contestants tried to add money to the prize kitty through a series of challenges. The secret mole tried to sabotage their work. Just what everyone wants in a reality show – mistrust.
And finally, the final show that needs to be brought back…
Celebrity Splash.
Just kidding. Please, no.
What TV show would you bring back?