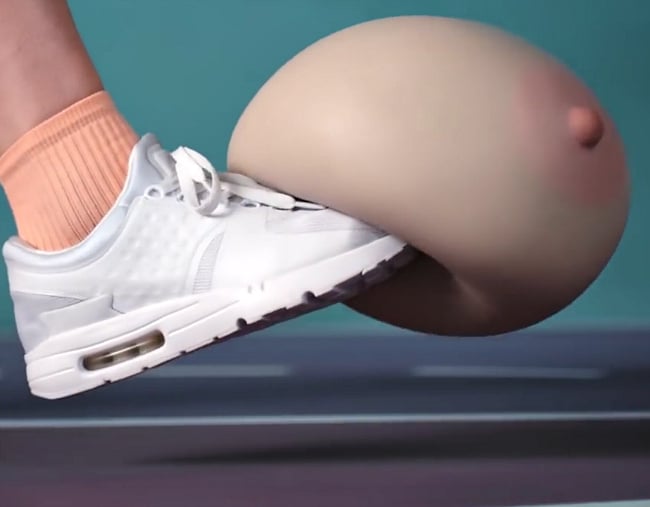 We've all been there. Your one, well-used sports bra is in the wash (or badly needs one), so you strap on your most comprehensive t-shirt bra in the hope it'll anchor your boobs enough for tonight's jog/gym session/netball game.
But oh my goodness, never again. Because now there's an image we will never be able to get out of our minds thanks to a simple but very effective new ad.
Berlei's commercial for its Spring/Summer range of sports bras demonstrates the kind of trauma our poor breasts endure when not properly secured during exercise.
To make the point, the Aussie brand animated a breast – nipple and all – being kicked, hit, squashed, punched, bounced, tossed, even lobbed through a basketball hoop.
"Stop your boobs playing their own game," the tagline reads.
According to research by University of Portsmouth scientist Dr Joanna Scurr, it's estimated that at least 50 percent of women experience breast pain while exercising, no matter how large or small their cup size.
And little wonder. During her investigations for the Research Group in Breast Health, Dr Scurr recorded breasts bouncing up to 21cm.
The correct sports bra, she argued, can allow women to participate in exercise that may otherwise be off-limits and even reduce the need for pain medication.
"Studies have shown that medication to reduce breast pain was only successful for 54 percent of women, but they had to put up with side effects of the medication," she told Science Daily, "whereas sports bras were shown to be successful at reducing breast pain for 80 percent of women, with no side effects at all."