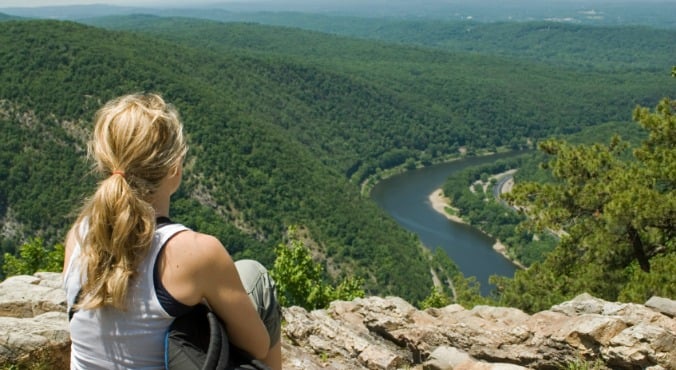 Image: iStock
By Jeffrey Craig, Murdoch Childrens Research Institute and Susan L. Prescott, University of Western Australia
Have you ever wondered why you feel healthier and happier when you stroll through the trees or frolic by the sea? Is it just that you're spending time away from work, de-stressing and taking in the view? Or is there more to it?
For more than 20 years, scientists have been trying to determine the mechanisms by which exposure to biodiversity improves health. Japanese scientists pioneered the search when they travelled to the island of Yakushima, famous for its biodiversity.
The Japanese already had a name for the experience of well-being in nature: shinrin-yoku or "forest bathing".
We do know that a diverse ecosystem supports a varied and beneficial microbial community living around and inside us.
We also know that exposure to green space, even within urban environments, increases our physical and mental well-being. But what are the mechanisms?
Don't forget to stretch before you head out for a walk – try this yogi stretch by Paper Tiger. (Post continues after video.)
The forest air.
The Japanese researchers suggested that we are taking in beneficial substances when we breathe forest air.
Research has identified three major inhaled factors that can make us feel healthier. These factors are beneficial bacteria, plant-derived essential oils and negatively-charged ions.
From birth to the grave, beneficial bacteria surround us; they live in the environment and, importantly, in the air we breathe. We also share almost our entire body with them. The more interaction we have with them, the happier and healthier we are.
This is in part due to our gut-dwelling bacteria, which break down the food we cannot digest and produce substances that benefit us both physically and mentally.
Plants and the bacteria living on them can produce essential oils to fight off harmful microorganisms. These are referred to collectively as phytoncides, literally, "plant-derived exterminators".
Research on the health benefits of plant essential oils is in its infancy. But one recent study found that a phytoncide from Korean pine trees improved the health and bacterial make-up of pigs. (Post continues after gallery.) 
Notwithstanding some of the pseudoscience that gets wrapped around negative ion generating machines, there is evidence that negative air ions may influence mental outlook in beneficial ways. There are relatively higher levels of negative air ions in forested areas and close to bodies of water. This may factor into the benefits of walking in a forest or near the ocean.