Welcome to The Unspeakables, a series by Mamamia that tells unflinchingly honest stories about being a woman - whatever that looks like. You can find out more about   The Unspeakables here.
This article was originally published in 2019. 
In hindsight, this was a truly terrible idea.
It started with a photo I didn't understand.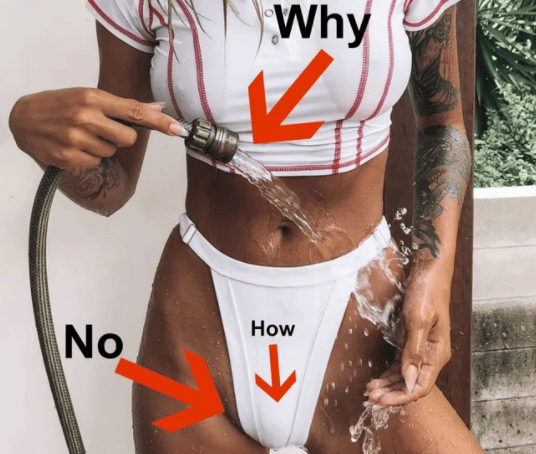 I object. 
You see, recently fashion retailer Beginning Boutique started selling high-waisted bikini bottoms that seem to ignore a fundamental reality about female genitalia: that it... exists.
Women on Facebook, being the underrated professional comedians that they are, went entirely rogue, responding to photos of the swimwear with perhaps the greatest comment thread of our time. Their funnies included:
"Hmm, nice clit hammock. Sell anything for women with vaginas?"
"I can't even sit like this in a normal bathing suit without my camel trying to stick its toe out and test the water."
"I feel like she has quickly shoved her vagina in and pulled them up like I have to with the towels to shut the laundry cupboard before it all quickly falls out."
Nobody speaks to women like Mamamia. Post continues after video.