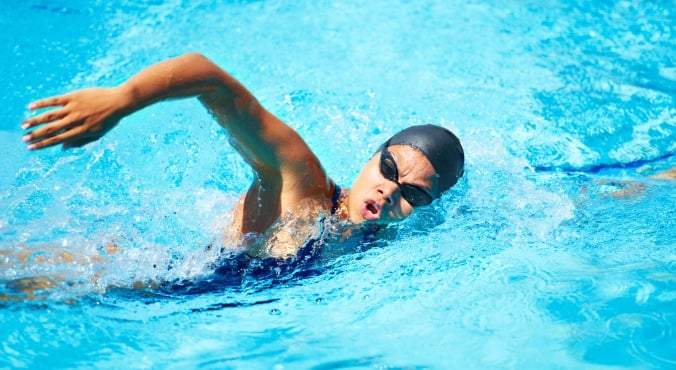 Image: iStock.
Not only has swimming been proven to increase flexibility, improve circulation and build a stronger, healthier heart but a 2008 study conducted by the University of South Carolina found that swimmers lived considerably longer than both runners and walkers.
If that doesn't convince you, maybe the thought of exercising in a cool pool rather than sweating it out in a hot gym will do the trick. Here's everything you need to know before you take the plunge.
What you need.
Aside from a swimming costume and access to a pool (or sea, or lake, whichever takes your fancy/is more geographically convenient), the equipment requirements are quite minimal.
"All you need is a good pair of goggles ($10-$20) and for those with hair, a good swimming cap. Go for a silicon version cap which, although a little more expensive, will last considerably longer than the cheaper latex model," advises Olympic-level swimming coach Joanne Love.
Investing in flippers or a kickboard is also a great way to get the most out of your workout, and challenge your body that little bit more.
Warm Up.
Like any sport, warming up is essential, with MD Health Pilates' Senior Physiotherapist Michael Dermansky recommending a number of different exercises to activate the muscles you'll need to swim.
1. Push up against the wall
"This is essential for great shoulder blade control which creates the base for your upper body movement and the power and speed phase of your swimming," he says.
To do: Stand with one hand on the wall just below shoulder heights, holding your shoulder blade back and up a little bit to activate the major stabilisers of the shoulders. Lower yourself down the wall using only your elbows, hold for three seconds then rise back up again. Repeat eight to ten times.
2. Bridging
This helps activate the glutes which are used when you kick.
To do: Lie on your back, with both knees bent and lift one leg up in the air. Using the leg that remains on the ground, lift your bottom up and hold for three seconds, then lower the bottom down. Repeat 10 times on each leg.
3. Squats
"Squats strengthen your quadriceps (the muscles at the front of the thighs) which are extremely important for walking, getting up and down off the ground and being able to walk up and down hill as well as for swimming," says Dermansky.