Did you know that the time before bed is notorious for piquing people's anxiety? That's when you think about things you should have said during the day, when you start wondering about logistics, a big presentation for tomorrow, or if your kid is coming down with the flu.
Therapists know it's a notorious time for anxiety. Plus, if you're sleeping with your smartphone, or watching media at the end of the night, let's hope there are lots of positive images or else all that negativity stresses your conscious and subconscious and can sent you straight to nightmares (literally).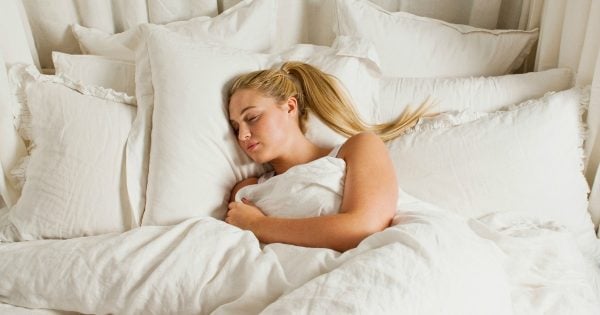 Image: Getty
So, let's flip that switch. Instead of stressing about life, or watching media, try this practice. It's called "Three Good Things".
Review your day, from the moment you woke up until now, and think of something good that happened.
Did you have lunch with an old friend? Did you stick to your new diet? Did someone give you their seat on the subway? Did you buy a meal for a homeless person? Did someone get a coffee for you, just because?
Now, take a few minutes to really think about one of those good things.
Let's say it was a coworker that bought you a coffee. When they gave you the coffee, what did they say? What did you say? How did you feel? Did you give them a hug? What was the reason? How did the coffee taste? Were you hoping for one? How did you feel for the next 10-15 minutes as you sipped the coffee? Did this lead to a conversation with a coworker? Did you think about paying it forward to someone else tomorrow?