Last night Georgia dressed up as a princess, and then her merry group of men turned into a bunch of dicks.
And tonight, she's had it up to HERE with their bullshit.
This is her show. This is her mansion (note: it's definitely not her mansion). And this is most definitely her Osher.
We begin with Osher trying to hang out with all the dude-bro's, and AGAIN he does something weird. He enters awkwardly rubbing his hands together, which, if we're honest, gives away his nerves.
A producer whispers in his ear, "Osher, your job is simply to drop the date card and leave... these people are not your friends" and reluctantly he exits.
Fireman Cam gets the single date, which is lovely because he is not only obscenely attractive, but he hasn't outwardly offended Georgia in the last 24 hours.
Ryan makes a joke about Cam being in the "friend zone", which we would far prefer to being in the "I'VE NEVER SEEN YOU IN MY LIFE ZONE" where Ryan has been sitting for the last hundred weeks.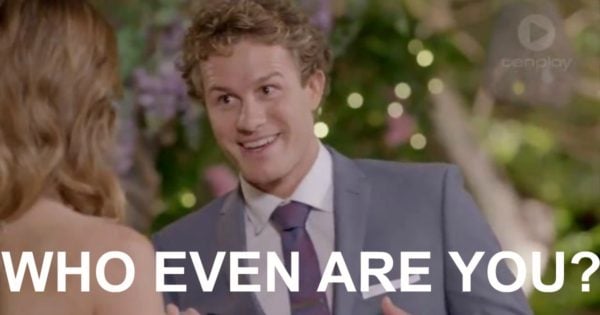 Georgia has organised a Disney-inspired date to gently remind her minions that this show is meant to be about a) romance and b) her.
First her and Cam go on a magic carpet, which is just a... rug. On the ground. With some food and drinks. It's a picnic. It's a f*cking picnic.