Last night Georgia dressed up as a princess, and then her merry group of men turned into a bunch of dicks.
And tonight, she's had it up to HERE with their bullshit.
This is her show. This is her mansion (note: it's definitely not her mansion). And this is most definitely her Osher.
We begin with Osher trying to hang out with all the dude-bro's, and AGAIN he does something weird. He enters awkwardly rubbing his hands together, which, if we're honest, gives away his nerves.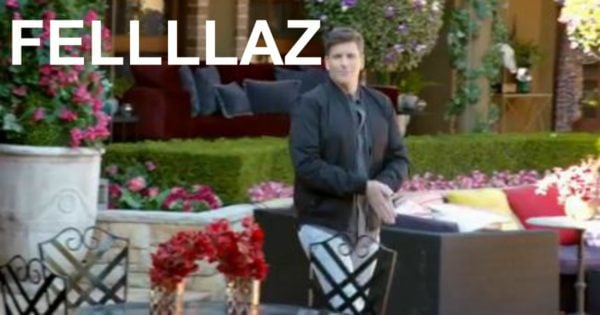 A producer whispers in his ear, "Osher, your job is simply to drop the date card and leave... these people are not your friends" and reluctantly he exits.
Fireman Cam gets the single date, which is lovely because he is not only obscenely attractive, but he hasn't outwardly offended Georgia in the last 24 hours.
Ryan makes a joke about Cam being in the "friend zone", which we would far prefer to being in the "I'VE NEVER SEEN YOU IN MY LIFE ZONE" where Ryan has been sitting for the last hundred weeks.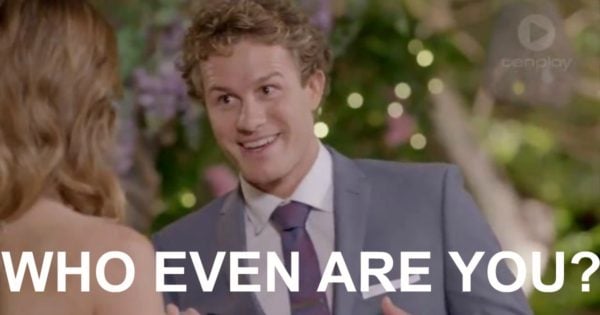 Georgia has organised a Disney-inspired date to gently remind her minions that this show is meant to be about a) romance and b) her.
First her and Cam go on a magic carpet, which is just a... rug. On the ground. With some food and drinks. It's a picnic. It's a f*cking picnic.
But because Georgia didn't get to go to New York last night like she so kindly requested, the producers have given her a helicopter for half an hour. We missed the part where an aircraft of any description featured in a Disney movie, but hey, don't let an awkwardly-themed date get in the way of a FREE RIDE.
They take their magic carpet helicopter to what looks like a farm, and then... and then...
Oh.
Oh my.
Oh goodness.
We see what's happening here.
It's... it's puppers. Doggos, if you will. They're dalmatians, like in 101 Dalmatians, except someone f*cking failed and only found 15.
We can't anymore. We cannot. We do not know. How do words? How can they? Even?
OK NO. WE WILL NOT TURN CAPS LOCK OFF. WE WON'T DO IT.
THEY'RE SO SMALL. SO TINY. WITH THEIR FEETS AND THEIR TAILS AND THEIR BELLIES BUT ALSO THEIR EARS.
GEORGIA TELLS CAM TO LAY DOWN AND THE PUPPIES GET ON TOP OF HIM AND THEY'RE LICKIN' HIS FACE AND HE HAS NEVER BEEN THIS HAPPY AND SHE HAS NEVER BEEN THIS HAPPY AND IT'S HEAVEN IN A SERIES OF IMAGES.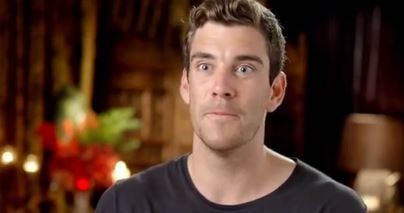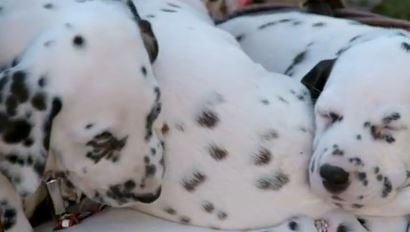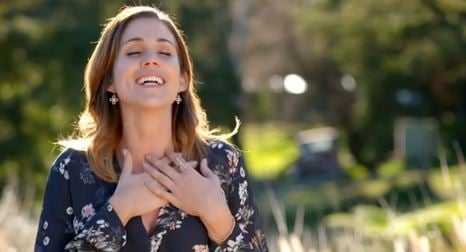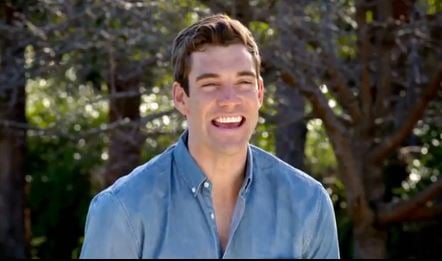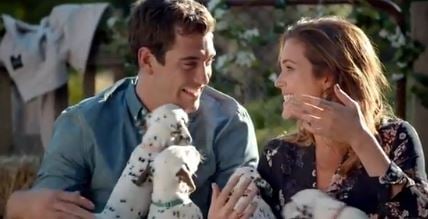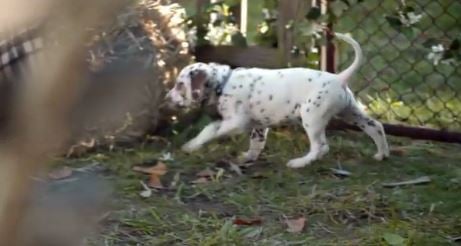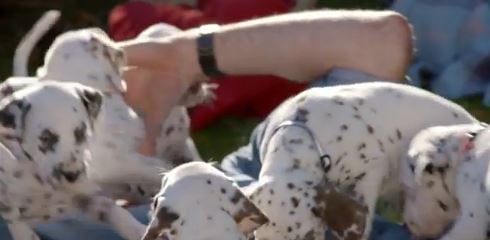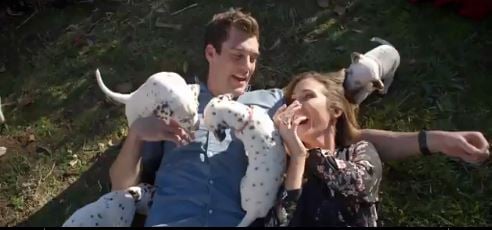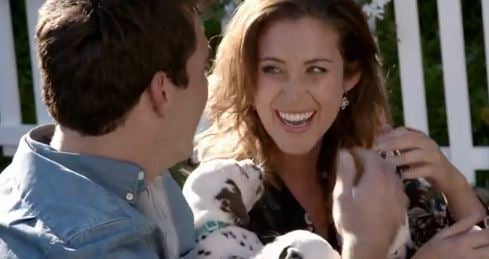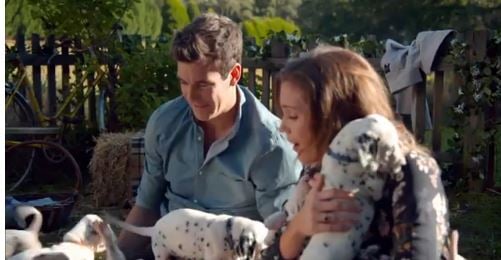 WE'RE NOT CRYING EXCEPT WE VERY MUCH ARE, BECAUSE DID YOU SEE THE LITTLE ONE IN THE CORNER?
What are we meant to do when we no longer can?
We're not...composed. We're not...okay. It's all too much.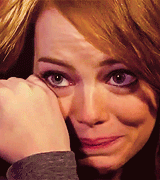 Ahem.
By this point Cam and Georgia are officially in love and it's just awkward that there's more of the episode to come.
They go and sit on a couch in front of an outdoor fire and Georgia flippantly says, "There is probably nothing better than an open fire."
Oh, um. We think FIREMAN CAM would probably beg to differ.
They still have a lot of adrenalin from the puppy incident so start kissing and it's passionate AF.
It turns out there are still 10 other dudes Georgia has to hang out with before she can go marry Cam and adopt 101 puppies, so next it's time for the group date.
Sam knows this is just one challenge closer to winning Survivor and is, as usual, battling it out against Rhys.
The boys have to get into two teams, and Todd and Sam are the captains. Sam doesn't want any "peanuts" on his team, but then he chooses Ryan, which is strange because we specifically remember him calling Ryan a "peanut" on multiple occasions.
Anyway, point is, Rhys is (obviously) on the other team, so Sam might just live out his dream of kicking Rhys off the island.
Once the teams are chosen, Rhys says, "Todd picked the grown ups, the other team is full of the boys." WHAT THE FUCK IS EVEN GOING ON ANYMORE ARE YOU GUYS IN YEAR TWO?
In describing the ridiculous activity, Osher uses the word "stupendous", which says everything about his inability to even marginally relate with any of these men.
We'd explain the rules of this weird challenge/competition thing, but it makes no sense. None.
The blue team wins and Sam says, WE QUOTE, "The blue team actually suck. Average-looking, average at everything, they suck and red team's way better. Should've won. I don't understand why we didn't".
OK, no. There should not be a 12-year-old boy on this grown up show. It's duty of care Channel 10. He is an adult baby. 
They then compete in Turkish oil wrestling, and Osher actually has to say WITH HIS WORDS: "No throwing, no biting."
Rhys hurts his shoulder and insists he's in a lot of pain. OK, we don't want to say he's being a bad sport, but we kinda think he's being a bad sport. And maybe he's... faking it. For attention. 
Oh my god we didn't say that you said that.
But then in a SHOCKING TWIST there's another single date up for grabs. Sam says something to the camera about not understanding what these 'dates' are, but they're definitely getting in the way of the 'challenges'.
Matty J 'wins' and is stoked. He literally seems like one of the only guys genuinely interested in Georgia.
They arrive at some lawn in the middle of nowhere and Matty really wants to know what they're doing today. There is lots of suspense. Georgia announces they're playing croquet and he jumps up and down excitedly yelling about how much he loves croquet.
But, how did he miss the croquet clubs and balls that were sitting literally two metres away from him? Didn't he notice when they exited the car?
It is a well-known fact that the more time Matty J spends on TV, the hotter he gets.
Georgia asks, "What's the weirdest thing you've ever done on a date?" and Matty replies like the HOT DUDE HE IS, "Tried to kiss a girl on national TV..."
Oh my God kiss us right now Matty J. We are even willing to overlook the fact that your name makes you sound like a white rapper.
Georgia giggles, "Have you done that a lot, have you?" and this whole scene is getting so sexual we think it might be a porno.
"No, but I'm thinking about it..." he replies, and then they kiss with so much sexual chemistry we're pretty sure Georgia is pregnant. With f*cking triplets.
The date ends and we return to the mansion for the cocktail party, where Rhys looks like a wanker because he's wearing a sling. We're sorry, but mostly we're not at all sorry.
Out of pure pity Georgia takes him aside and you won't F*CKING believe what happens.
He whips out another goddamn poem and it's no longer cute or gimmicky. Georgia is not even hiding the fact that she's over the stupid poems and they make her feel uncomfortable. WHY ARE YOU STILL READING THE POEM WHEN HER FACE LOOKS LIKE THIS??
And in other news, Jessie legitimately injured herself. She pulled a muscle in her neck/head from cringing so hard at the poem. And now it hurts. And it's all because of Rhys.
At one point he says, "It's been a bit tricky, being poetic and witty", and it is here we realise that Rhys is obviously a comedic plant because this cannot be real life.
But... when he finishes reading his stupid poem... Georgia can see that there's more. And she wants to hear all of the shitty poem. 
It's about this "boys and men" stuff again, and Georgia has HAD IT.
She presses Rhys on the subject and he smiles cheekily and says, "That's for you to find out."
But no, Rhys. It ain't cute. Georgia literally says, "Nope, none of that. I've had enough of that... If you're here for me, why won't you answer the question I'm asking you?"
Rhys pretends he is reluctant to say, but is bursting at the seams. He explains Sam isn't here for the right reasons, but can't really say how or why.
OK, just because Sam has ABSOLUTELY NO IDEA who Georgia is and continues to RELENTLESSLY bully Rhys does NOT mean he's not here for the right reasons. He is just here for different reasons.
Just when we thought this cocktail party couldn't get any weirder, it's clear the boys are organising yet another gimmick.
Fireman Cam asks Georgia if they can have a quick chat. But... but he doesn't take her away. He then whips out a guitar and explains, "I brought a guitar along, it's not mine, I stole it from Todd," and we think maybe all the guys have locked Todd in a cupboard somewhere so they can use his things.
But THEN. Holy moley. They start singing.
Each guy has a line and they've written a song about Georgia's blue eyes and how they've been thinking about her. They clearly feel very sorry for being such dicks in last night's episode and making her feel silly in her princess costume.
Even Clancy joins in, singing, "You shaved my beard and I jumped in the pool. Hopefully the next thing I do will actually be cool." HA. Good one, Clance.
This is almost as cute as the puppies. We actually have real feelings and who ever knew having 10 dude-bros singing to you on a reality TV dating show could be so romantic. This... this is giving us goose bumps.
Of course, there's one person who is left out AS PER USUAL.
In the distance, if you listen closely, you can hear Osher singing: "I am Osher, people think that I'm the host, I want to be your friends, but I'm treated like a ghost..."
The rose ceremony is tense because a) Osher is mad that he wasn't included in the song, and b) we want Rhys to go home, but Georgia probably can't break up with someone with a fake broken arm. EUGH.
She ends up sending Ryan home because she hadn't met him yet.
But OH GOODNESS next week looks good. Rhys and Sam battle it out in one of those dates where two people go and only ONE returns. But tbh, it looks like Georgia decides they're both peanuts and no one returns.
SEE YOU THEN.
You can follow Clare and Jessie Stephens on Facebook here.
Meet the men of The Bachelorette 2016