This week we saw The Bachelorette, Georgia Love, take contestant Jake Ellis on a romantic date.
A completely romantic, original, not-conceived-entirely-by-the-producers-at-all date. Right?
Well if you thought the pair's Blue Mountains trip looked a bit familiar, you were right.
The outing has a few, ahem, similarities with a certain date Tim Robards took Anna Heinrich on during the first season of The Bachelor Australia.
By that we mean it was pretty much the EXACT SAME date.
Don't believe us? Watch below. (Post continues after video.)
Suspended high above the Blue Mountains forest floor in a cable car? Tick. Overcoming a certain level of fear? Tick. Getting harnessed up? Tick.
The only difference between the original date and Georgia and Jake's was that the couple we lowered down to the bottom of the forest floor, while Anna and Tim stayed at the top to have their picnic.
So is this proof the producers of the show franchise are low on new date ideas?
Maybe. But if they have, then we can only hope Georgia takes the boys on last Bachelor season's not-Olympics group date.
We would love to see Rhys forced into a kangaroo boxing suit.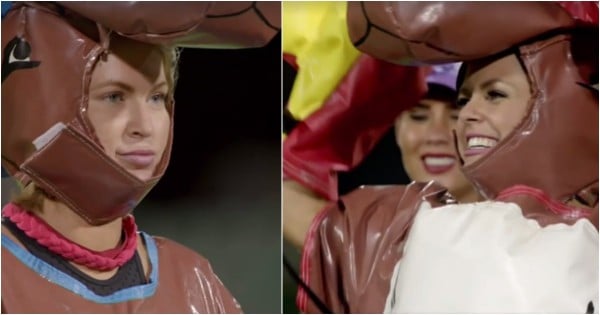 Jake might be a little bit miffed when he finds out his date is a rerun of Tim and Anna's.
But given how well that romance turned out, this may not be such a bad thing for the Queensland sales professional.