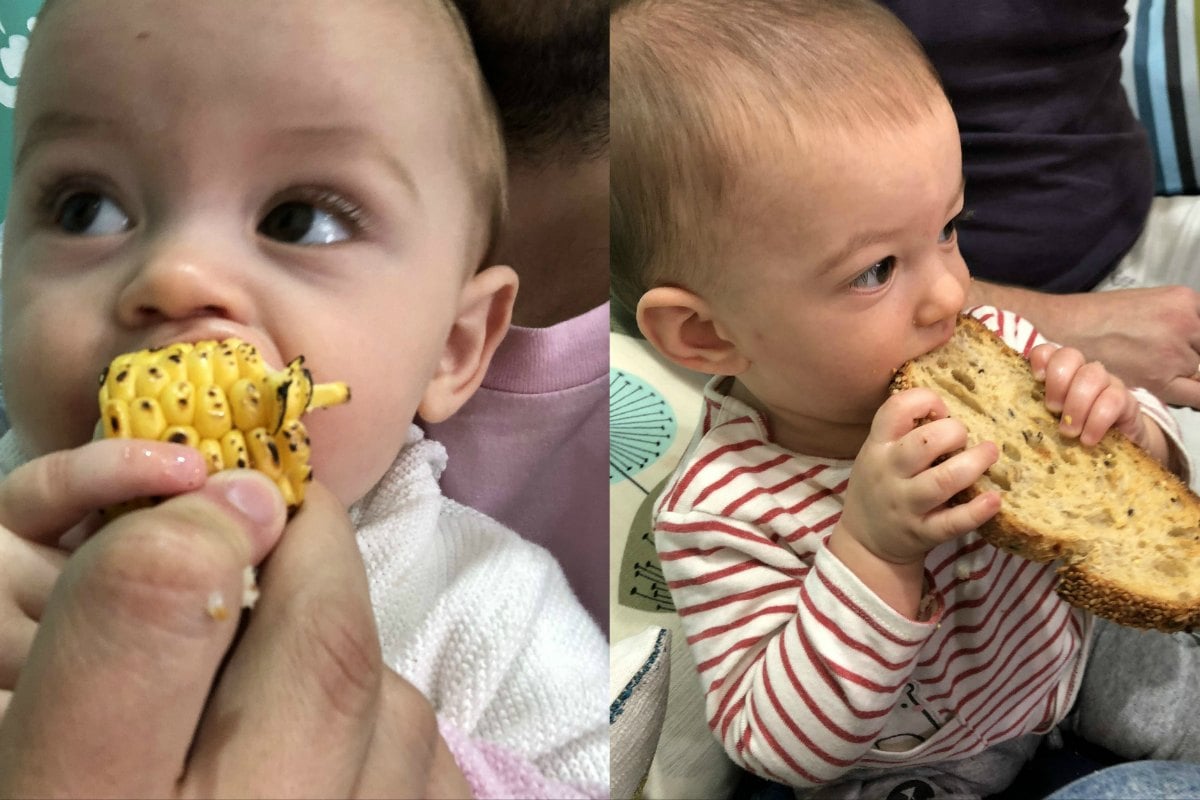 I have this recurring nightmare, about once or twice a month. I stagger out of the kitchen after a long day to deliver my kids a delicious feast. But they refuse to take a bite. Of anything. I can't coax them to kiss a single kernel of corn.
Then I wake up screaming, catch my breath, peer across the dark bedroom to my bookshelf, make sure my Bible is still there, and go back to sleep.
My "Bible" is a secular masterpiece. It's the Baby-Led Weaning book. And I am its newest disciple.
Baby-led weaning is a philosophy of infant development that is equal parts terrifying and liberating. In short, it preaches the gospel of giving solid, grown-up foods to little babies. The idea is that even bubs as young as six months benefit from trying to feed themselves real food, rather than only being spoon-fed purées. Like many religions, it gets a bad rep.
LISTEN: Sean explains why baby led weaning is so important on Mamamia's latest podcast for new parents, The Baby Bubble:
If you google "baby-led weaning", terms like "dangerous" and "choking" might distract you from more positive ones like "healthier" and "confident eaters". But before you're totally turned off to it, hear me out.
I started baby-led weaning (affectionately known to converts as "BLW") when my twins turned six months old. I skipped expensive purées, didn't spend endless hours mashing meals, and simply fed them finger foods.
As I write this sentence, I'm watching my 14-month-olds feed themselves a spicy Asian stir-fry with rice and steak. Oh, and did I mention that they're doing it with forks?
Like any good born-again evangelist, it is my duty to convert you to the BLW cult. Thus, please enjoy the "Nine Things I Didn't Know About Baby-Led Weaning" (which might as well be titled "Stop Over-Analysing It And Just Give Baby-Led Weaning A Bloody Shot"):
1. Your baby has a better gag reflex than you.
Every parent who opposes BLW is afraid of gagging. And I'd be lying to you if I said that I wasn't afraid of it too. But the truth is, your baby is going to gag at some point in the first few months of eating solids. Whether that happens at six months or later, you're just delaying the inevitable.
What finally convinced me to dive in, other than learning that gagging is a safe reflex to get rid of food, was a study called "A Baby-led Approach to Eating Solids and Risk of Choking".
It compared 206 baby-led weaners to a "control" group who were spoon-fed. While the baby-led weaners did gag more at six months, they gagged less by eight months. There was no difference in the number of actual choking episodes.
Zoe Marshall and Sean Szeps are here to bring the mother's (and father's) group to your ears. 
2. Food before the age of one is just for fun.
I went into parenting thinking babies needed to start eating at around six months to be healthy. But it turns out they get all the nutrition they need from breast milk or formula at that age.
All those purées you're shoving in your baby's mouth to make sure they grow up big and strong aren't necessary. So why not introduce them to different textures, aromas, colours and tastes?
Also keep in mind that your baby's stomach is only the size of his tiny little fist. If you're exploring BLW for the first time, be aware that your baby may only eat a tablespoon or two of food, especially in the beginning. That's okay.