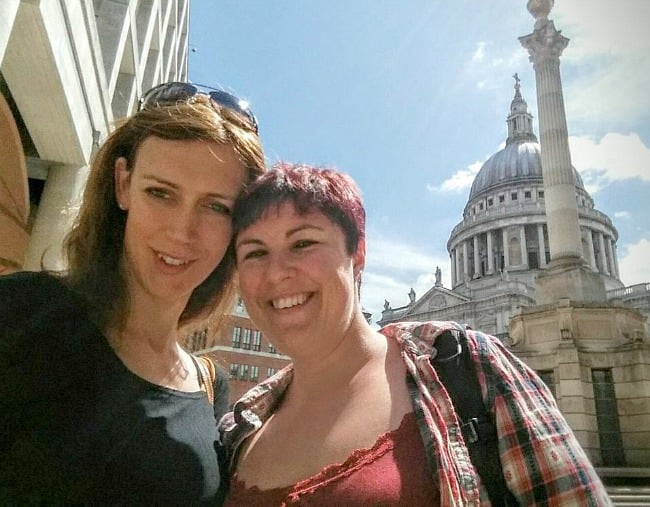 Wren Holdom had been with her partner, Ayla, for almost a decade when a revelation in a Chinese restaurant turned their lives upside down. Learning that her RAF pilot spouse was transgender was just the beginning of a journey that included difficult conversations with family, being outed by the tabloid press at Prince William's wedding and that ultimately strengthened their bond and cemented their commitment to one another.
They shared their love story with Mia Freedman on the No Filter podcast. This is just some of the conversation.
MIA: When you met Wren, did you anticipate a time when you would have to tell her [you are trans]?
AYLA: Yeah. Certainly, when we first met, I hadn't come out to myself at that stage. I buried all of this. I instilled in myself all of the societal learnings that being trans was shameful in some way. So I buried that very deep, and I wouldn't accept that to myself. So it was three or four years into our relationship that I finally slowly started to accept or even work towards this idea that actually, 'You might be, you might have to deal with this'. We were already firmly established together as a couple. I spent many years then actually trying to protect Wren from that. So that was this secret that I then had…
WREN: So in the third year we got to this point and she went away because she was living up in Yorkshire, and I went up to visit her on a weekend and she said, 'I've got something to show you.' [I thought] Okay, here we go then. Right.' And she showed me a picture of her wearing a pleather skirt and some high heeled boots…
AYLA: Not my finest moment.
WREN: …and just an ordinary top, and I looked at it and I thought, 'OK, we're going to have to get some better clothes and do something with your make-up, darling.' And that genuinely was my first thought.
****