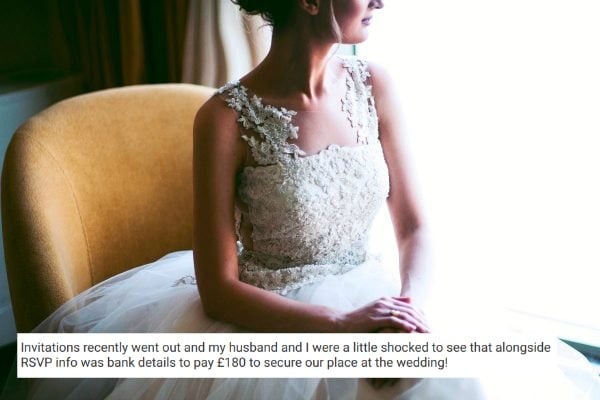 Attending a wedding, as we all know, can be an expensive exercise.
You've got the gift, the outfit, travel costs, and in some cases, the accommodation.
And that's not including the money you may have already spent on an engagement gift, bridal shower, bucks show or hens.
Can you wear white to a wedding? Mamamia staff discuss.
With all that in mind, being instructed to pay a fee in advance for a wedding may rub some people the wrong way.
…Especially if it's spelled out on the invitation.
This seemed to be the case when one bride-to-be asked her guests to pay $325 to secure their place at her wedding, including her bank details on the invitation.
Posting on parenting site Netmums, a woman explained her sister-in-law's wedding was going to be a weekend-long affair, a couple of hours away from where they live.
"Invitations recently went out and my husband and I were a little shocked to see that alongside RSVP info was bank details to pay $325 (£180) to secure our place at the wedding!" she wrote.
While she understands the money is for the cost of overnight accommodation at the venue, which she is willing to pay, she feels it's "bad etiquette".
"I just feel it's a bit 'off' and bad etiquette. When we got married, immediate family stayed at the venue which we paid for," she explained.
Especially, she added, seeing as her mother-in-law – equally as shocked by the request – had already footed the entire bill for the accommodation, leading them to conclude that the money would actually be going towards other wedding expenses.
So, in theory, the $325 could actually be paying for things like catering and decorations.