Adelaide Stratton is 22 years old.
From the videos and pictures she's posted on social media, we see a vivacious and curious young woman.
Earlier this year, Adelaide travelled to Nice with three friends to celebrate France's national holiday, Bastille Day.
On July 16, she spent her hours exploring the city with footage of vibrant celebrations just minutes before the unthinkable would occur.
After getting off the bus with her friend, Marcus Anderson, the two of them were hit by a truck. It was driven by Mohamed Lahouaiej Bouhel, the terrorist behind the horrific Nice attack that killed 86 people.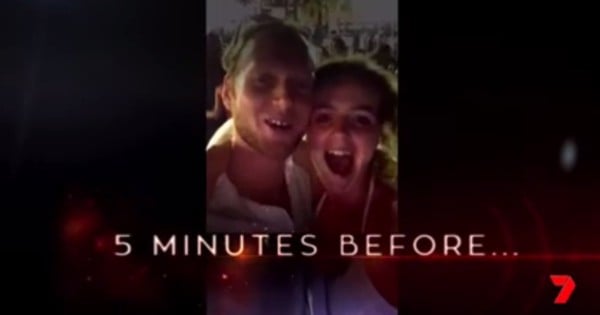 Adelaide before the attack occurred. Image via Channel 7.
Adelaide was virtually left for dead after Marcus collapsed from the injuries he suffered— he sustained broken ribs and a punctured lung that left him unable to walk.
But, in her exclusive interview with Chris Bath for Sunday Night, Adelaide has revealed the man who kept her alive.
When she regained consciousness, she found someone who was gripping onto her hand.
"I was lying on the ground in pain with what I knew was blood dripping down my face. I didn't know where my friends were," Adelaide recalls.
"I just remembered his face and his long hair coming over. I knew he couldn't speak English, because he wasn't telling me what was going on. He was just looking at me and squeezing my hand. He made sure I always had his face to look at."