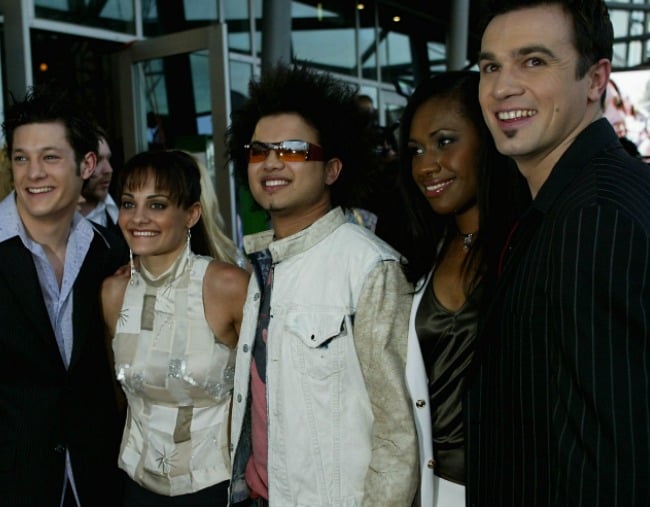 Slip into something a lil' more comfortable and take a seat pls.
I need to tell you a little story involving two feuding reality TV stars, one gold dress, one fro, and one very angry white man who also has a car, a big black car.
You see, 15 years ago Australia was blessed with its very first season of Australian Idol. 
During those glorious months of Whitney Houston and Westlife covers, we were introduced to the final four contestants – Paulini Curuenavuli, Cosima De Vito, Shannon Noll and Guy Sebastian.
Guy was yet to become a cool dad. Shannon was yet to yell inappropriate things at fans at the Nyngan races. And Paulini hadn't yet worn that dress.
We were also introduced to judges Mark Holden, Ian 'Dicko' Dickson, and Marcia Hines. Marcia Hines was an angel, Mark Holden made a lot of dad jokes, and Dicko liked to occasionally fat-shame the female contestants ¯\_(ツ)_/¯.
In a nail-biting, glitter-filled semi-semi-final Cosima beat out Paulini to make it into the top three with Shannon and Guy.
She then withdrew from the competition due to throat nodules.
And so began one of the most unnecessary, b-grade celebrity feud-y goodness feuds of our time.
You see, Paulini and Mark Holden allegedly still hold a grudge against Cosima for ruining Paulini's chances of being Guy Sebastian and/or Shannon Noll.
In June, Mark made some snarky lil' comments about Cosima during an interview with E!Online.
"There are some people who, when you shine a light on them, they grow, and Guy was one of those. The further he went into the competition, the better he got," he told the publication. "The more light that was shone on him, he just grew like a flower. Other people, the more light you shine on them, they shrivel and crack."
Paulini also had a lil' dig.
"I didn't expect her to pull out at all. Just because of her personality. She's so strong. I was like, 'Jeez, why didn't she do it on my week!' No, only joking," she told E!Online. 
And now Cosima, 41, has hit back.