Mamamia is supporting women who are running their own race with #ladystartup . Meet the faces behind the businesses we're celebrating…
Hannah Vasicek was studying a science and law degree at the University of Tasmania when she decided to make a change and pursue Francesca.
Her younger sister, Rachel Vasicek, was still in school.
Read their interview with Mamamia.
What is Francesca?
Hannah: Francesca started with a passion for making jewellery and way too much energy. Rachel and I grew up in a small beach town in New South Wales and there was not a lot to do over winter. Mum was keen to get me out of her hair, so one day she took me to a beading class at the local bead store and I absolutely fell in love. I made so much jewellery that my next plan was to offload it. I had my first stall outside the local supermarket selling $5 earrings at 12 years of age.
It wasn't until I was a finalist in a national competition, the Global Student Entrepreneur Awards, that I started focusing on Francesca as a business and pursuing it further.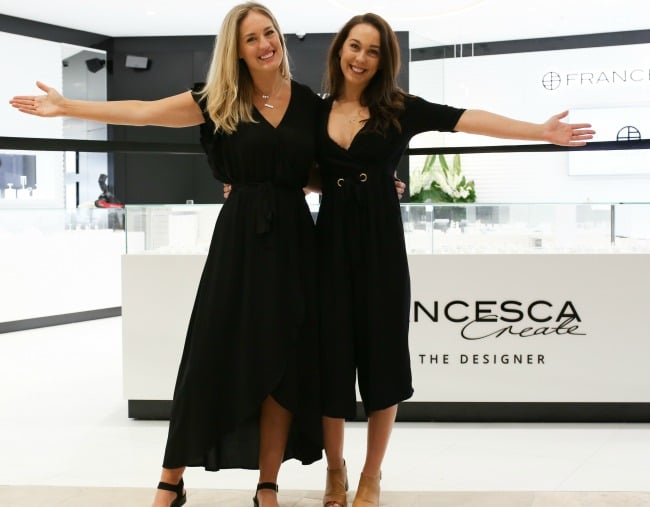 Hannah (left) and Rachel (right). Image: supplied.
What were you doing before you went into business for yourself?
Hannah: I was 16 when my first business, Handmade by Hannah, launched. But before launching Francesca I was studying full-time at university.
Rachel: I was still at school during the early days of Francesca. I always remember 'procrasta-beading' with Hannah after school and working in the shop on the weekends.
What made you want to start your own business?
Hannah: I loved that I could make something beautiful out of nothing and sell directly to my customers. The create and sell process had be completely hooked from the beginning. From an early age we were business-oriented; I was selling lollies on the school bus.
Rachel: When I was younger I had an obsession with buttons. I loved the different colours and designs they came in. I was about 12 when I started my own little business called Cute as a Button. I would create hair clips, necklaces and even watches from old second-hand buttons and I remember making $300 from one day at the markets.
How did you come up with the name?
Rachel: Francesca is the name our Mum wanted to call Hannah. It's something that always came up in conversation within our family and as a family oriented business, it was the perfect connection for the brand.
Did you require investment to start your business? 
Hannah: Over years at the market we were able to reinvest the profits into the business and not need to get any capital funding. It wasn't until we had the opportunity to open our flagship store, which required $80,000 worth of investment, that we went to the bank. We were initially knocked back from our loan but had an amazing bank manager who made it happen.