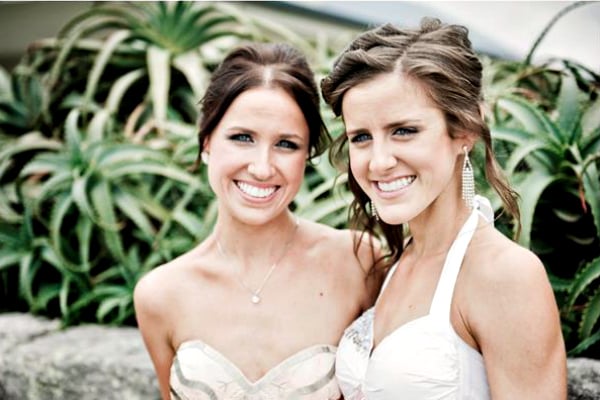 Kate Fitzsimons was fast asleep at her boyfriend's house when her mobile phone started buzzing. It was around 3am on a Saturday morning in October, 2012. A drunk friend maybe? A prank? She flipped phone over.
Mum calling.
She answered.
"Your sister has been in a serious accident."
"What are you talking about?"
"A motorbike accident."
"But Nicole wouldn't get on a motorbike…"
"Just find her travel insurance details, please."
Two-and-a-half hours later, another call. The one that changed Kate's life forever.
To hear Kate's full story, listen to The Quicky.

Nicole, a 24-year-old sports journalist on the precipice of a career in television, had passed away on holiday in Thailand. She and her boyfriend were riding on a motorbike when a local resident overtook them on the wrong side of the road. As the couple turned into their hotel driveway, the the scooter rider crashed into them at roughly 80km/h.
Speaking to Mamamia's daily podcast, The Quicky, Kate recalled that she raced to her parents' side after learning the news. She arrived to a house full of people, her mum and dad preparing to fly to Thailand.
"The hardest thing was to let go of my mum. I didn't want her to leave me alone in this country knowing that my sister just died," Kate told host Claire Murphy. "It was physically the hardest thing letting go of her, but we both knew that's what Nicole would have wanted, to have Mum and Dad bring her home."
So began one family's journey into the complicated, costly process of repatriation – transporting a loved one's body home from overseas. A process in which grief and bureaucracy collide.
It's an experience hundreds of Australian families endure every year. In 2017–18, the Department of Foreign Affairs and Trade supported families in 1,671 cases of overseas deaths; that figure has climbed 35 per cent over the past five years. The top three causes of death for the year were illness (518), natural causes (317) and accidents (207).