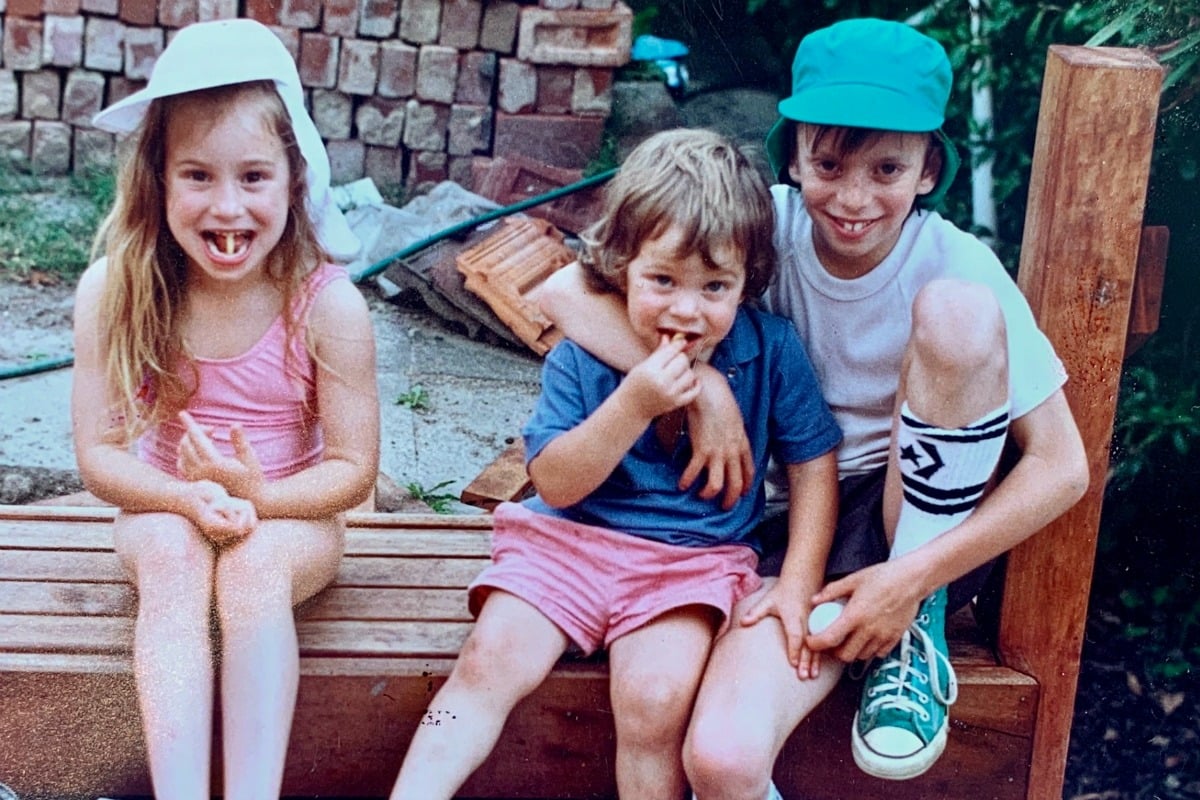 Hugh van Cuylenburg is the founder of The Resilience Project, a program for schools, workplaces and sporting clubs that teaches people about mental health strategies. He has just released his first book, 'The Resilience Project', which explores finding happiness through gratitude, empathy and mindfulness through the lens of his life. Here is a part of his story…
Warning: This article deals with accounts of eating disorders and child sexual abuse that could be triggering for some readers.
Whenever things went wrong in our little corner of the world, Mum would always get busy in the kitchen.
Dinnertime at the van Cuylenburgs' was the best. Whether we had issues to sort through or not, when I sat down each night with Mum and Dad, my sister Georgia and our little brother Josh, the meals were seasoned with hilarious stories and garnished with joy. For the first 16 years of my life, dinnertime was without doubt the highlight of my day.
Then, in 1996, it suddenly wasn't anymore. Georgia was 14 when she stopped eating regular meals. Almost overnight the laughing and the stories ceased. Dinnertime became the worst part of the day. For all of us.
I was only a teenager, and I reacted by getting frustrated with Georgia and how upset she was making Mum and Dad by refusing to eat. Georgia seemed to have a million excuses about why she couldn't eat this or that type of food. To me, it was infuriating.
Mum would be reduced to tears and soon Dad would start crying, too. I'd sit there at the table in silent disbelief, thinking, 'What is going on here? Georgia – just eat your food, and Mum and Dad will stop crying! Can't you see you're breaking their hearts?'
I'd look helplessly at Josh, who was just 11 – a pretty vulnerable age to see the safety net of your family unravel before your eyes. But then things got even worse. There were arguments about what Georgia ate at school, fights about what was left in her lunchbox when she got home and daily clashes about breakfast. Things got weird; I'd hear arguments erupt at two o'clock in the morning because my parents had found Georgia standing in the pantry, picking the sultanas out of a box of Just Right.
One day Mum and Dad came home from a visit to a doctor and explained anorexia nervosa to me. Or at least, they tried to. 'Your sister is not well, Hugh,' they said. 'She can't help that she doesn't want to eat. You have to understand that it's a mental illness, OK?'
I nodded and mumbled something affirmative, but the truth was I didn't understand it at all. 'It's an illness? Don't be ridiculous,' I thought to myself. 'If she eats food she'll get better and our family will be happy again and Mum and Dad won't be crying, so why won't she just fucking eat?'