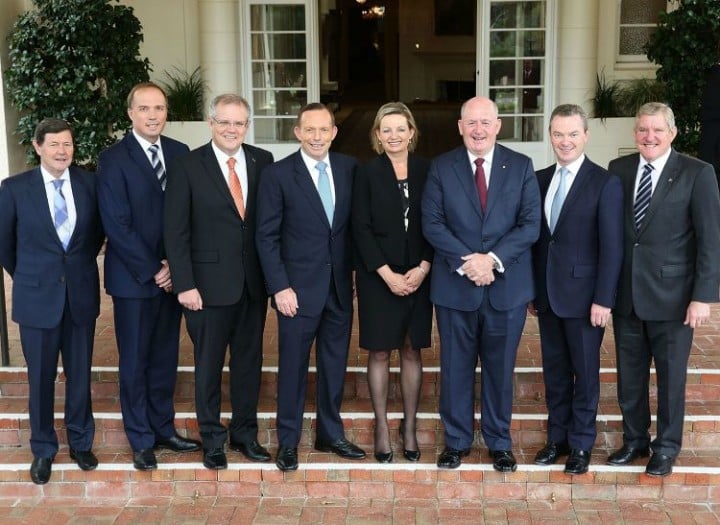 Annabel Crabb recently launched Christopher Pyne's book, "A letter to my children". At the launch, she gave a very funny speech in which she offered her own letter to the Pyne kids.
Annabel wrote…
Dear Eleanor, Barnaby, Felix and Aurelia,
Don't worry. I've read your father's book, so you don't have to. I am happy – in my responsible journalistic way – to summarise and provide you with the York notes. But I'm also going to pop in a few things Dad left out when itemising the key values indispensable to a successful life of public service.
Patience, courage, determination – yes, yes yes. You'll need all those, fine. But there are other important principles you can learn from your father.
First: When Circumstances Change, Change Your Mind.
When I approached your Dad a few years back to be one of the guinea pigs for a new series called Kitchen Cabinet, he was at first hugely enthusiastic. We agreed that he would cook with Amanda Vanstone in her kitchen. We discussed serving Roquefort, as Roquefort is a cheese only available in Australia due to an especially commanding executive decision announced by your father on the 23rd of September 2005, when he was feeling his oats as the Parliamentary Secretary for Health, John Howard having cracked the freezer door slightly open. (That's another tip, children: Always say 'Yes' to cheese.)
But as the filming date drew nearer, his mood grew darker and darker. 'I'm not doing it,' he'd ring up and wail. 'It's going to be a disaster. Amanda and I are going to be sitting there eating expensive cheese and drinking wine and looking like elites. Plus, she'll tease me. Australians aren't ready for a politician who talks with his hands. I'm not doing it!'
Children: On the day, I was obliged to be brutal. I told him he had no option of pulling out, and that the ABC had already flown four camera crew to Adelaide. And we know how strongly your father feels about prudence with ABC production resources in Adelaide. I got Mark Textor to call him pretending he had focus group polling suggesting that his participation would resonate particularly well in Klemzig. He turned up. We cooked lunch. All of your father's worst fears were realised. As he left – to collect you from piano practice, Eleanor, I believe – I said to him 'See – that wasn't too bad, was it, Christopher?' Through a frozen smile, he muttered: 'Career-ending.'
Later, when the episode went to air, it spawned an unprecedented national wave of Pyne-love, first encountered by your father the morning after the broadcast, when someone approached him at, I believe, Hobart airport and declared: 'You know, you're not as much of a knob as I thought you were!'
I had a phone call soon after from your ebullient father, convinced that the show was the best idea he'd ever had. So remember, children: A bad idea is only a bad idea until it turns out to be a good idea.
Point Two: Negotiation.
I would have written more about this, but I know you are across it already. I've heard the stories about you four. When Christopher declared that he would move out if you children got one more pet, you bought a rabbit immediately. That's smart. Always bluff in these situations. It's what he'd do. And has he moved out? No. He hasn't. Lesson learned. In short, kids: You've fixed it. That's because you're fixers. Good work.