Andrew Carrazzo is a former AFL footballer who played 194 games with Carlton. Since retiring from the game at the end of 2015, Carrazzo has put his energy into his electrician business and keeping up with six-and-a-half-year-old triplets Grace, Charlotte and Sophia and the most recent addition to the family, six-month-old Alice. The 34-year-old is also an Almond Board of Australia ambassador, but he believes wife Yvette is the real hard nut.
Dear Yvette,
I'm writing this open letter to you to express the many ways I appreciate the person you are.
Writing this private, yet very public letter, is fitting because many of the amazing sacrifices you make for me and our four girls are in private and when nobody is watching. You are a truly incredible woman and deserve to be celebrated, especially on Mother's Day.
Someone once told me that the woman you end up with will resemble the best qualities of your mum. This theory has held true for me. You know how kind, generous, positive and giving my mum is and you exhibit these qualities everyday by how you hold our family together.
To think that this time around seven years ago we found out we were going to be bringing three beautiful little girls into the world. We knew then that our lives would change forever.
I knew that you'd be an amazing mother well before our triplets arrived, but that was reinforced in the three months prior to their birth. You were on bed rest in hospital for that period of time because the doctors were worried the girls would come early. Your attitude and spirit through that time was amazing. I was so proud of you.
I'll be forever grateful for the support you provided me to focus on my football during those early months of our parenthood. Many people struggle with one baby to look after, but we had three on our hands! Soon after you also had a husband with a broken shoulder to deal with. I was virtually useless around the house, but you still found a way to make it work.
Sleeping at my parents' house the night before AFL games was a sacrifice you supported me to make so I could get a good night's sleep. You continue to be so selfless.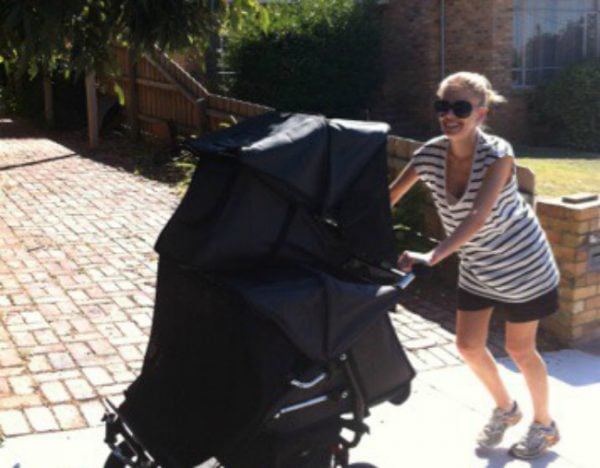 Carrying triplets was no doubt a stressful experience for everyone, especially for you, because we were so worried about their health during the pregnancy and upon delivery. I'm glad our journey with Alice gave us the chance to enjoy the pregnancy without the anxiety. Alice is learning how maternal and caring her mum is. It's beautiful to watch.
Seeing you interact with the girls and how patient, caring and loving you are makes me so happy. The role of a parent is something you take very seriously and in you, the girls they have the greatest role model a young girl could have.
When they are older I will show them this photo of you pushing our massive pram down the street just a couple of weeks after the girls were born. Not every superwoman wears a cape.
We are so blessed to have you, darling. Our family wouldn't be complete without you at the heart of it. They say that nobody is perfect but you're sure testing that theory, so keep being you.
From your loving husband,
Andy
What would you like to tell your partner on Mother's Day? Tell us in the comments section below.