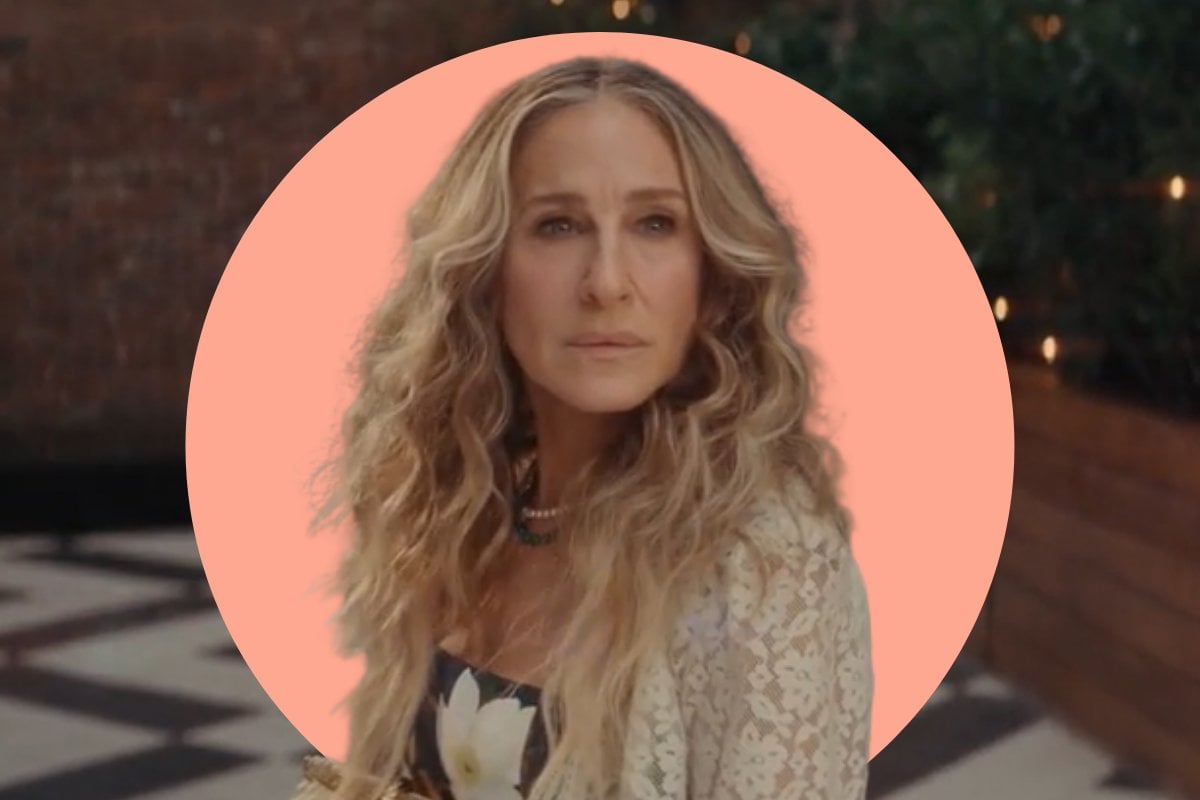 Content warning: This article contains spoilers for the final episode of And Just Like That season one. If you haven't already, watch it on Binge and meet us back here. 
Ten weeks ago, we were re-introduced to some old friends. 
It had been a little over a decade since we'd last seen them and lots had changed in that time. 
Their hair was a little greyer, their kids were having loud 'ride me like a cowboy' sex in the next room, and they were struggling to keep up with all the mod cons like podcasts and Netflix comedy specials. 
Watch the trailer for And Just Like That. Post continues below.
We were also introduced to some new friends who attempted to rebalance the diversity issues from the first series and the two questionable movies. Some of those characters have been welcomed with open arms by fans (I'm looking at you LTW and Seema) while others have haunted our dreams a little (*cough* Che Diaz * cough *). 
It's been a mixed bag of a season. 
So much was squeezed into the first couple of episodes that we, as viewers, felt like we had whiplash after watching them. It was cringey and almost hard to watch these women who were once considered trailblazers continually put their foot in their mouth and struggle to keep up with the generations coming up behind them. 
Miranda was unrecognisable as a once beloved character. Steve was a meandering old man. It seemed as though Brady was the only person having sex in the city. 
But over the 10-episode season, the old crowd and their new circle have grown on us. We've seen snippets of the show we once loved and have been introduced to new elements which have definitely improved the franchise. 
Then, this week, the first season came to a close. 
The finale episode saw Charlotte finally letting go of her perfectionism and learning to accept that things aren't always going to pan out how she planned. 
Miranda went deeper into her mid-life crisis/sexual awakening, making the questionable decision to give up her internship and follow Che Diaz to LA. 
At the end of the episode, we see Miranda leaving for the airport with her signature red hair again, a sign that Miranda's messy storyline is only going to become... messier in season two. 
For most of the season, Carrie has been in limbo. She hasn't been the same confident, oozing 'main character energy' Carrie that we used to know. 
She's been haunted by the loss of Big and his big presence in her life. She's been without her sassy, smutty best friend Samantha. Even her career had her on the back foot (I mean, the fact she had to sit there and endure the 'woke moment' button is completely baffling.)