It all started with a leg, bikini and face wax – a familiar treatment that Auckland-resident Jessica Curran had undergone multiple times before.
But a few days after her February appointment, the 24-year-old tattoo and piercing artist noticed "small red lumps" appearing on her legs. Presuming they were ingrown hairs, she thought nothing of it.
Gradually, she said the lumps got bigger and spread all over her legs. Her mother Petrina Curran said Jessica was prescribed antibiotics by her doctor and although they helped, the lumps returned soon after she stopped the medication.
Petrina said these then developed into sores and abscesses, which also began to appear on her daughter's face and scalp.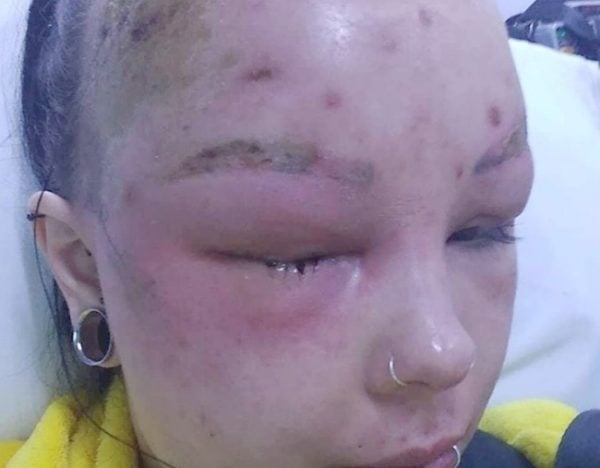 On June 10, four months after her waxing appointment and three rounds of antibiotics later, Jessica was rushed to Middlemore Hospital. Her face had become so swollen that one of her eyes had been forced shut, and clumps of Jessica's hair reportedly fell out where the abscesses were.
Her mother Petrina Curran described her daughter's ordeal on her Give A Little fundraising page.
"My poor girl is a MESS!!" wrote Petrina, who started the donation page to help Jessica pay for her living expenses and a wig as her hair and scalp recover.
"Her body became overwhelmed by the infection and she was rushed to Middlemore Hospital. Her face was swollen, she couldn't see out of one eye and the other was almost swollen shut too.
"Her skin is covered in sores and abscesses. Her scalp has been shaved to allow the abscesses on her head to drain."
Petrina started the donations page to help Jessica to help cover her living expenses and to help pay for a wig while her hair and scalp recover. Petrina said her daughter, who is self-employed, would likely be unable to work for several weeks.
Keeping her friends and family updated on her personal Facebook page, Jessica said her confidence was rattled.
"I'm extremely unwell and look far from human," she wrote last Monday, the day after she was admitted to hospital.
"Even if I recover well, I'll still have permanent scarring and significant hair loss indefinitely, which is really shattering my confidence."
Now eight days into her hospital stay, the self-employed tattoo artist said that her condition was improving, with hopes that she'd be discharged on Monday before continuing her recovery with her family in Hamilton - a two-hour drive from Auckland.
"I'm no longer hooked up to an IV drip and have switched to oral antibiotics," she wrote.
"Still feeling exhausted and sore, but I'm looking and feeling far more human."
What caused her extreme reaction to the wax treatment is still unknown.
Jessica thanked her friends and family for their support after her crowdfunding campaign raised NZD $3,250 (AUD $3028).
"I just want to say a massive thank you for all the love and support you've given me throughout this; for the comments, messages, donations, and especially to those who have visited me. It means so much," she wrote.
Mamamia contacted the Curran family but had not heard back by the time of publishing.
You can view and donate to Jessica Curran's Give a Little campaign here.