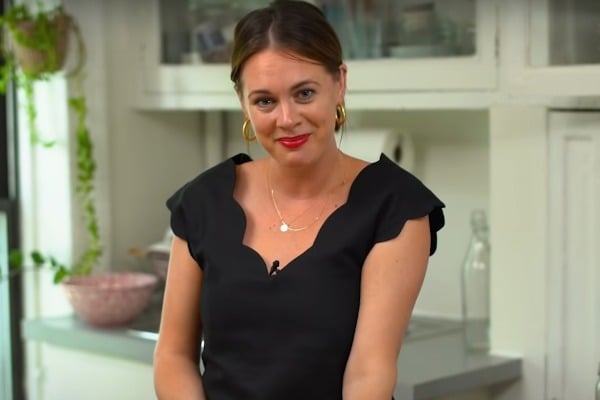 In recent months, amid the COVID-19 pandemic, food writer Alison Roman has become a household name around the world.
The former pastry chef, who has a bi-weekly column in The New York Times, has seen a sudden surge in her famous recipes.
In fact, the 34-year-old's recipes – such as the Caramelised Shallot Pasta, the sunshine-yellow chickpea stew, and the Instagram famous chocolate chip shortbread cookies – have become so popular that they're simply referred to in their singular form.
The Pasta. The Cookies. The Stew.
Listen to Mamamia Out Loud, Mamamia's podcast with what women are talking about this week. Post continues below.
Although some of these recipes have been around for a few years, social distancing measures have meant that many of us are turning to home-cooking more than ever. And in turn, we're sharing our attempts – like our own recreations of Roman's iconic 'The Stew' – online.
"On the one hand, I'm so happy to be the 'prom queen' of the pandemic," Roman told Vox in April.
"But on the other hand, are people going to forever associate me with the darkest time in their lives?"
While Roman has published two cookbooks, Dining In and Nothing Fancy, the pandemic has allowed the recipe writer to become even more accessible to her readers.
In recent weeks, Roman has conducted multiple Ask Me Anything sessions on Twitter, allowing people to ask cooking questions, or questions about her famous recipes.
"I think it's a little lame, but, I think [teaching and cooking] really is, like, my love language — like, acts of servitude," she told Vox.
"I really like doing nice things for people, and there's so much I can't do right now."
Last week, amid Roman's continuing rise to foodie fame, the cookbook writer was interviewed by New Consumer.
 

View this post on Instagram