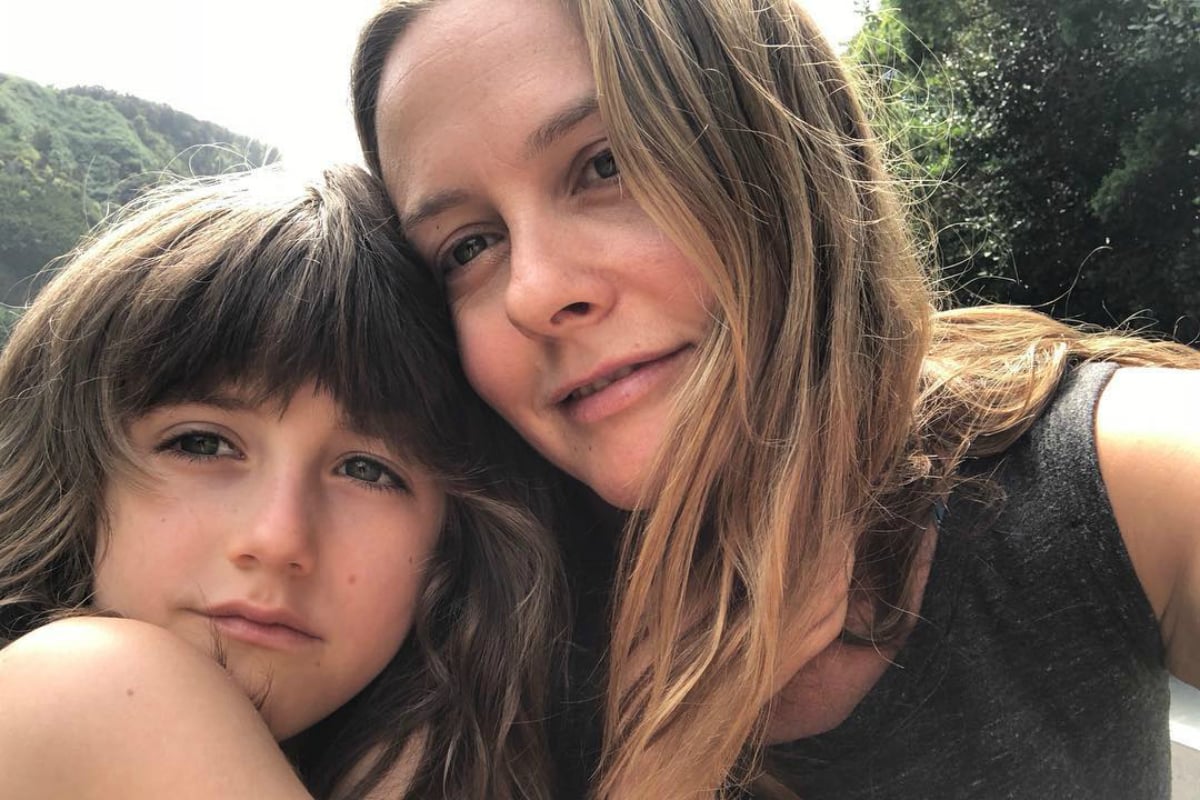 Alicia Silverstone claims her son has never taken medicine in his life and puts his good health down to a vegan diet.
The 42-year-old Clueless actress has been vegan herself since she was 21 and at a Good Housekeeping sustainability summit in New York City earlier this month, Silverstone said her seven-year-old son Blu Bear is healthy because he too does not consume food that comes from animals.
"He's never had to take medicine in his life," she said. "He can get sniffles and a runny nose but he's not down, he still goes to school. Two times in his life has he been like 'Mommy I don't feel good,' and it was only for a few hours and he was back running around."
She told Page Six she was pleased her vegan lifestyle has become more mainstream in recent years, recalling how in the past talk show hosts would ask her what a vegan was.
"I'm just so excited that there are people in the world that see it," she explained. "Maybe they're going to take baby steps to get there [but] that's a way better place then being like 'Are you okay? Are you gonna die?'"
In 2016, the United States' Academy of Nutrition and Dietetics published findings that "appropriately planned vegetarian, including vegan, diets are healthful, nutritionally adequate, and may provide health benefits for the prevention and treatment of certain diseases."
It found these diets "are appropriate for all stages of the life cycle, including pregnancy, lactation, infancy, childhood, adolescence, older adulthood, and for athletes."
LISTEN: How to handle the news that your teen wants to turn veggie or (just breathe!) vegan. Article continues below.
The findings claim vegetarians and vegans are at reduced risk of certain health conditions such as heart disease, type 2 diabetes and hypertension, but also pointed out that vegans needed a reliable source of vitamin B12.
According to the Victorian Government's Better Health Channel, a vegan diet can provide a nutritious alternative to a diet that includes meat, as long as care is taken to ensure all nutritional needs are met.
"Special care needs to be taken with children on all vegetarian diets, especially vegan diets. Strict vegan diets are generally not recommended for very young children," it advised.
In 2014, Silverstone told PEOPLE that Blu Bear loved eating vegan.
"He's not being deprived of anything," she said. "For him, having amazing fruit is like candy."
She has also been clear in the past that she doesn't force her eating habits on others: "I totally don't judge anything anyone else does," she told PeopleTV.
This isn't the first time Blu Bear's diet has been uh… questioned. In 2012 Silverstone shared a video of her feeding her then-11 month old son like a bird.