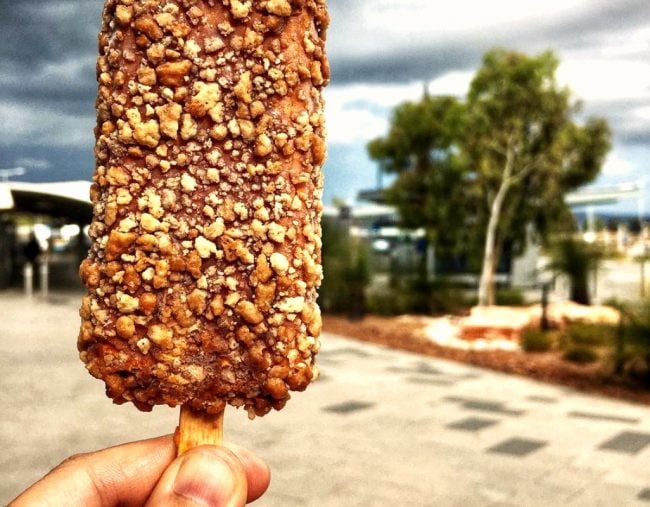 In very important, ice cream-related news, the discount grocery store Aldi have been selling imitation Golden Gaytimes for the past two years and we are genuinely gobsmacked.
Aldi fan page Aldi Mum shared the tip-off with Aldi lovers, and while we thought the iconic biscuit-coated, chocolate-covered, vanilla and caramel ice cream was inimitable, several self-proclaimed ice cream connoisseurs have disagreed.
Since sharing her discovery on Facebook, other fans have jumped into the comments sections to share their rave reviews of Aldi's Milfina 'Summer Delight'.
"Tastes just as good as a Golden Gaytime… love my Aldi ice creams… yummo," wrote one fan.
"Had to stop buying them as I eat a box in one night lol," wrote another – and tbh, same.
"These are divine. Just as good… if not a little better than Golden Gaytimes. The cheaper price is a huge bonus too," shared another customer.
However, not all the reviews are entirely positive, and one pundit was not happy with her purchase.
"I was disappointed in my purchase – the crunch on the outside was very soggy and not overly pleasant. I much prefer other Aldi ice creams," they wrote.
Another commenter had a similar, but more diplomatic response: "Pretty close but not the real deal… bit sweet but they still good for the price," they said.
Coming in at $3.99 for six servings – roughly 66.5 cents a stick – the Milfina dupe is substantially cheaper than the much-loved Gaytime, which will cost you $8.50 for four – roughly $2.12 per Gaytime.
But when it comes down to it, the proof is in the pudding ice cream, so we'll meet you in the frozen aisle.
See you there.
Now, tell us, have you tried Milfina's Summer Delights? Reviews in the comments please.
Did you know your ice cream eating habits actually say a lot about your personality? Well, they do.