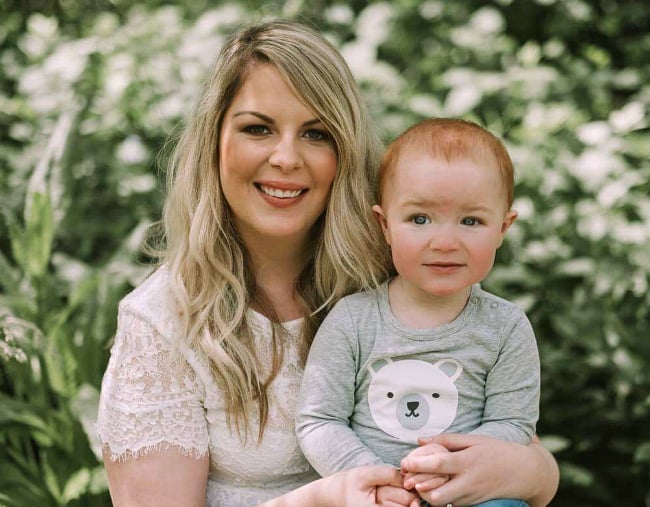 Lara Huddleston almost didn't give her husband Adam a chance. They met online – she, carrying the weight of an awful previous relationship, he, divorce proceedings and two young children.
But when the 33-year-old from Adelaide walked into the Belgian Beer Cafe for their first date and saw him, she knew straight away that he was it.
"As soon as I saw him, I thought he was the most gorgeous man I'd ever seen. We had such strong chemistry, and the way he made me feel, for me, it was love at first sight," she told Mamamia.
"I drove home after that date and thought, I'm going to be with him or the rest of my life, I just knew it."
Next came their son Thomas, a beautiful, cheeky little boy with "gorgeous red hair". But bringing Thomas into the world wasn't such a beautiful experience. In hindsight, Lara believes in her gut that's when things started changing for her.
"I had a pretty rough pregnancy, I had Hyperemesis gravidarum and gestational diabetes, and then I ended up with preeclampsia. I was really, really sick," the former registered nurse said.
"And I had this unique shoulder pain unlike anything I'd ever felt in my life in my third trimester, I still get that shoulder pain now."
Lara went in for her scheduled cesarean in August, 2016, but her blood pressure was so high, it was at 'stroke' level. It was a code blue medical emergency, "everyone came running and they get my blood pressure so they could get Thomas out safely."
Thomas was underweight but healthy. As they warmed him up, Lara spent the following two nights in the ICU.
"100 per cent, I feel in my gut like the trauma of my pregnancy and birth activated the disease for me. It feels like that was the start for me," she said, reflecting on the story of how her life began to change.
After being so sick throughout her pregnancy, Lara felt healthy and fantastic for a few months after Thomas was born.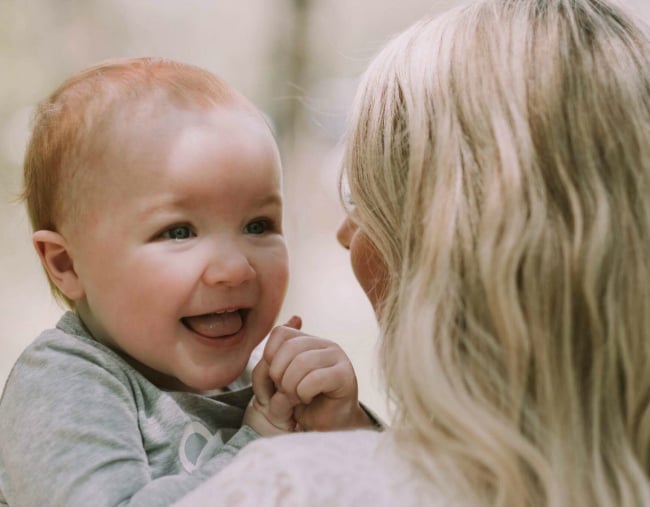 However when he was around seven or eight months old, she started having trouble getting up off the ground when she was playing with her son or changing his nappy.
"I was sitting [on the ground] with the other mums at a baby class where the kids all crawl around on the matts, and I just couldn't get up. One of the girls giggled at me and said 'oh you're really tired'. I hadn't slept well the night before, but I knew in the back of my mind, something's really wrong here."
"Increasingly, I had trouble getting up off the floor. I started tripping for no reason over nothing and that's when I started getting really worried."
A big fall while walking to work training eventually prompted Lara to go to a GP.
"I went down really hard like a tonne of bricks, I ripped my jeans, grazed everything and I couldn't get up. I didn't know if it was pure shock or something worse, now I think it was the disease.
"It was really cold in the middle of winter, but I stayed on the cement until a couple of nurses came by and helped me get up. That was really embarrassing, but I went in and did my nursing competencies anyway - that's nurses for you, even though I really didn't want to stay there, there's a thing with nursing and showing weakness, we've got to keep strong for everyone else."
But when Lara told the GP about her symptoms - "I went to a general practice where you go in with whoever they can fit you in with" - he didn't take her seriously. She was a new mum after all, new mums get tired. It was probably just a bit of post natal depression (PND), he said.
"He said, 'oh young mums can be really tired and it takes a lot out of you, your husband isn't home to help so you're probably overtired.' He asked if I was depressed. I said no. He smirked at me and said, 'do you feel like taking your own life?' I said 'no, of course not'. He still gave me a prescription for anti-depressants, even though I said I didn't want to take them. I never got the prescription filled."
"I didn't feel depressed, I never once felt depressed. I felt lonely because my husband was away for work, and overwhelmed because I was on my own to figure out things like when you're a new mum - what does that mean, am I doing everything right? I felt overwhelmed, not depressed, there's a big difference between the two.
"But I was really annoyed, especially being a nurse, because I knew that it wasn't PND. I'd had a spout of depression when my dad died and I know what depression feels like, and that was not depression. There was something wrong.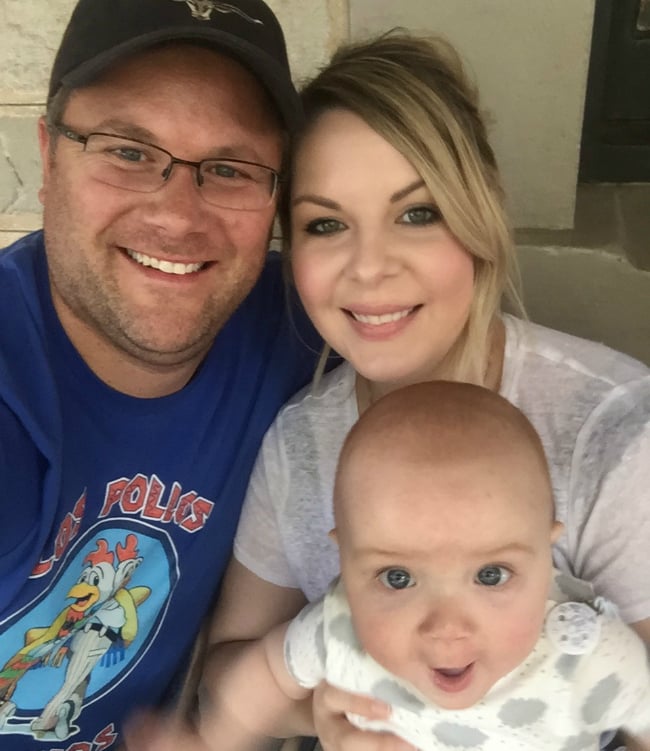 "He didn't check me out physically, he just put me in a box because I was a new mum and my husband was away. I said I wasn't depressed but he didn't believe me. He tried to convince me that I had PND, he wouldn't listen to me. Every time I said I wasn't depressed, he just smirked at me. It was awful. If I hadn't have had depression before, I definitely would have thought I was clinically depressed, taken the anti-depressants and probably been worse off, sitting here undiagnosed.
"He planted a tiny seed of doubt in my head that, maybe I'm so tired and that's why I keep tripping. But that seed of doubt made me wait a few weeks before going back to another doctor. He gave me a month of self-doubt."
Lara went and saw another GP a month after that horrible experience. The doctor listened.
"I sat in her chair and I said, I think I have a motor neuron disease. She basically fell off her chair but she believed me from the start," Lara said.
"She checked me out and did the reflex test where they bang your knees, and my right leg didn't move at all. She said 'this is really, really bad' and got me into a neurologist straight away. I was diagnosed in two weeks. If it wasn't for her, who knows if I'd even be diagnosed right now."
Lara was diagnosed with Amyotrophic Lateral Sclerosis (ALS) is a type of Motor Neurone Disease (MND). The disease runs in her family and has a low life expectancy - her father died from the same inherited disease when she was a teenager, three years after diagnosis, her aunt and grandmother lasted just two.
Patients with MND lose the ability to control the muscles that allow us to move, speak, breathe and swallow, and over time their muscles gradually weaken and waste. Symptoms include stumbling, leg weakness, difficulty holding objects, muscle craps and twitches, and slurring of speech or difficulty swallowing.
Each day in Australia two people are diagnosed with MND, MND Australia reports. And each day, two people are taken by the disease.
Lara said her doctor's early diagnosis bought her and her family time. Time to go on a beautiful family trip to South Australia's Kangaroo Island. Time to walk down the aisle on her wedding day in December last year.
"As soon as I got diagnosed, [Adam and I] planned our wedding straight away. It was going to be this May, but we didn't want to wait, and I didn't want go down the aisle with a frame or a walking stick. We only got married, on our terms, because of my diagnosis."
"Being able to walk down the aisle meant so much to me, I'm a very proud person and not being able to would've really upset me. I just wanted to be a normal person on my wedding day and not look like a 'disabled bride'. I just wanted to be a bride."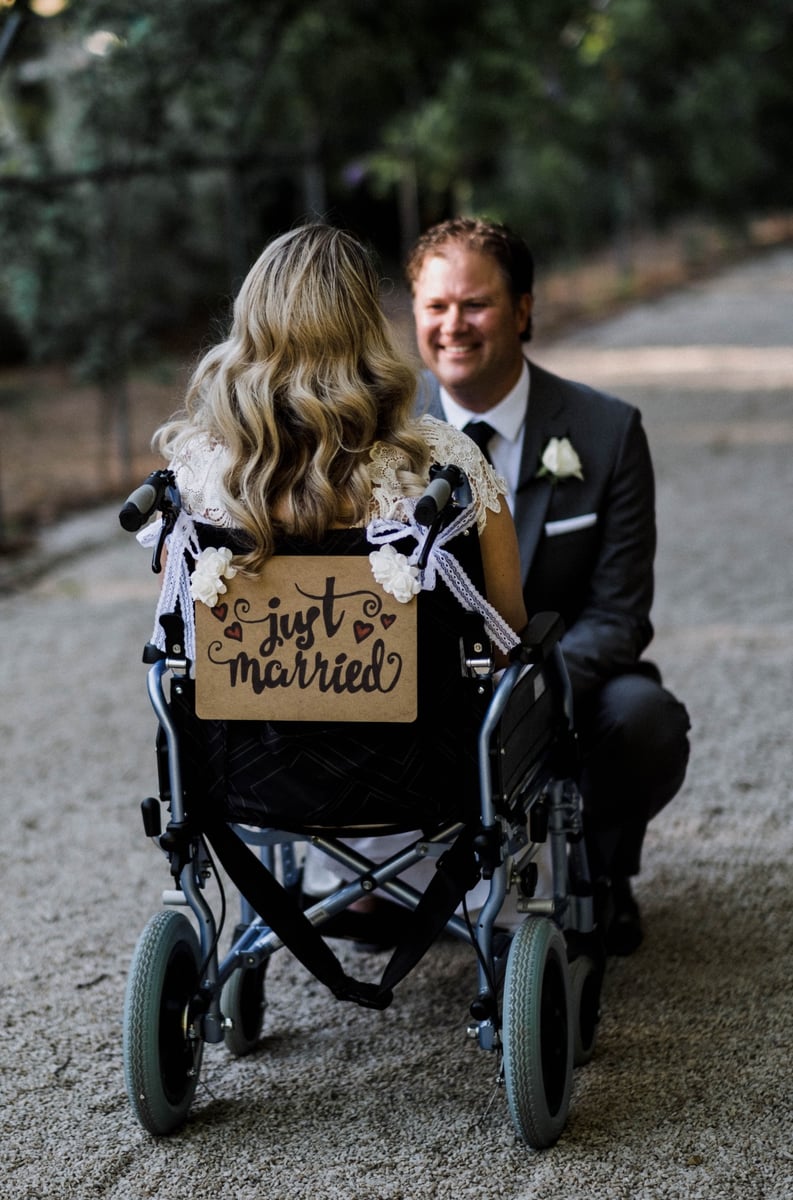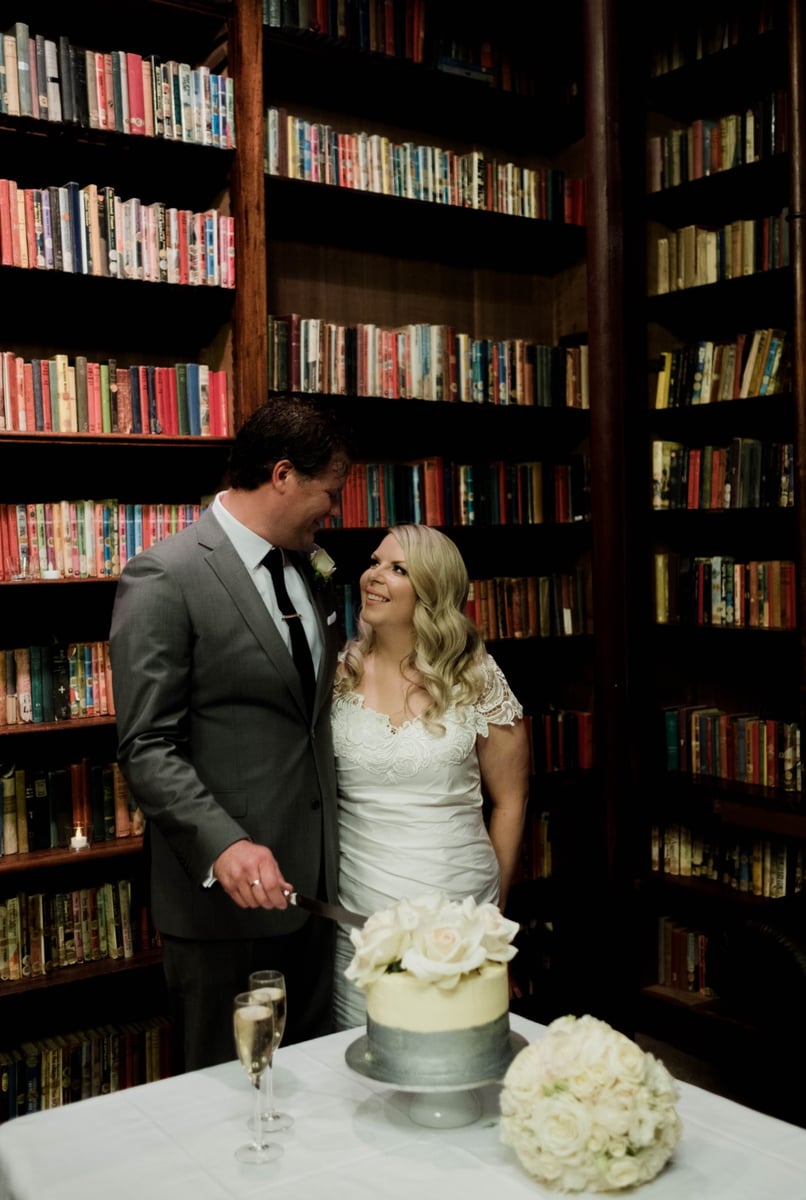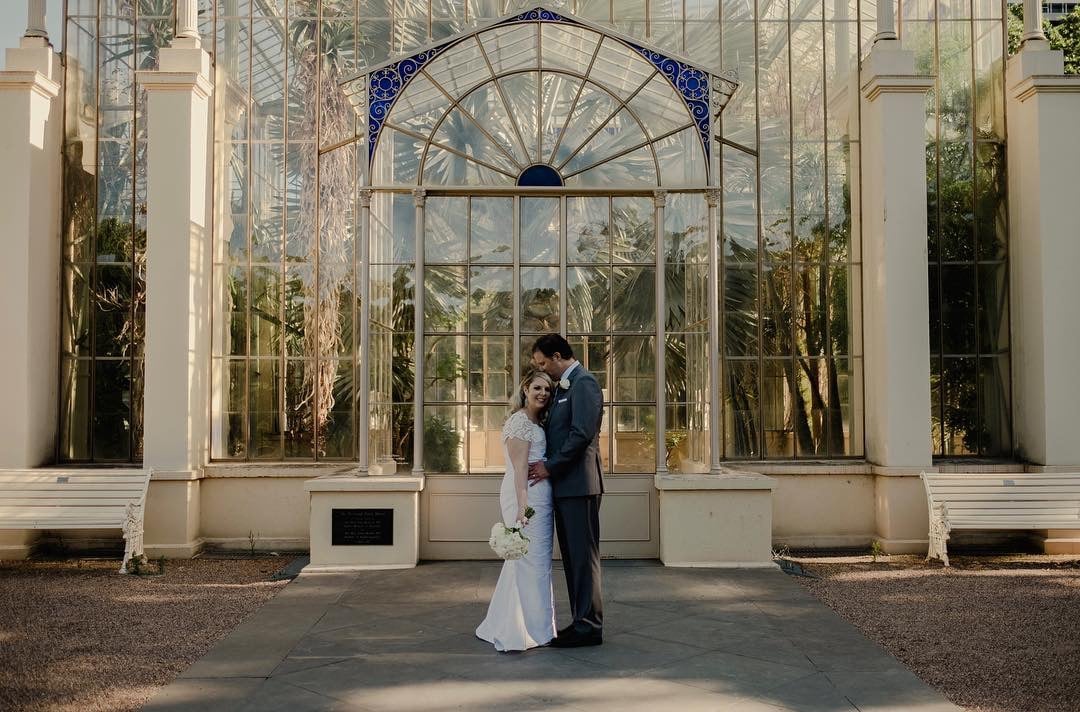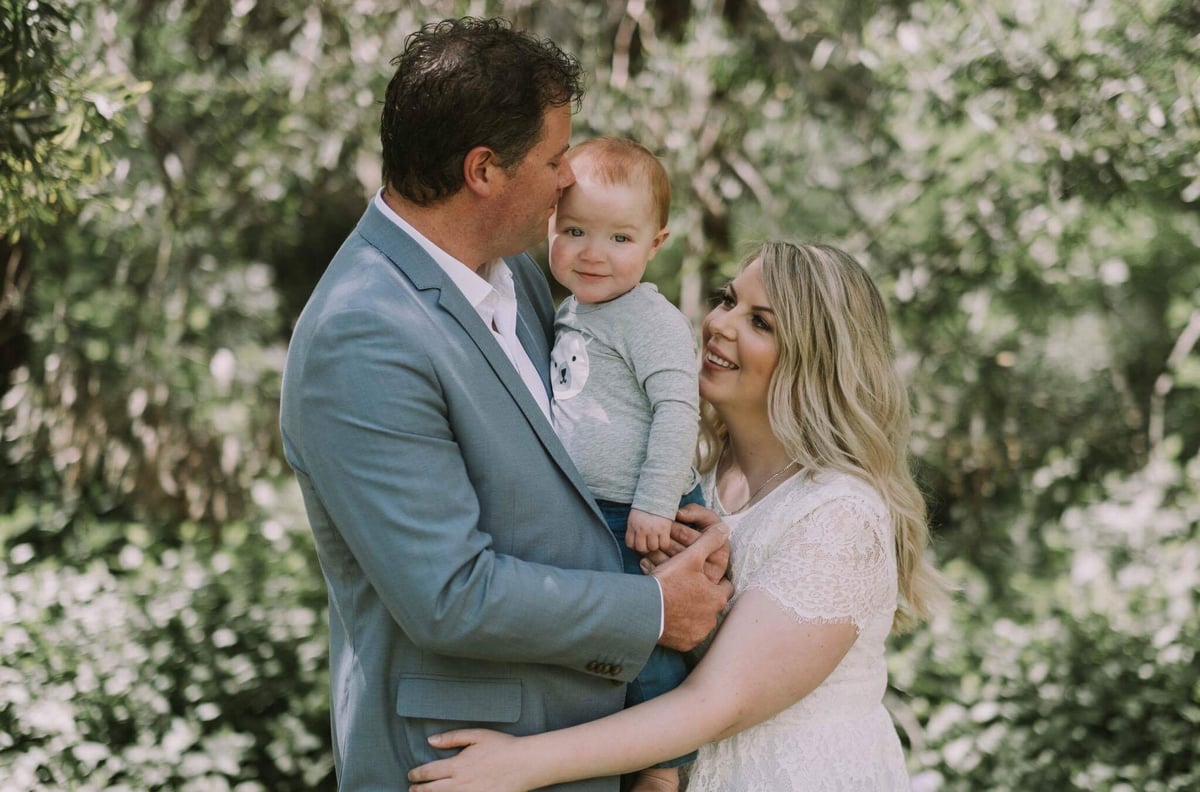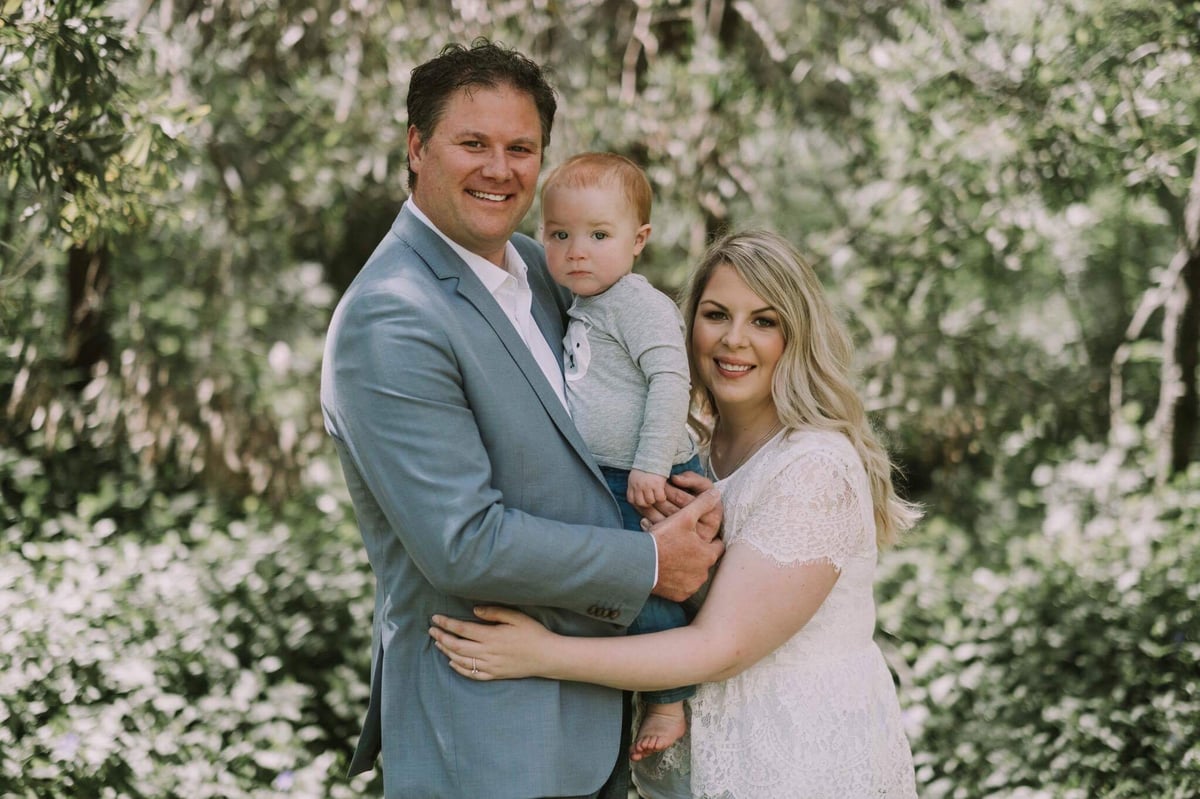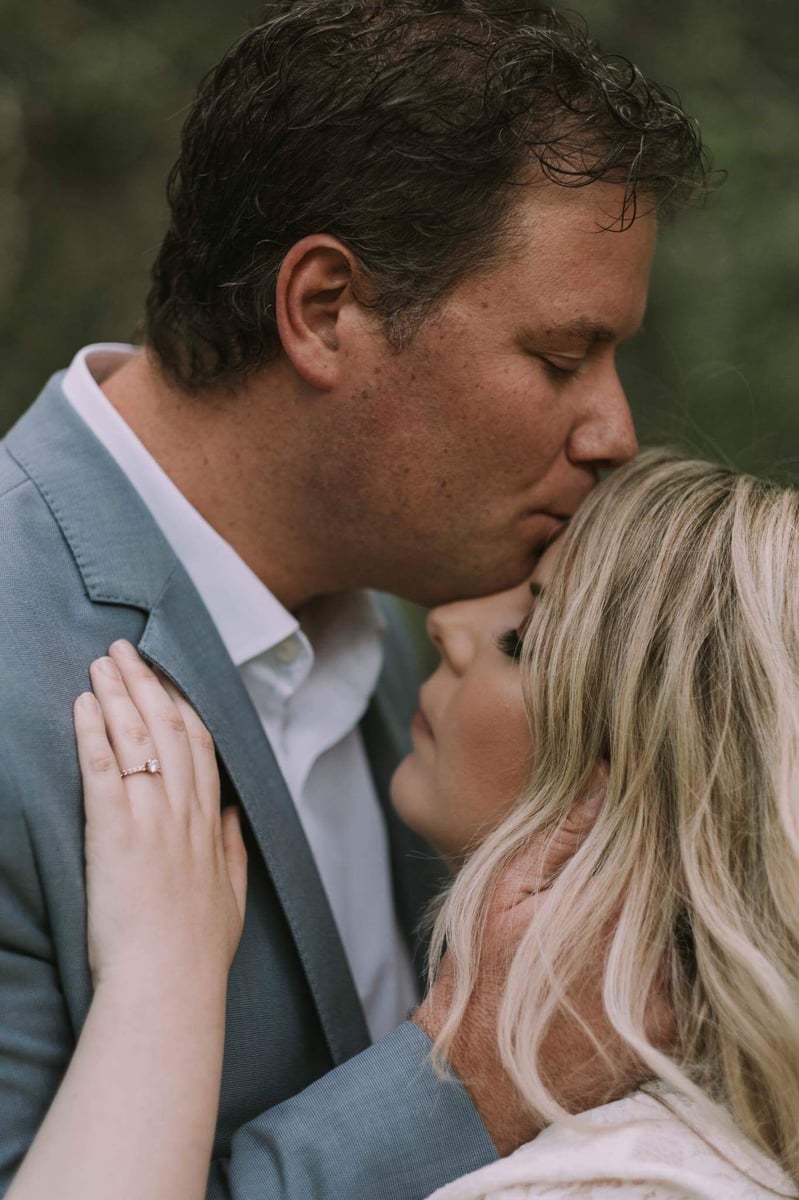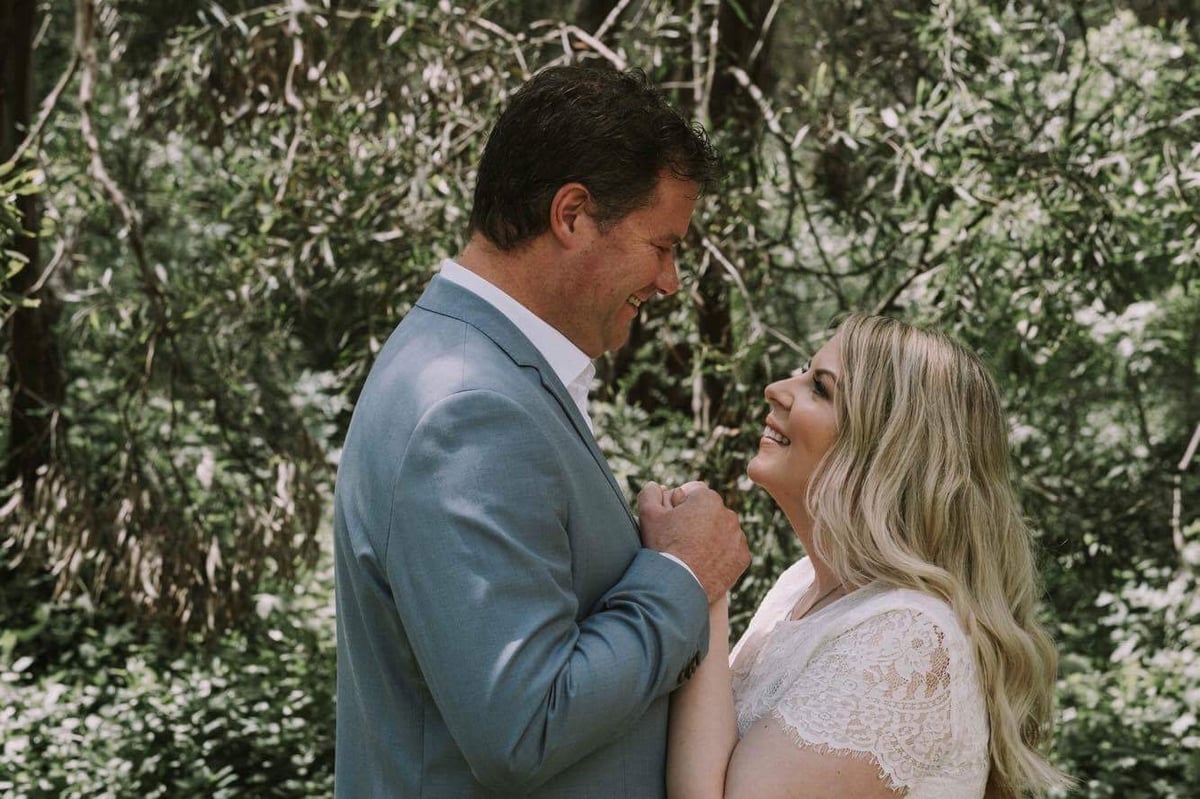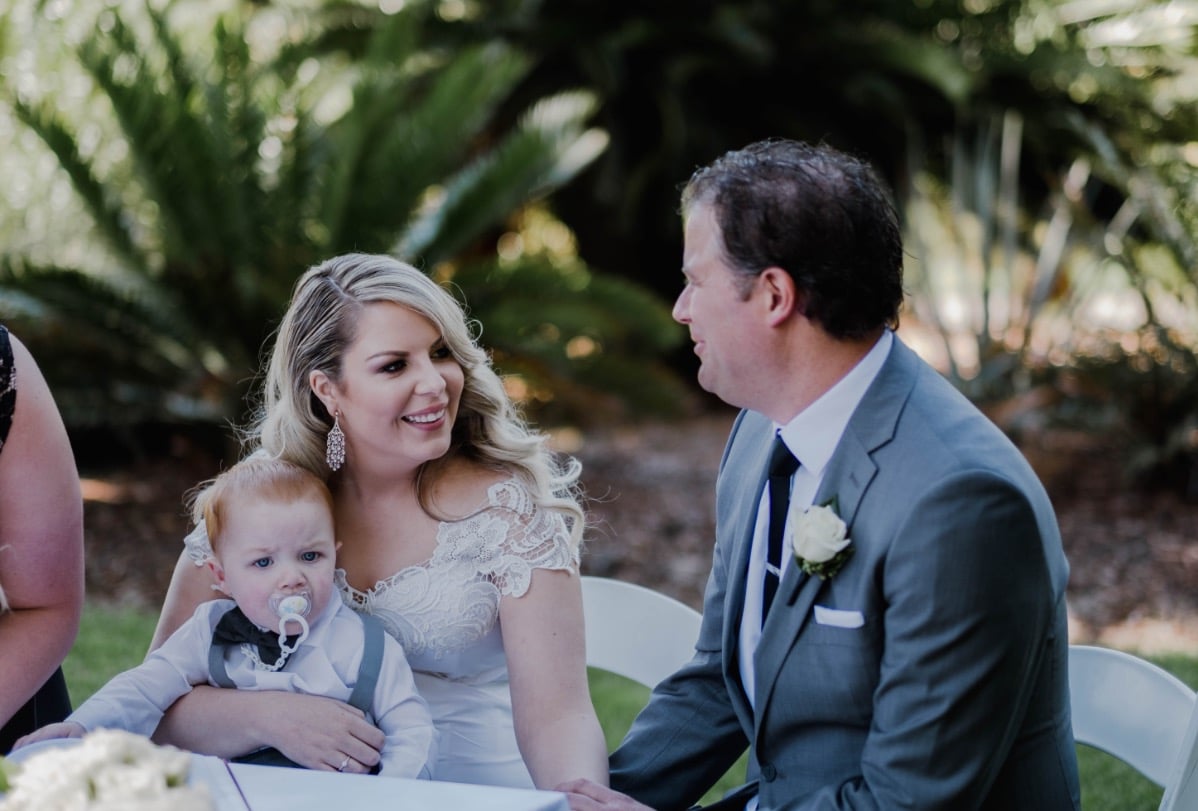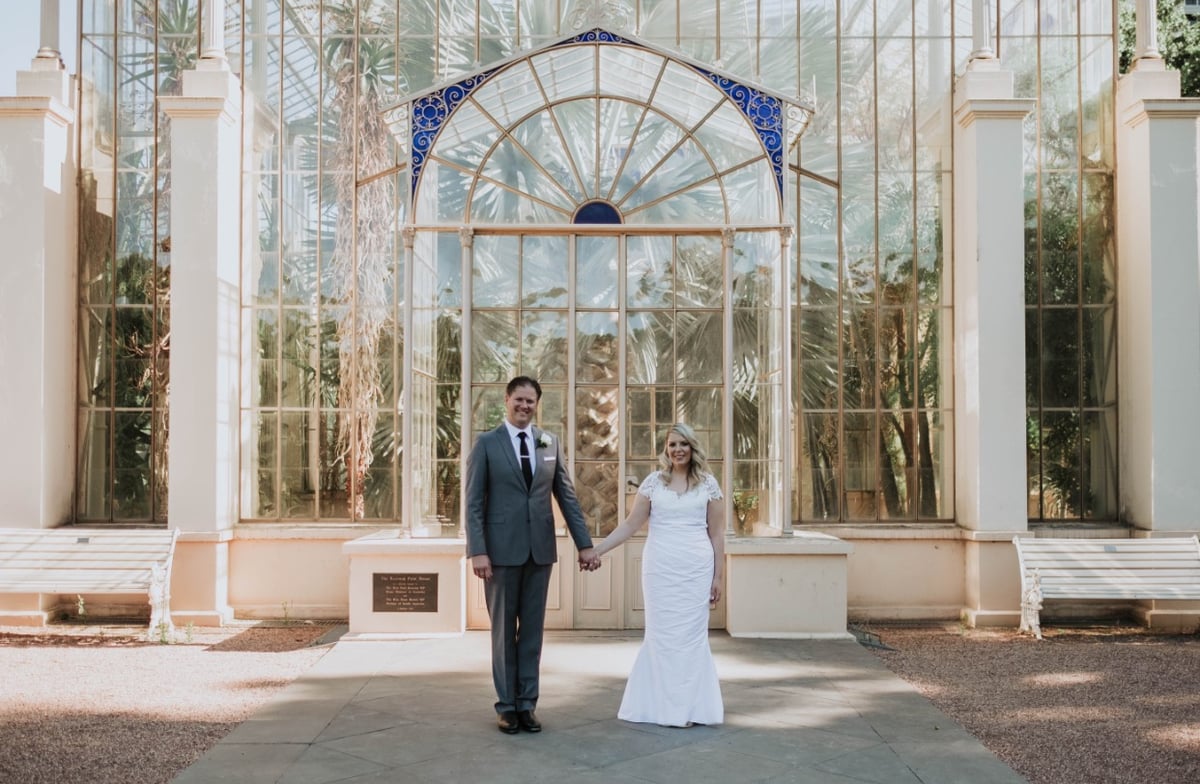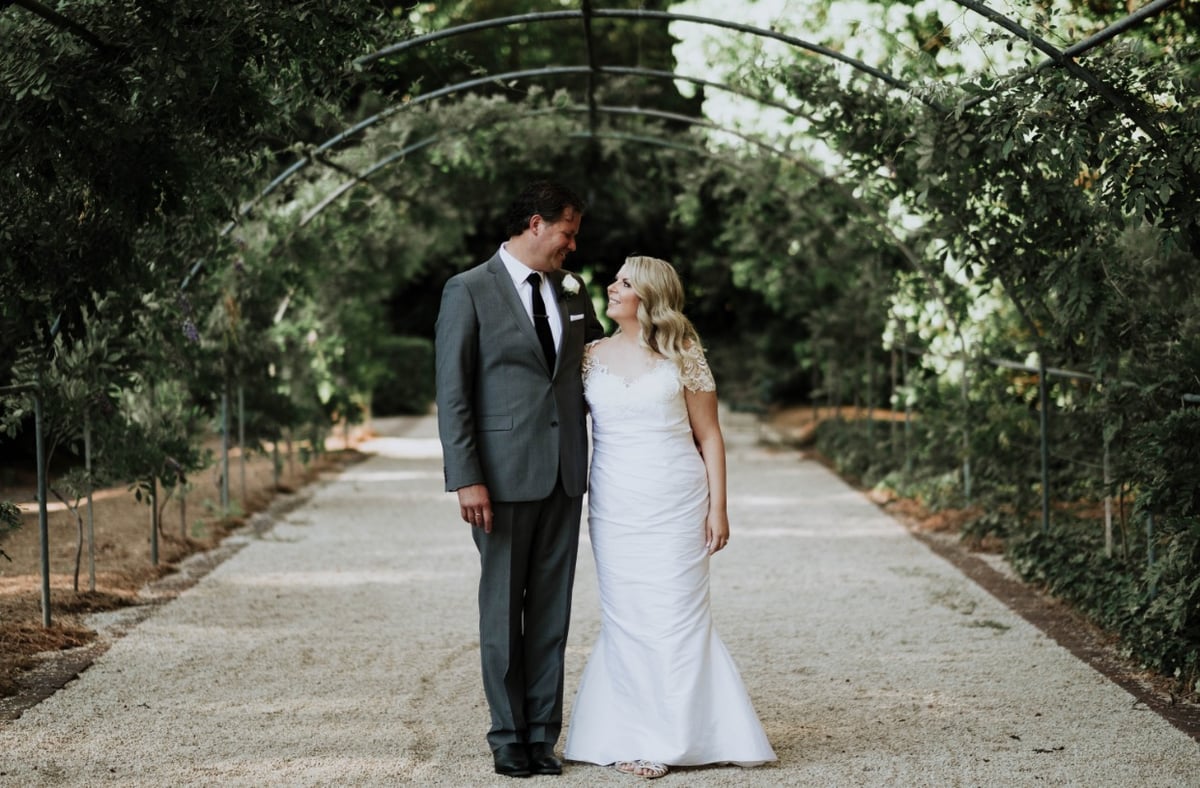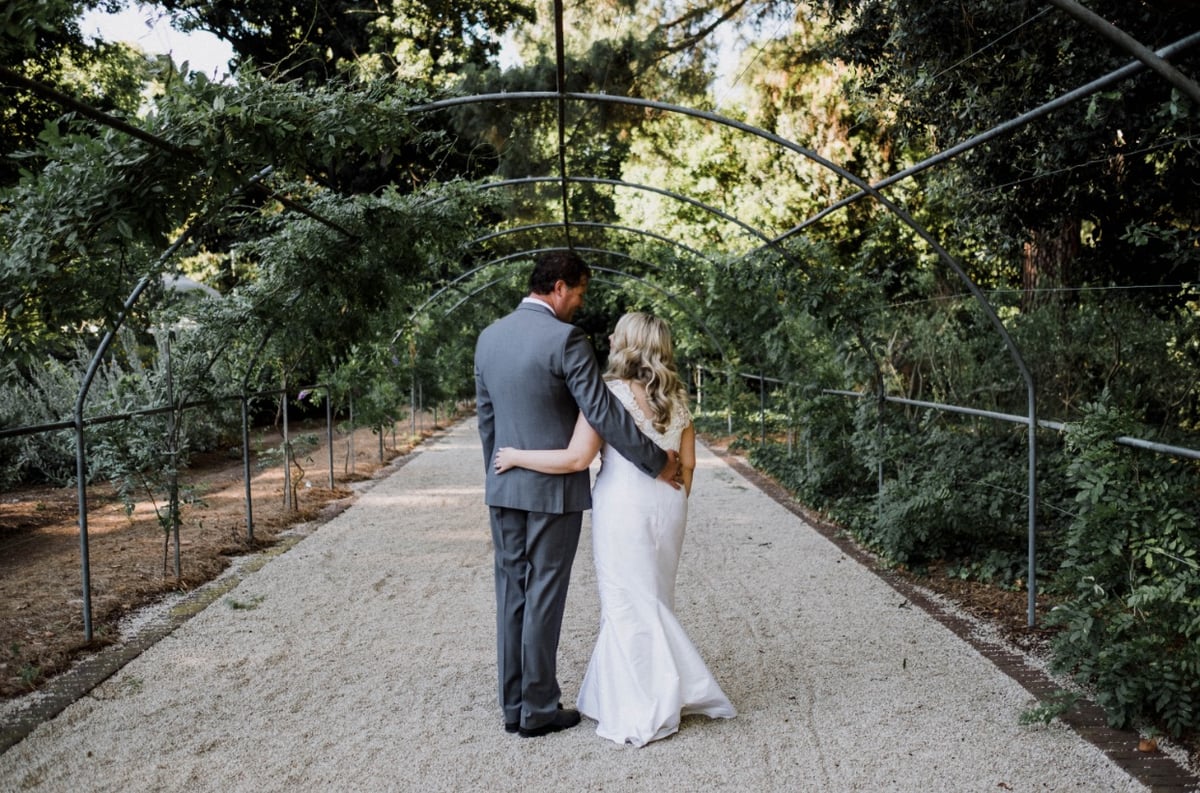 Lara wakes up every morning in pain. Her muscles are sore, her body fatigued. She feels like she could stay in bed all day. She said that tiredness never goes away. You never feel normal.
"It's really, really hard. I'm still able to walk for short distances but mostly I'm in a wheelchair now. My legs are really bad at the moment, I've fallen four times this week. And when you fall it really hurts because there's no muscles, my right leg is a wasteland. Now it's started in my left leg and my right arm - I can't lift a kettle, I can't lift my son or take the rubbish out. A month or two ago I walked to the letterbox, there's a tiny incline, and I got so puffed out I almost fell. Putting on the washing makes me worn out."
"My husband helps so much, but he works 15 hour days so sometimes I'm on my own with Thomas for that long, it's really exhausting keeping up with a toddler who's 20 months old and wants to explore and run, and I can't.
"I feel very guilty because I can't take him anywhere. I feel guilty I can't do the normal things like taking your kid to kinder gym or playgroup but I feel like I'm doing the best I can. I'm trying to make the best memories I can with my beautiful little boy, so basically I just forget everything and just focus on him. I think life's too short to care about putting a load of washing on."
Lara knows what it's like 'at the end' when you have ALS because she watched her father go through it. The last bit is really yucky, she said, stuck in a paralysed body, only able to move your eyes.
"Getting to that point will be absolutely devastating. I'm scared, I saw my dad go through it and it's awful. I would've loved to have had another child as well, that was always on the cards for us, but I feel so grateful having what I have. I look at my husband and I'm so in love with him, and I look at Thomas and I'm so proud of him."
"So look, I just hope to last as long as I can in a form where I can spend as much time with my husband and son and just love them. Even if I'm in a wheelchair full time, which I don't think will be too far off, I'll still able to interact with my family. As a unit, we adore each other."
Lara and her family started a GoFundMe page to raise money for medical costs and equipment, and a van for the electric wheelchair. But more than that, it's about buying time and memories with her young family. Lara would love to use that van to take her husband and son travelling. "Nowhere exotic," she said. But she'd love to drive up to Uluru and Darwin, and explore places in Australia she hasn't seen yet. To experience them together.
"They're my whole world, that's my biggest fear is leaving them because they're my everything. Adam is the love of my life, as soon as I met him, I knew that's my man, and then Thomas came along and I fell in love instantly."
"I felt like I had the perfect family and now this disease is trying to take that away from me. At the same time, I'm fighting with every inch of my body because I don't want it to win. I don't want it to beat me. I want to live the fullest life I can. I don't want to waste a moment."
To support Lara and her family in making the most of the time they have together, please donate via the Lara Huddleston GoFundMe page. You can also find out more information on ALS and MND on the MND Australia website.
If you or someone you know is experiencing mental illness of post natal depression, please seek professional medical help or contact PANDA on 1300 726 306, Lifeline on 12 11 14 or Beyond Blue on 1300 22 4636. If you are in immediate danger, call 000.
Psychologist Kirsten Bouse talks to Holly Wainwright and Christie Hayes about what post-natal depression really looks like, and strategies for coping below.