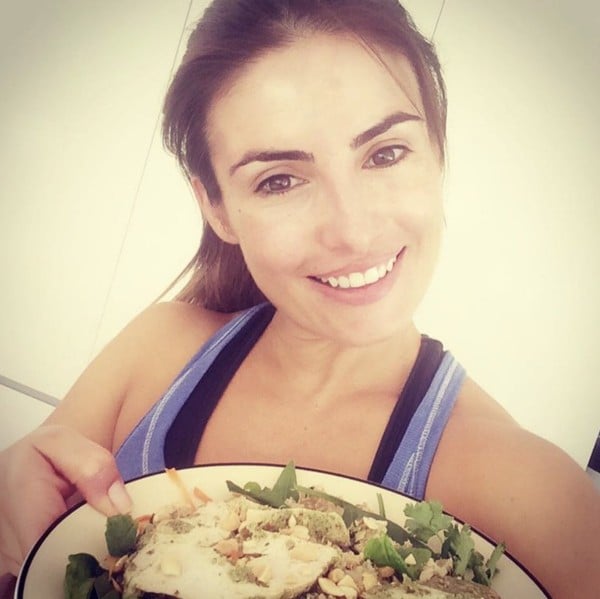 There are many things you might know about Ada Nicodemou.
You're probably aware that she's been gracing our screens as Leah on Home and Away for 16 years, has three Gold Logie nominations to her name, and won the third season of Dancing With the Stars. You might also know she's mum to a beautiful little boy named Johnas.
What you might not realise is that the 39-year-old is a bona fide beauty lover. We asked Ada to detail her daily routine and the skincare, hair and makeup products she can't get enough of, and let's just say this lady knows her stuff.
The Morning Routine
"When I wake up I like to have either a shot of hot water with lemon or apple cider vinegar.
"My morning beauty routine consists of cleansing my face with Results Laser foaming cleanser ($35), and I shampoo and condition my hair every day I am on set. I like to change my shampoo and conditioner — I tend to use a sulfate-free one, and like to use a nourishing one. At the moment, I am using the Marc Anthony shampoo and conditioner from Priceline (from $10.49). Marc Anthony is fantastic and CPR is a great Australian brand.
"When I get out of the shower, I tone with Dr LeWinns glycolic toner ($29.99) and then I use a morning serum — Rationale Number 1 ($158) and 2 serum ($156). I will then use a day cream with a SPF; at the moment it's Rationale Number 3 ($165). Then I moisturise my full body with Palmolive Oil Infusions Citrus & Avocado Oil lotion ($9.99 from Coles and pharmacies)."
A few of Ada's favourite things. (Image supplied)
Makeup Time
"I am on set of Home and Away six days a week, and go to work with no makeup on as I get my hair and makeup done daily. On the weekends, or when I am not on set, I use a BB cream by Garnier ($15.99) and if I am going out at night I use Armani Luminous 6.5 ($95).
"I definitely have to put mascara on! I use Maybelline Great Lash ($12.95) and I like to apply it two or three times, using an eyelash curler in between. On special occasions I like to use Chanel's Inimitable Mascara ($54). I also really like to use Bourjois Blush (made by Chanel, but sold in Priceline — $20) and a nice lip gloss."
Snacking while getting ready for the Logies: Ada is our kind of woman. (Image supplied)
Daily Beauty Essentials
"I go between a few fragrances, depending on my mood. Anything Gucci!  I also love Viktor & Rolf Flower Bomb ($159), am obsessed with Black Orchid by Tom Ford ($235) and I love Narciso Rodriguez.