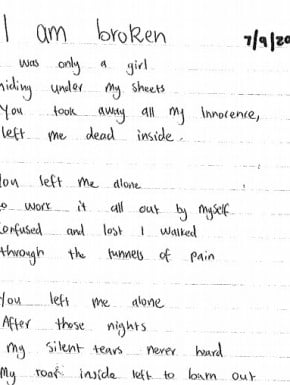 Trigger warning: This post contains graphic details of child sex abuse and suicide, and may be triggering for some readers.
By GRACE JENNINGS-EDQUIST
"I was only a girl hiding under my sheets," 17-year-old Abbey wrote in a poem addressed to her father.
"I'm broken now, torn and ripped in pieces… I fight to repaid the damage/ your breath remains on my chest."
Two months after she wrote those chilling lines, Abbey was dead. She would have celebrated her 18th birthday recently, had she survived — but the Western Australian girl never made it to adulthood, because she took her own life in November 2013 after years of alleged abuse by her father, a convicted child sex offender.
Although Abbey's father was in 2005 convicted of sexually assaulting a friend of Abbey's, and sentenced to four years in prison for that crime, he was released on parole after two years and granted access visits to his children by the Family Court of Western Australia — a decision that Abbey's mother believes left the girl deeply confused.
Child sexual assault awareness organisation Bravehearts argues Abbey's devastating case highlights the inadequacies of Australia's family court system — and it's just launched an independent inquiry into the experiences of families in their dealings with child protection agencies and the family courts.
The privately-funded inquiry is, appropriately enough, called Abbey's Project.