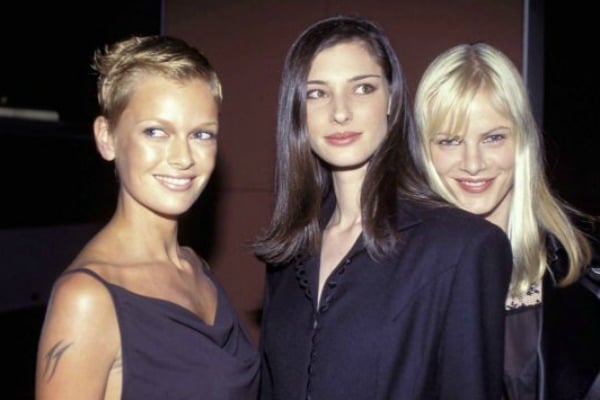 The term "It Girl" was thrown around a lot in the lost era of chokers and scrunchies.
While using it to define someone with that certain je ne sais quoi that makes people quite literally want to be them existed long before the '90s, the "It Girl" was an obsession perpetuated by mainstream media.
And having "it" in the '90s was no easy feat. "It" usually meant being genetically blessed with flawless skin, long, svelte legs and an air of effortless glamour.
The '90s was, after all, the supermodel golden era – a time when the world couldn't get enough of the unattainable looks and undeniable attitude of the women who walked the catwalks and graced the magazine covers.
Yes – models were the It Girls of the '90s.
There was Kate Moss – the too-chic party girl who somehow managed to pull off last night's makeup time and time again, Naomi Campbell – all smouldering, sophisticated and a little bit fiery, and Claudia Schiffer – the Brigitte Bardot reincarnate, angelic yet sultry with blue eyes that didn't seem real.
Back home, however, the Australian It Girl had a slightly different edge. She was praised for her laid-back, down-to-earth persona, which made designers desperate to have her on their books, and  little girls flipping through the pages of their Dolly magazines aspiring to be her.
She was wholesome rather than angsty, with that sunny, fresh-from-the-beach, girl next door-thing.
…And legs all the way up to her ears, of course.
But the "It Girl" status – and the box it pertained to – came with a cross to bear.
If the struggles of fallen Australian It Girls over the years have taught us anything, living up to the pressure of the title couldn't have been easy. Then, or as the years went by and the modelling jobs drifted further and further from grasp as newer, younger faces rolled in.
They are, after all, only human.
Earlier this year, "ultimate It Girl" Annalise Braakensiek's death shook the nation to its core, with many comparing her tragic end to that of Charlotte Dawson, who took her own life in 2014.
These were the women who held a coveted spot on our pedestals for so many years. How could we, as a nation, have failed to help them in their darkest moments?
As we mourn the loss of Annalise, we take a look at where her fellow '90s It Girls are now.
Annalise Braakensiek