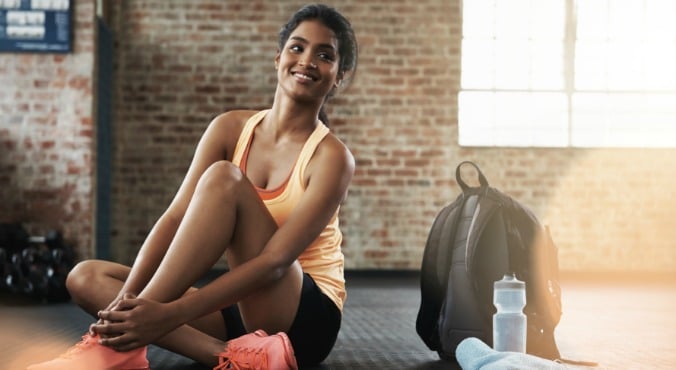 Image: iStock.
When you're not someone who lives and breathes fitness, even the most basic nugget of advice can have a significant effect on the way you approach and think about working out.
So what about those people who have made a career of training and inspiring people to look after their fitness? Do they ever get those 'a-ha!' moments too?
We asked these experts to share the best piece of fitness advice they've ever received, or heard in their travels. Here's what they had to say:
"Hold yourself accountable."
"The best piece of advice I think I have heard is to hold yourself accountable. You're in charge of your own fitness, strength, eating habits and how you feel about yourself. I like this because it puts a big wall up to front any excuses that we all make. The only person that is going to change or better your health and fitness is you." — Lauren Hannaford, elite gymnast, personal trainer and IsoWhey Sports ambassador
"Just get up and go."
"Training first thing gives your mind no time to 'find' excuses. As soon as the alarm goes off, jump out of bed, put your workout gear on and get out the door! It is also so easy to get home from work after a long day, feeling tired and unmotivated to train and sit on the couch. Your workout doesn't have to always be hardcore or intense. Putting on your workout gear and sneakers and out the door into the fresh air for a walk is going to get your feel good endorphins flowing, not the mention the benefits of being in fresh air." — Kat Weihen, personal trainer and lululemon ambassador.
Watch: We tried a multi-sensory yoga class at Sydney's Urban Yoga studio. Here's how it went. (Post continues after video.)
"If you like it, you'll stick to it."
"When choosing a workout make sure it's something you enjoy and suits your lifestyle. Many people try to 'make themselves' like a particular form of exercise. For example, clients will ask me how to 'like running more'. Do you prefer to exercise indoors or outdoors? With a workout buddy, a group or class, or alone? You are more likely to abandon a healthy lifestyle change if your chosen activity doesn't suit your preferences or lifestyle. And try a range of workouts if you're not sure what to do – if you don't enjoy one move on until you find something that you do enjoy. It not only makes exercise more effective, it also increase the chance you'll be able to stick with it." — Ali Cavill, Owner and Head Trainer at Fit Fantastic