Luggage. Granted it's not one of the most exciting purchases to make, but it is one you'll want to get right.
There's a belief that quality can be bought, and that unless you're spending $200+ per suitcase, your luggage will pop open as you're wheeling it through the airport, or the handles will break off as you heave it off the baggage carousel.
Well, we're here to tell you that simply isn't the case, pardon the pun.
LISTEN: Bec Judd on all the reasons you need to go on a no-expenses-barred holiday before you have a baby. Post continues after audio.

Australian consumer organisation Choice compared carry-on luggage from a variety of brands, with prices ranging from $579 to $38.
The products were tested  for water resistance, durability, stability, performance, puncture and ease of use, and surprisingly the suitcases priced $500 rated lower than the more affordable options.
Coming in first place with a Choice score of 87 per cent was the American Tourister Curio which retails at $239.
But hot on its wheels were two Kmart options, both with a score of 86 per cent – Kmart's $38 Hard Case and Kmart Active & Co padded case ($49).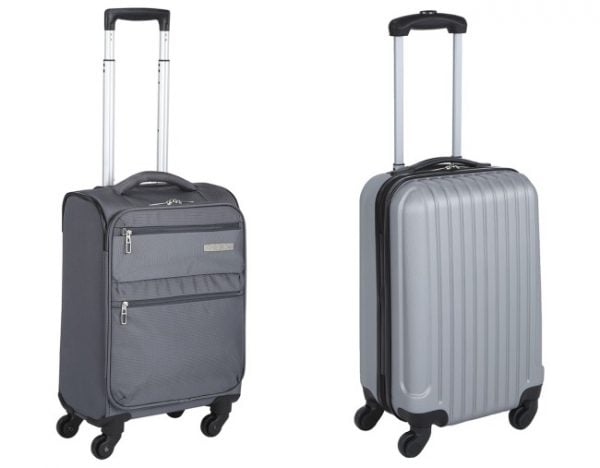 Both options come with four wheels - making them easy to manoeuvre if you're running late for your flights, however, the Active & Co padded case is marginally lighter, weighing 2.25kg versus 2.4kgs.
Choice's carry-on suitcase reviews:
1. American Tourister Curio, $239 - 87 per cent.
2. Flylite Pro-Lite 54cm, $200 - 86 per cent.
3. Samsonite 72 Hours DLX - $329 - 86 per cent.
4. Kmart Active & Co - $49 - 86 per cent.
5. Big W Jetstream - $70 - 86 per cent.
6. Kmart Hard Case - $38 - 86 per cent.
7. Skylite 56cm Spinner Carry On - $40 - 86 per cent.
8. Delsey Chatelet 55 cm - $499 - 85 per cent.

9. Delsey Montmartre Air - $289 - 85 per cent.
10. Antler Oxygen - $289 - 85 per cent.
11. Crumpler Vis-a-Vis, Cabin - $349 - 84 per cent.
12. Samsonite Cosmolite 3.0 - $579 - 84 per cent.
13. Samsonite Octolite - $299 - 84 per cent.
14. American Tourister Applite 3.0 S - $219 - 84 per cent.
15. Australian Luggage Co So Lite 2.0 AIR3033/18″ - $160 - 82 per cent.
16. Flylite Quartz 20″ case - $199 - 49 per cent.
It kind of makes you want to jet off on an impromptu holiday, doesn't it?
Have you tried Kmart's tried and true suitcases, or do you have another favourite piece of luggage that we need to know about. Tell us in a comment.
LISTEN: On the latest episode of Mamamia Out Loud we discuss everything from Barnaby Joyce to why everyone is obsessed with skincare, it's a douzy.

Mamamia is funding 100 girls in school, every day.
So just by spending time with Mamamia, you're helping educate girls, which is the best tool to lift them out of poverty.
Thanks for helping!