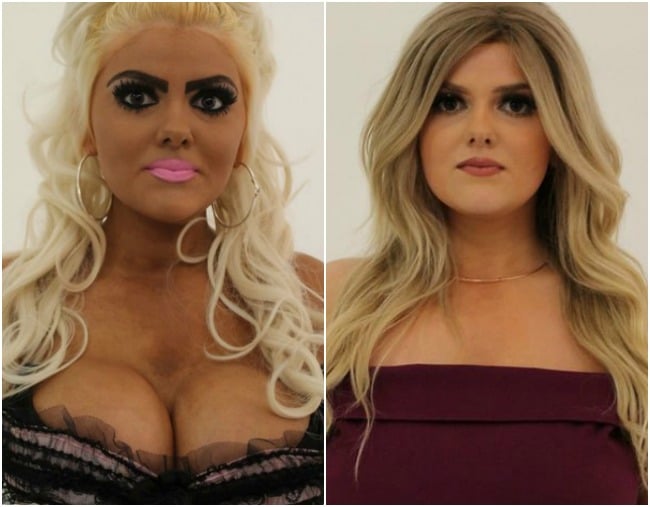 I've found a TV show that's so gloriously trashy I can't stop watching it.
It's called 100% Hotter and it's a make-under show.
It's kind of like Queer Eye meets Geordie Shore meets your mate Tammy, who wears too much makeup, and flashes her undies after one too many chardies at the pub.
The basic premise of the show is they take people who are a little OTT with their style, and make them under, so they don't, erm, scare small children on the street.
The style team – made up of Daniel K Palmer, Grace Woodward, Melissa Sophia – have a lil' judge of these crimes against fashion and then work their magic.
As far as I'm concerned there's three reasons the show is so popular:
1. It's like Hoarders but for people's bodies.
It's fascinating to see how much makeup and fake tan and hair extensions one person can put on their body without… dying ¯\_(ツ)_/¯ .
At one point I thought they might discover a dead cat or a small mice family in one of the contestants' weaves.
Also, I wanted to know how they got to that point. Did they slowly build up layers of makeup and hair extensions over time or did it happen overnight?
2. It makes you feel better about your own sense of style.
There's nothing quite like judging some random person on a reality TV show to really make yourself feel better about, erm, yourself.
I feel so much better about my split ends and tinted moisturiser makeup regimen after watching 10 straight hours of this show.
3. It makes you realise everyone is facing the same battles.
Not to get too deep on you here, but the real beauty of 100% Hotter is the fact it'll sneak up on you when you least expect it and make you… cry.
During the makeunders some of the contestants have real breakthroughs about why they're choosing to hide their real selves behind layers and layers of gunk.
It's a gloriously trashy reminder that everyone is facing the same battles and everyone has their own body issues.
You can watch the entire first season of 100% Hotter on Netflix now.