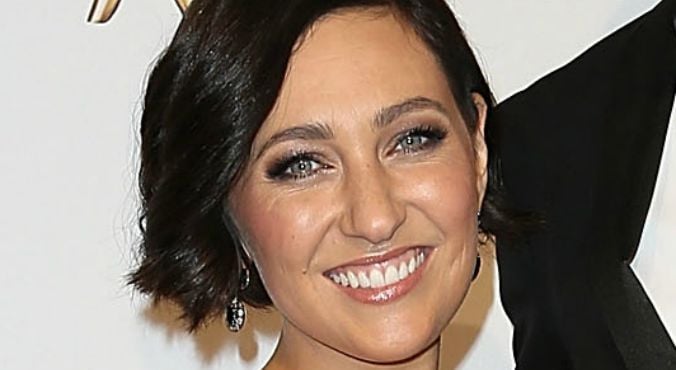 Image via Getty.
For many, Zoe Foster Blake's Instagram is a source of ridiculously gorgeous pictures of her son Sonny, and family snaps with husband Hamish Blake. For us, it's all of the above, plus the few golden beauty tips she shares along the way.
RELATED: This is how Zoe Foster Blake styles her short bob.
In a new post on her blog Zo They Say, Foster Blake revealed her products she can't get enough of at the moment. Yes, we are taking notes.
1. Foundation.
For the face, Foster Blake is all about the Clinique Beyond Perfecting Foundation and Concealer ($50). Yes, you read that correctly - it's foundation and concealer in one (We do love a multi-tasker). The doe-shaped wand applicator is designed to cover large areas on one side, and smaller more precise concealing with the other.
Foster Blake admits she was initially drawn in for the hype  (aren't we all) but believes it's worth it, finding it full coverage, radiant, long-lasting and excellent at covering pigmentation.
RELATED: "I couldn't treat my rosacea, until I found these 3 products."
"Generally speaking foundation-and-concealer in one is a terrible idea because the skin is so different (in texture and tone) on the eye area compared to the rest of the face," she says.
"However, in this case, it's an unterrible idea, because the eye area is beautifully concealed, and not at all crepey or dry."
She does advise testing out the shades before you buy as they are darker than you look, particularly if you have fair skin. (Post continues after gallery.)
The Foster Blake family album
2. Blush
Blush is an underrated danger zone that can very easily make your skin look dry, overdone or aged. So when you find one that really works for you - BUY IT IN BULK.
Foster Blake's blush recommendation is Face of Australia's powder blush in Primrose ($9.45), a product and brand favoured by many makeup artists and beauty bloggers for its great quality and great (read: inexpensive) price tag.
RELATED: The latest trend in blush is a colour you'd usually ban from being on your face
The shade is a rosy pink with a subtle sheen.
"It looks a bit intense and shimmery in the compact but it is in fact wildly flattering," says Foster-Blake.