We knew when we signed up for a reality TV series that follows four pregnant, rich and fabulous "friends" that events may be altered a little for the cameras.
But what we weren't expecting is to be completely misled in such a blatant way as we were in the premiere episode of Yummy Mummies on Sunday night.
In case you missed it (and in which case you can read the recap here) pregnant Melburnian Lorinska Merrington was ring-shopping with cast mates Rachel Watts and Jane Scandizzo. The goal? To find the perfect a push present for her husband, former footballer Andrew Merrington, to go back and buy for her later.
Listen: According to Clare Stephens…

Eventually, Lorinska landed on rare olive green diamond ring that retailed for a whopping $99,000.
She left the store without the ring, but told the jeweller, "I'm going to be sending hubby in here, he is six foot five so you can't miss him and he better be walking out with this exact one." And that's what we the viewers thought he would do.
However – and this where the deceit that has us questioning everything we know occurred – he NEVER BOUGHT IT.
Instead, Lorinska told KIIS FM show The Thinkergirls on Monday, her hubby purchased another diamond ring, which retailed for the only slightly less eye-popping amount of $60,000.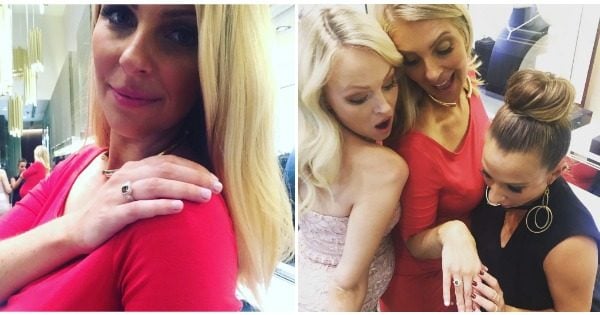 Call us naive, but we never expected to be fooled like this.
Lorinska says it wasn't the slightly more modest price tag that made her husband change his mind, but what it symbolised.
"He chose a different ring because he didn't think it was symbolic of our relationship or our growing family," the TV presenter explained, adding that the ring could be viewed as an "investment" for their child.
Just a slightly less expensive investment than she'd originally hoped.
Listen to the full episode of The Binge and sign up to the newsletter here.